Press Release
SEQUENTIAL, the literary graphic novel app, have partnered with venerable publisher Jonathan Cape to make digital versions of Cape's graphic novels available via Apple's App Store. SEQUENTIAL is the new digital graphic novel storefront and reader, designed from the ground up to present graphic novels and sequential art in a deluxe digital format, and allow a dedicated one-stop shopping experience for readers. The app, currently available for the iPad, includes work from renowned graphic novelists such as Alan Moore, David Lloyd, Eddie Campbell and Gilbert Shelton amongst many others.Russell Willis, president of Panel Nine, the software development company behind SEQUENTIAL, commented, "Jonathan Cape is the UK's leading graphic novel publisher, and partnering with them is a key part of our plan to create a dedicated space for what has been, too often, an under-appreciated art form. Cape titles now available on the app include two Costa Award-nominated graphic novels, including Costa Biography Award-winner Dotter of her Father's Eyes from Mary and Bryan Talbot." SEQUENTIAL is initially releasing 11 graphic novels from Cape, with work by Rutu Modan, Joff Winterhart, Shirley Hughes and Alison Bechdel, amongst others.Willis notes: "The time is right to evangelise graphic novels and sequential art anew. Quality graphic novels are being nominated for – and winning – awards such as the Costa prize; digital is making material available to most, and British publishers are leading a renaissance in quality material. By providing the 'go to' place for digital graphic novels on the iPad we hope to help to expand the market for graphic novels for adults in a way that hasn't been seen before, by making them easy to get hold of, and available in a specially-built environment perfectly suited to the material – our partnership with Cape takes us a big step towards our goal of bringing graphic novels to the a real mainstream audience."
Alex Bowler, editorial director of Cape Graphic Novels, said: "Cape is the UK home of the biggest names in the comics world—Dan Clowes, Joe Sacco, Chris Ware, Marjane Satrapi, Mr Crumb, et al. It's only natural that we should be boldly crossing this new frontier. This is an extraordinary form, and there is a real hunger for this material among a digital audience. It's essential that we make the best graphic novels – like the Costa Award-winning Dotter of her Father's Eyes, or Days of the Bagnold Summer – available to them."
The SEQUENTIAL iPad app is available as a free download in Apple's App Stores around the world and contains free books to download and sample, as well as offering in-app purchases. Many books on SEQUENTIAL come with special features unique to the app, including unseen sketches, exclusive artwork and audio commentaries by the creators.
https://itunes.apple.com/us/app/sequential-digital-graphic/id629759394?mt=8
Due to publishing rights agreements some titles may not be available in all countries.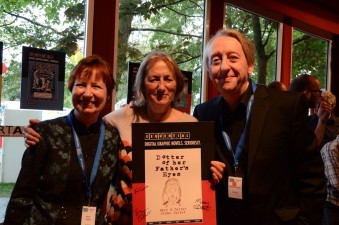 Mary Talbot (left) and Bryan Talbot (right) present a signed poster to Corinne Pearlman of Myriad Editions at the SEQUENTIAL party at the Edinburgh International Book Festival.
Cape titles now on SEQUENTIAL include:
Are You My Mother? – Alison Bechdel
Bye Bye Birdie – Shirley Huges
Coltrane – Paolo Parisi
Days of the Bagnold Summer – Joff Winterhart
Dotter of Her Father's Eyes – Mary and Bryan Talbot
Grandville – Bryan Talbot
Grandville: Bête Noire – Bryan Talbot
Grandville: Mon Amour – Bryan Talbot
I Like My Job – Sarah Herman
Jamilti – Rutu Modan
Pentti & Deathgirl – Emma Rendel
with more to follow.