Joy San's Sugar & Other Stories is a collection of short horror stories presented in a variety of narrative styles and visual techniques. If you're expecting conventional twist-in-the-tale comics horror think again though. Sugar & Other Stories is published by radical comic purveyors Silver Sprocket and this compilation is entirely reflective of the alt comics output that has become their curatorial trademark.
These are comics that explore themes of personal identity, how we present ourselves to the world around us, and our relationships with our immediate environments. They blend alarming imagery with sometimes unexpected humour to give the reader a different slant on the genre; one that is less concerned with putting new spins on its tropes and instead looks more to find the unsettling in the everyday and the quotidian. All interspersed with occasional one-page illustrations that bring a grotesquely mischievous line in unlikely body horror to the proceedings.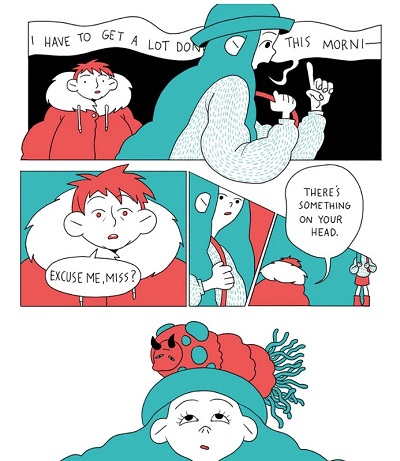 The titular 'Sugar' (above), for example, depicts a woman's relationship with a supernatural entity who will go to the greatest of lengths simply to keep her blood sugar levels up. While 'Dental Plan' (below) is an account of an elaborate rite that ensures its protagonist keeps her perfect smile intact. Here the limited application of red to the otherwise stark black and white visuals emphasises motifs of both disarming beauty and frenzied terror.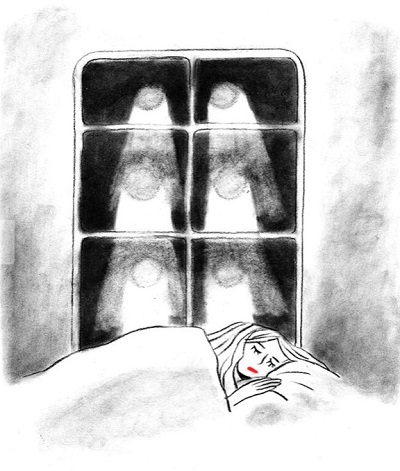 The strongest story is 'I Like to Squeeze into Tight Places' wherein a woman's obsession with claustrophobic environments becomes all the more extreme. Here San uses a minimalist approach. Great expanses of white space and freeform, largely unstructured pages ironically ensure a feeling of confinement is all the more pronounced. There's something quite meta here too as the main character seems to tear through and burrow into the very fabric of the page.
When colour is used more extensively it mirrors its story's subject matter. In 'Too Much on Your Plate' (above), for example, it becomes overwhelming, stifling and eventually incredibly intense. All in order to recount the story of an unappreciated and oppressed wife as her frustrations begin to boil over into brutal daydreams. Also toying with form, 'At the End' applies the haunting contrast between white space and deep, intense black forms to visit the experiences of a man who one day realises that his shadow now extends into forever.
Managing an unlikely synthesis of the playful and the uncomfortable Sugar & Other Stories is as notable for its experimental curiosity with the medium as it is for its subversion of traditional comics horror.
Joy San (W/A) • Silver Sprocket, $21.99
Review by Andy Oliver