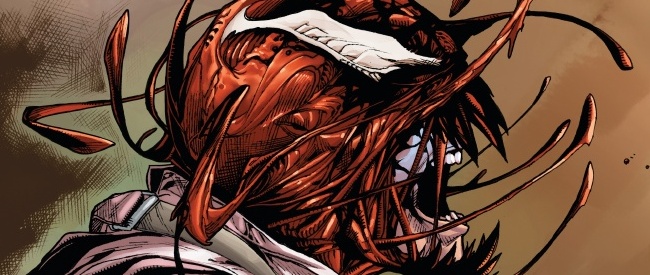 Superior Carnage #1 murders its chance at providing readers a new experience.
 After its introductory issue it's clear that Superior Carnage #1 will have a difficult time distinguishing itself among the greater Spider-Man universe, as well as the currently fantastic Marvel line-up as a whole.  There is little wrong with Superior Carnage, but similarly there is little to be excited about.  As to be expected, gratuitous violence and "intense" moments pack the pages of the first issue of this miniseries, but if readers are looking for something new to be brought to the table, Superior Carnage will not be able to provide it.
Superior Carnage #1 starts with an interesting yet all too brief way of introducing the characters and setting that provide the backdrop to this new series, but the title quickly drops this device in favor of violence and gore.  Superior Carnage's initial character gives readers an interesting look into the prisons of the Marvel Universe, as well as a normal citizen's opinion about the deadly symbiote, Carnage, but sadly he is quickly hacked away as the title moves into a typical prison break gone wrong.  What readers are left with, therefore, is a title without a purpose or fresh hook to guide them, and instead only offers a bland action sequence in exchange for the $3.99 price tag.
Superior Carnage #1 certainly is not the worst book out this week, nor does it come close to the best, but it may be the most stale.  Carnage himself is quite the one-note character, and his new miniseries does little to try to change that.  If Carnage retains some interesting or nostalgic value then this series may be your cup of tea, but for anyone who is looking for something comparable to the Marvel line at large, Superior Carnage falls short.
 Kevin Shinick (W), Stephen Segovia (A) • Marvel Comics, $3.99, July 17, 2013.