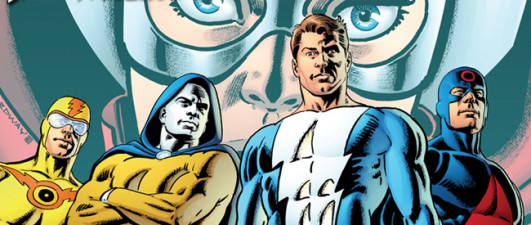 Hester and Di Vito usher a new team of action heroes into the modern world in this love letter to Len Brown and Wally Wood's Silver Age classic.
One of the most influential comics of the Silver Age gets yet another kick at the can this summer as IDW's T.H.U.N.D.E.R. Agents relaunches under the watchful eye of super-fan Phil Hester and his artistic collaborator Andrea Di Vito. The past few years could be described as somewhat tumultuous for the cult classic T.H.U.N.D.E.R. Agents with a number of failed reboots and a dismal attempt to integrate Len Brown and Wally Wood's action heroes into the DCU.
It should be said most of these previous incarnations didn't fail due to the quality of the writing or artwork but rather a disturbing, endemic lack of understanding and vision on the various publishers' parts. In short, none of them seemed to "get" the T.H.U.N.D.E.R. Agents and how to fit them into their established publishing stables.
Thankfully, this time around, IDW seems to have found the trick. Both Hester and Di Vito bring a very real passion to this latest series, evident in the overall tone of the story and art but more importantly they possess superior understanding of the source material and how to present it to a modern audience. Brown and Wood's original series, although much shorter in duration than other classic Silver Age properties, was (and is) as complex and fully realized as the DCU or Marvel Universe. Built around an international organization of superhuman operatives, T.H.U.N.D.E.R. Agents explored the archetype of the superhero through the thematic lens of the ultimate sacrifice. Equipped with reverse-engineered alien tech, these stalwart warriors were under constant threat of sudden death via their own awesome powers.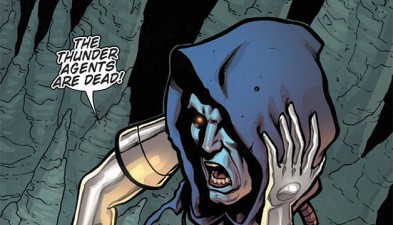 In this modern iteration, Hester underscores the danger facing his T.H.U.N.D.E.R. Agents by highlighting the emotional and psychological sacrifices his new heroes suffer in their professional lives. It's an interesting juxtaposition that showcases the inherent, untapped depths of the original material, while making the team relevant to more sophisticated modern readers. Initially drawing his characters in broad strokes, as the plot progresses, Hester adds layer upon layer of emotional depth, succeeding in building a new team of T.H.U.N.D.E.R. Agents who are unexpectedly complicated and three-dimensional.
Andrea Di Vito's sleek, uncluttered artwork evokes the clean, timeless lines of Wood without losing his own voice to the master draftsman. Unlike past artists, Di Vito's design tweaks pay tribute to the original visual tone of the series, while keeping it simple and slick. Eschewing modern adornments of previous failed incarnations, Di Vito instead stays in line with Wood's original designs, keeping the overall feel of the book firmly entrenched in the Silver Age. He seems to intuitively understand that these timeless designs are every bit as relevant to the evolution of comics as Infantino's Flash or Ditko's Spider-Man and chooses to celebrate Wood's work rather than waste time with unnecessary reinvention.
Driving home the tried and true premise of "if it ain't broke, don't fix it," Hester and Di Vito succeed in a deceptively simple repositioning of the T.H.U.N.D.E.R. Agents for ultimate success with a modern audience. With fully realized characters and a timeless visual tone, IDW's incarnation of these classic action heroes finally gets it right.
Phil Hester (W), Andrea Di Vito (A), Romulo Fajardo Jr. (C) • IDW Publishing, $3.99, August 14, 2013.