It's been three decades since the music of The Wedding Present burst onto the UK indie scene with a distinctive and engagingly frenetic energy that certainly caught the imagination of this columnist when he first saw them play at the University of Hull in the late '80s. Since then the group has been through a number of incarnations with an ever metamorphosing line-up and, of course, a sidestep into the Cinerama years pre and post-millennium. The one constant throughout, however, has been front man David Gedge who is himself an avowed fan of the comics medium, as anyone who has noted the sly comics references throughout his song writing will be aware.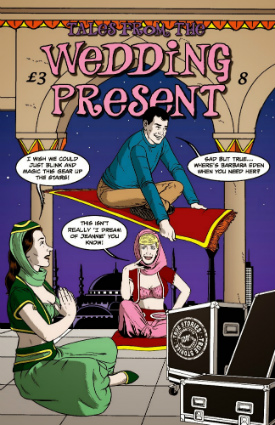 Since 2012 Tales from the Wedding Present has been regaling fans of the band with autobiographical snapshots of life on the road and their behind-the-scenes misadventures in comic strip format. To date there have been eight regular numbered issues plus a special #0 edition chronicling their not-so-secret origin.
The contents fall firmly into the slice-of-life strand of comics storytelling, wrapped up in covers that generally pay homage to familiar standards of the mainstream arena (a re-imagining of Action Comics #1 on #6 for example) or fondly play with iconic pop cultural moments (#1's Indiana Jones tribute with an EC Comics twist).
On a superficial level, that mix of quieter autobio interiors with the brash dynamism of super-heroes and their ilk on the exteriors may sound like a curious ploy. However, Tales from the Wedding Present started life as the redeployment of material from an aborted biography of Gedge and the group by former bass player Terry de Castro, and its fanbase to date has been a largely captive one via gigs and The Wedding Present's own online store.
It's an intriguing reversal of the usual great debating point of how to take comics to a new audience in that the traditional shop-based readership is probably completely unaware of the existence of the quirky but often dry comedy of this project.

Above – fan entitlement is not unique to comics… 
Indeed that self-deprecating humour – usually at Gedge's expense – is one of the defining attractions of a series that sounds like it should be a niche product for a specific demographic but is actually refreshingly accessible to a much larger group of readers. That's because this is character-led storytelling first and foremost, and it's impossible not to invest in the "cast" and connect with their endearing foibles as we jump backwards and forwards in time across the short strips presented  in each collection of tales.
Terry de Castro, Gedge himself and Jessica McMillan take the writing credits across these first nine issues with stories usually ranging in the region of 1-4 pages. While there's obviously a central focus on the day-to-day routine of the band – though latter issues do touch on Gedge's childhood, his love for comics in general and his student days (TFTWP #6 for example) – the stories vary from the observational (cultural differences of an often food-based nature, or run-ins with authority figures), the anecdotal (terrible venue tales, flight-related calamities, on-stage antics or embarrassing incidents on tour) and the more personal (break-ups and pensive reflections on the past).
For a newbie much of the work here could easily be interpreted as a fun compilation of almost sitcom-style snippets of a fictional touring group and their exploits, and the biographical background of their leading personality. If you are a fan though there's that extra layer of understanding – strips adopting song titles, insights into the world beyond the music, and references both specific and of the "Easter Egg" variety – that ensure there's still plenty of additional entertainment for the hardcore enthusiast. It's that ability to walk the line and provide a product that will appeal to both Wedding Present and non-Wedding Present fans alike is perhaps one of the book's greatest strength.

The constantly shifting timeframes across each issue means that the entire run works almost as a sequential art jigsaw puzzle of Gedge and the band's history. Periods of time are explored and re-explored in bite-sized storytelling chunks making each offering a unique vignette in itself but also ensuring it is part of a greater narrative tapestry. At the heart of it all, though, is the portrayal of an unforgettably eccentric Gedgeian worldview as he interacts with the rest of the group – bluntly honest, awkwardly idiosyncratic, occasionally picky but nonetheless always engendering a sympathetic response from the readership.
Lee Thacker's tightly-panelled artwork has a clean line and clarity to it that immediately draws the reader into its expressive environs, and his eye for visual characterisation is impressive throughout – a quizzical frown, an exasperated look or a knowing smirk speaking volumes about the gently ribbing camaraderie of Gedge and company. This is vital in a series of strips that often rely on talking head scenarios to work up to a punchline of sorts. Thacker is aware of the importance of changing perspectives and a sense of movement to ensure there's a level of sequential flow and audience engagement, and his panel-to-panel pacing provides an assured comedic timing to the more obviously humorous segments.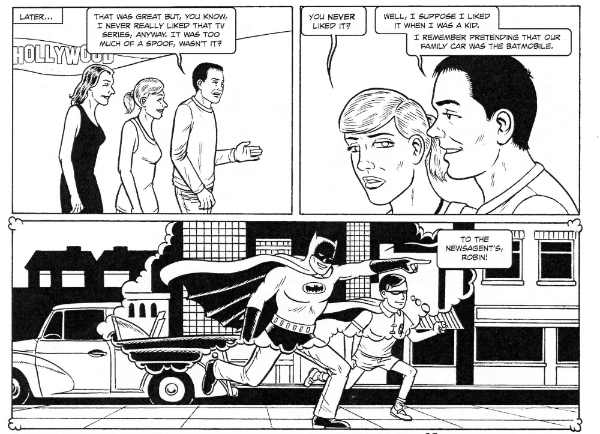 Tales from the Wedding Present is a curiosity in some ways then. A longer-running title that has a significant readership for a self-published book but one that will have bypassed the attention of many a small press aficionado, let alone a more mainstream audience. What I suspect started off as a fun diversionary side project has become something far more notable. Tales from the Wedding Present is much more than a complementary publication for die hard established fans – it's also a valid comics entity in its own right with its very own style of understated deadpan wit and rhythmic structure. Some form of collected edition seems a must in future to bring this comic to the wider audience it so deserves.
You can buy copies of Tales from the Wedding Present here priced £3.00 each or a bundle offer for £21.00. For more on the music of The Wedding Present visit their site here and follow them on Twitter here.
For regular updates on all things small press follow Andy Oliver on Twitter here.