Press Release
That Bulletproof Kid is a webcomic by Matt Kyme and Arthur Strickland and www.thatbulletproofkid.com is the home of THAT BULLETPROOF KID and THE ACE webcomics by Matt and Arthur.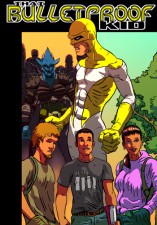 That Bulletproof Kid
Anth always thought having superpowers would be wicked. When he got them he discovered being super isn't easy.
Going to school, fitting in socially and trying to figure out girls is hard enough as it …is without the added pressure of having a secret identity.
How are you supposed to get your homework done when you're always having the save the world?
The Ace – A webcomic by Matt Kyme
The Return of the powerful long lost superhero, The Ace, has turned the world upside-down. His reckless and irresponsible behavior coupled with his excessive lifestyle have made him both a public menace and paparazzi favorite.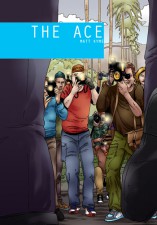 He has also drawn the contempt of the once revered hero The Pinnacle who has had a meteoric fall from grace.
In addition to That Bulletproof Kid and The Ace, the website also hosts two short comic stories by Matt Kyme; Secret History illustrated by Gareth Colliton and As We Always Did illustrated by Katie Houghton-Ward. For more go to http://www.facebook.com/ThatBulletproofKid