With black humour, a vivid sense of the uncanny and dense, claustrophobic art, Conor Stechschulte's tale of amnesiac butchers becomes the most horrific Laurel and Hardy film you've never seen.
As any city-dweller knows, bad things happen in the countryside. We've all seen documentaries like The Wicker Man, Deliverance and The Blair Witch Project, and we've all rolled up to a country pub, looked at our companions and cracked an uneasy gag about 'The Slaughtered Lamb' in An American Werewolf in London.
Conor Stechschulte grew up in rural Pennsylvania, so he's probably got first-hand experience of all that. He's certainly imbued The Amateurs – his 64-page debut book for Fantagraphics – with a rich sense of rustic strangeness that erupts into bloody slapstick.
At the book's core are two butchers, Jim and Winston, who arrive at work one morning to find they've forgotten everything they ever knew about their gory craft. As the locals start to turn up to the shop, looking for their 'usuals', the two men begin to panic and realise they'll have to improvise with the materials at hand. Complications ensue.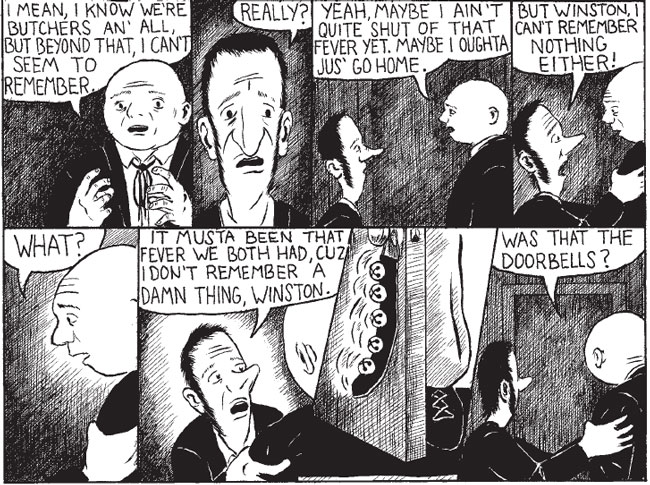 In fact, things degenerate into something akin to the most transgressively nightmarish Laurel and Hardy film you've never seen. It doesn't take long for the resentments in their relationship to come to the fore, and they're soon at each other's throats. I must admit that I felt a bit uncomfortable at some scenes of animal cruelty seemingly played for laughs, but it's always pleasing to see butchers get what karma's got in store for them.
However, there's much more to The Amateurs than that, and the inclusion of other elements creates a prismatic picture of an isolated, almost pagan way of life.
For instance, it's framed by a series of illustrated extracts from a floridly written schoolgirl's diary. The three dreamlike/nightmarish episodes are not pinned down in place or time, and no overt connection is made between them and the rest of the book. However, they reinforce the sense of the rural environment as something of a 'bubble universe', cut off from the rest of the world.

It seems that everything leads back to the local river, which attains an almost mythical quality. Jim and Winston connect their memory loss with having drunk from the river, and that invocation of the classical Waters of Lethe highlights a major theme of Stechschulte's book – the gift and curse of memory.
While Jim and Winston lose theirs involuntarily, prompting the gruesome action, the women who witnessed the nightmarish events at their shop choose not to remember what they saw. They're in a place where people can agree to ignore something, to make it 'unhappen', rather than deal with the horrible ramifications. Meanwhile, the schoolgirl diarist would give anything to clear her mind of the things she's seen.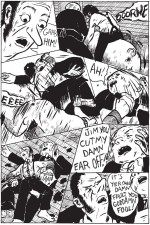 All of this is brought to life by Stechschulte's dense, claustrophobic art style. He tends to use a four-tier page with no gutters between the panels, and while that might seem like a minor stylistic choice, it has a profound effect on the experience of reading his dark material.
It leaves no breathing space between panels; nowhere for the reader to look away, even for a fraction of a second, as the events of the book become increasingly horrific. There's no escape route: you're locked in with the characters.
He also uses control of shading to eloquently manage the tone of the book. When Jim and Winston meet up outside their shop, it seems a perfectly bright, pleasant morning. However, by the time they get into the backroom of their shop, just a few pages later, and the full enormity of their situation hits them, they're in a much darker place – both digetically and figuratively.
Within those monolithic pages, Stechschulte also uses panel layout to great effect, going from perfectly perpendicular in the calmer, more conversational scenes to something altogether more fractured and off-kilter as the action becomes more frenetic and the characters more desperate and unhinged.
In conclusion, this is a dense and powerful breakthrough work from Conor Stechschulte. For all of its surface splatter, it mines an older and richer vein of the pagan and the uncanny.
Conor Stechschulte (W/A) • Fantagraphics Books, $14.99, May 2014