Why Art? Not What Art or When Art or How Art Thou? Eleanor Davis tackles one of those kind of stupid while at the same time super important questions with acres of wit and pathos; you'll laugh, you'll cry, you'll understand yourself and the universe in a deep new way that you can't quite put into words.

The first few pages of Why Art? made me snort my tea all over my Lindt bunny. "Is this a joke book?" I thought; I was so pleased. It kind of is a joke book. But the best kind which has lots of true things in it. I don't know if it would be as amusing to people who don't talk about art for a living, but I had to be quite a lot more careful with my tea while continuing to read.
For the first third of the book, Davis plays games with the reader, dancing around truths and clichés and pretentiousness and unpretentiousness. Then she introduces some characters and about halfway through starts what seems to be an actual story. By the end I was weeping real tears into the hole in the top of my Lindt chocolate bunny (other chocolate bunnies are available). Laughter and tears. Job done right? There's your review. Done.
I'm just messing. I have other things to say. You may be familiar with Eleanor Davis' joyful illustration style from her critically fanfared books including You & a Bike & a Road and How to Be Happy; the intense colour fields, subtle textures and sturdy, billowing figures. In Why Art? she almost entirely abandons colour and texture, working in strong, graphic linework of different thicknesses that has allowed her to play with scale and composition to great effect. The detail and balance of every part of this book is perfectly in synch, from the font design to the artful pacing and use of non-moments (blank pages) to emphasise the beats of the narrative.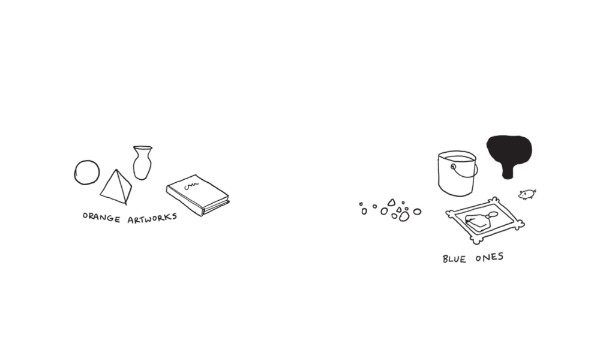 From those first witty, whimsical pages there is no suggestion that the titular question is going to have any kind of straightforward answer, but that does not mean that it is not taken seriously. I mean, it's kind of a stupid question isn't it? A really important stupid question like "When Love?" Or "What God?" (hopefully two forthcoming sequels). Davis demonstrates the wideness of Art's possible definitions by categorising it into baldly arbitrary and unusual categories, then smashing those categories back together.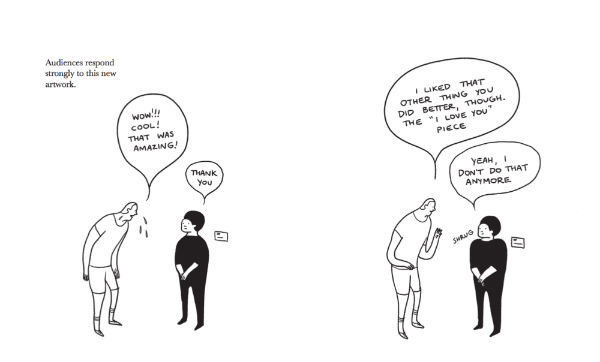 It's clear from early on that her definition of Art is neither narrow nor simple, stepping deft dances around such classic divisions as commercial vs fine art and the intersections of art, craft, design and even food, without ever using these words. Similarly she explores creative identity through wildly idiosyncratic characters so strong and fragile at once, as an artist must be. In the face of a world such as the one we live in, how can these characters have the courage to justify their time in creating artworks that may be "flimsy", may be judged by their audience harshly, may be morally dubious in their pleasurable distraction or distressing truthfulness. How indeed, and what, when, who, where and of course "Why?" You shall have to read the book to find out.
Available in digital and delightfully pocket-sized printed format, both have strengths, although your choice should perhaps be which format you will find most easy to show to other people because this is one of those books that you may instantly want everyone else you know to read.
Eleanor Davis (W/A) • Fantagraphics Books, $14.99