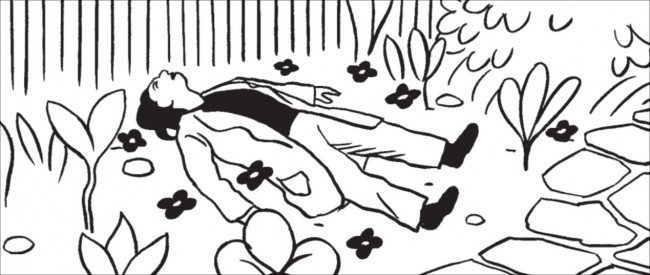 Doctors, Dash Shaw's concise and affecting new book from Fantagraphics, is literally a matter of life and death.
Although it's not framed in any of the classic horror tropes, Doctors, the disquieting new graphic novel from Dash Shaw, taps into a very primal and existential anxiety: the worry that none of what surrounds us – the stuff we see, hear, feel, smell or taste – is real, and that we can't even trust our own senses and reasoning.
(It's an issue that has cropped up many times before in speculative fiction, but maybe there's something about the way the medium of comics creates its own particular diegetic universe that makes it suited to this kind of investigation.)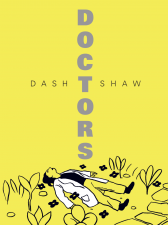 Doctors starts with Bell, a wealthy widow who embarks upon a May-to-December relationship with Marky, the young man who took care of her after a fall at the local swimming pool. After years of having to play a role for other people, she's finally got the opportunity to live the way she wants.
Bell's blissful new life is interrupted when her daughter, Laura, starts to make some strange claims. Laura tells her mother that her existence is nothing more than a post-mortem fantasy, and that she needs to return to her body, currently in an illicit medical facility in a Brooklyn basement, to be 'resurrected'.
While Bell is concerned over her daughter's state of mind, it turns out that "Laura" is actually telling the truth: she's an avatar of Dr Tammy Cho, a young medic who works for her father, the inventor of the Charon – a device that enables its operators to enter the psychic afterlife of a recently deceased person and guide them back to their body.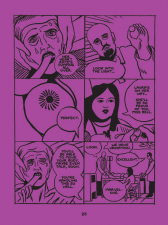 However, that second lease of life isn't all it could be. In fact, the process is horribly traumatic, taking a grim psychological toll on its subjects. Rather than giving its subjects another opportunity to seize the wonders of the world, the primary purpose of the (illegal and unregulated) procedure is to allow the very wealthy to put their affairs in order before they're claimed by the final 'fade to black'.
Sure, this is one of those books that will wind up readers who like their fictional science to have a bit of theoretical backbone. But what it lacks in scientific rigour, it more than makes up for in emotional impact and ethical inquiry. From the cold medical horror of the 'resurrection' procedure to the disconnected sense of unreality felt by its subjects, the patients' ordeal is palpable.
And the malevolent influence of the Charon doesn't stop with its subjects/victims. Dealing in the fragile nature of reality on the cusp of existence and non-existence also takes its toll on Tammy; she feels distanced from the world, aware that her experiences and sensations could be just a psychic construction.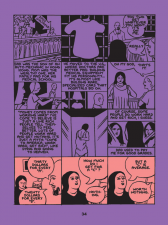 She's also isolated by the necessarily secret nature of their work, living a half-life of stultifying daily routine and deception, enlivened only – and tellingly – by lengthy retreats into the fantasy world of The Sims; reflecting Bell's after-life experience, this is the only environment in which Tammy is free to carve out the life she'd like to live.
Interwoven with the plots surrounding the Charon is the problem of Tammy's relationship with her difficult, demanding father, which has never recovered from the murder of her mother during her childhood. Tammy tries to convince herself of the value of their work ("I'm like a magician. Our work is going to be studied for centuries") and her father of the value of making the Charon more widely available. However, always the arch-pragmatist, Dr Cho Sr quashes each of her ethical arguments with blunt commercial logic.
Things come to a head on a number of fronts as Bell becomes intolerably distressed by her condition and the team use the Charon on an old friend of Cho's. It culminates in a moving climax that hints at acceptance and a degree of reconciliation, while the "real world" consequences of what they're doing finally close in on them.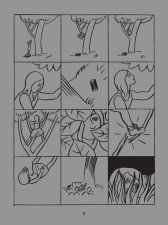 In his artwork, Shaw matches the intellectual and emotional impact of his thoughtful story with stylistic flair. His bold, slightly clip-arty style (reminiscent of UK small-press legend Chris Reynolds) scores highly on clarity and emotional impact, but also carries the sense of unreality that permeates the book.
He also tones down his usual kaleidoscopic approach to colouring (slightly) to give the book a clear page-based structure, providing a discernible rhythm while also embodying the disjointed, atomised nature of the recognisable urban society he depicts (and allowing for little excursions from the main narrative, such as the enigmatic 'Ghosts' page).
At 96 pages, Doctors is considerably slimmed down from New School, Shaw's last full-length work. However, it's a dense and deeply affecting piece of work that punches way above its weight (something clearly not lost on the executives at 20th Century Fox, who have just optioned the book).
In what's turning out to be a fine year for graphic novels, Doctors is one of the most essential so far.
Dash Shaw (W/A) • Fantagraphics, $16.99, September 2014.