Just days after Gary Groth's extensive interview with Tomi Ungerer in the relaunched print version of The Comics Journal came the news that the veteran artist had passed away at the age of 87. That extensive piece now takes on an added poignancy for those of us who have barely dipped into our copies of the TCJ #303 but there's some small consolation today in the welcome news that Fantagraphics are to bring back four of Ungerer's adult books to print beginning this autumn. The full press release is below.
Honoring A Legend
Fantagraphics To Resurrect Tomi Ungerer Classics
FEBRUARY 15, 2019—SEATTLE, WA—The international art and literary communities recently suffered a huge blow with the loss of legendary artist and writer Tomi Ungerer (1931–2019). Readers of all ages have been enchanted by his vast oeuvre, from his masterpieces of children's literature (such as the internationally beloved and award-winning The Three Robbers, Moon Man, and Otto) to his equally masterful satirical and erotic work for adults. In his lifetime he was recognized for the extraordinary breadth of his creative vision, receiving both the Hans Christian Andersen Medal for Children's Book Illustration and the Lifetime Achievement Award at the Sexual Freedom Awards.
Fantagraphics Books is honored to play a part in preserving the legacy of this creative genius with the re-publication of four Ungerer books for adults: The Underground Sketchbook, The Party, Babylon, and Adam and Eve.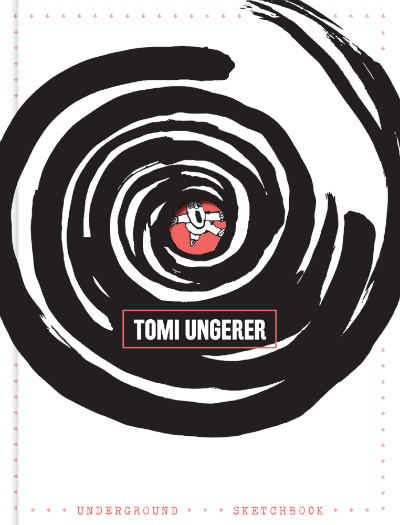 Due out in Fall 2019, Tomi Ungerer's infamous 1969 Underground Sketchbook is a tour de force glimpse into the artist's id. A shocking departure from his children's book illustration, each page seethes with coruscating social commentary, dada-esque observations, and existential angst. Underground Sketchbook is revered for its audacious visual wit, absurdist humor, and scathing satire, and this long-awaited reprint will be a visual treat for both fans of Ungerer and appreciators of fine cartooning unfamiliar with his work.
"While preparing for my career-spanning interview with Tomi Ungerer that appears in the new print edition of The Comics Journal, I was astonished to discover that many of his best satirical works were only available as used books at exorbitant prices," explains Fantagraphics Publisher Gary Groth. "In an attempt to right this wrong, I chose four of his books to reprint, all trenchant commentaries on the folly of our relationships and the absurdity of our social order."
The publication dates of The Party, Babylon, and Adam and Eve are TBD.