Not all archival comics collections need to be showcases for the best of what the medium can offer in terms of originality and technique. Some can exist solely for nostalgic interest, because they are representative of an era of long-gone comics, or simply for the reason that they are curiosities of the medium's history. The Complete Johnny Future, a Treasury of British Comics collection of the 1960s strip from Fantastic, is not the most ground-breaking feature from UK weekly comics' past but it does embody those last three qualities, providing simple escapist adventure fare aimed squarely at the younger audience of its day.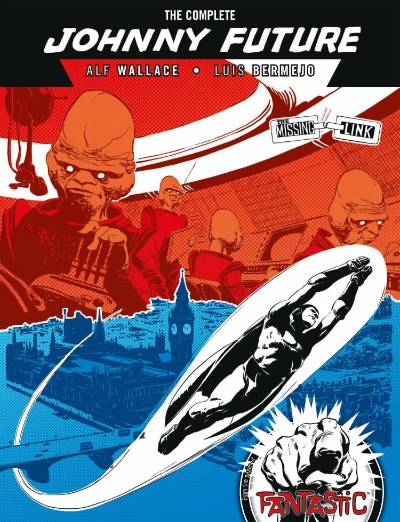 Fantastic was one of the Odhams Press titles that combined original UK content with reprints of early Silver Age Marvel comics in what became known as the Power Comics line. Johnny Future is a rare example of early British super-hero style comics and is intriguing in that it started life as a different strip altogether. Written by Alf Wallace and illustrated by Luis Bermejo, its original incarnation was the monster-themed serial The Missing Link which saw a group of explorers discover a powerful humanoid creature deep in the African jungle, and bring him back to civilisation.
There's obvious King Kong vibes to the initial plot but the key influence here is clearly that of Marvel's Hulk with Bermejo's Link strongly resembling him in look, physicality and posture. After a few short stories of rampage and carnage though the emphasis shifts dramatically and in another, shall we say Marvel-inspired plot twist, a dose of radiation at an experimental nuclear facility turns him into a super-evolved future human. Now dramatically changed physically and with multiple super-powers he takes on a new identity as the super-heroic Johnny Future battling such OTT bad guys and criminal enterprises as the Animal Man and the Secret Society of Scientists.
In truth this is essentially two characters stitched together into one ongoing serial and it's fascinating to speculate why the original premise was abandoned so quickly, and also why the original Missing Link character wasn't simply dropped and his Johnny Future iteration introduced as a new feature. Most of the work here is largely derivative and the Johnny Future material is really simply a procession of wordy "villain of the week" encounters with little development beyond that. However, it's not without a quirky appeal and such on-the-nose villain names as "Disastro" can't help but bring a smile to the face.
Bermejo's art is the real draw here, his use of light and shadow exemplary in its craftsmanship, playing to the strengths of the black and white format. While his panel-to-panel storytelling is largely conventional in structure the incongruous mix of the fantastic and the near photo-realistic emphasises the strangeness of Johnny Future's world all the more eloquently.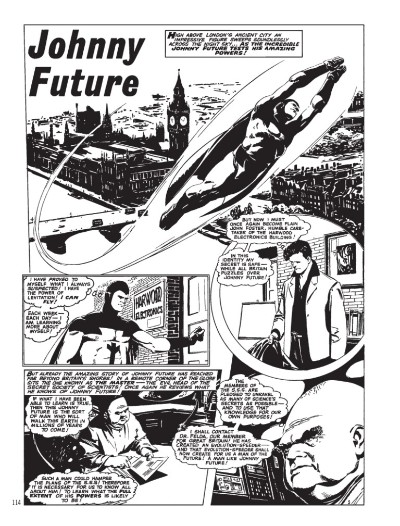 Given its obvious "homage" to and parallels with American super-hero comics The Complete Johnny Future is perhaps not a Treasury of British Comics collection for those unversed in the history of UK comics who are looking to discover something of their distinct flavour. But it is an interesting footnote in British comics publishing and an example at the time of a rare homegrown foray into the genre that dominated the form in the latter part of the 20th century and beyond.
Alf Wallace (W), Luis Bermejo (A) • Rebellion/Treasury of British Comics, £19.99
Buy online here or from Gosh! Comics here
Review by Andy Oliver