Press release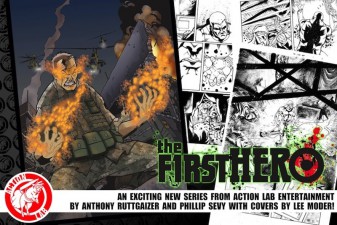 What if everyone who ever had superpowers had gone insane and become a threat to society?  What if one man gained abilities "far beyond those of mortal men" but kept his sanity?  Faced with a society that fears superhumans, a government that hunts them down and growing numbers of crazed supervillains all around him, Jacob Roth must decide to either put himself at risk by using his powers to help people or do nothing and remain safe while innocent people get hurt.
This is the premise of "The F1rst Hero", a brand new series coming soon from Toronto creator/writer Anthony Ruttgaizer along with artist Phillip Sevy, colourist Keiren Smith and cover artist Lee Moder.  The first four-issue mini-series will debut in early 2014.
Ruttgaizer is currently running a crowdfunding campaign on IndieGoGo.com in support of the title.  The fundraising, which started on Wednesday August 21st and runs until Thursday October 17th, has already raised almost $1900 on the way to its $7500 goal.  For as little as $5, supporters who make a pledge can receive a digital copy of the complete four issue series.  Print copies start as low as $25, which includes shipping.  Readers can also pledge towards more exotic perk packages which include t-shirts, original artwork from the series or even the chance to appear in the comic book themselves!
The money raised through this pre-sale will go towards helping insure the timely production of the book as well as help cover some of the legal fees and promotional material associated with launching a new comic book.  You can read more about The F1rst Hero and see some sample pages from the series on the IndieGoGo campaign page at www.igg.me/at/firsthero or on the official website at www.sixteenhectares.com.
We hope that you can help us make both the IndieGoGo campaign and, in turn, The F1rst Hero comic book series, a rousing success.  For more information, please contact Anthony at sixteenhectares@gmail.com.
IndieGoGo fundraiser: www.igg.me/at/firsthero
Official website: www.sixteenhectares.com
Anthony's website: www.ruttgaizer.com