Celebrating Pride Month! As we move ever onwards into this year's Pride Month it's important to remember that, while graphic memoirs and graphic biographies exploring the prejudice and challenges faced by the LGBTQ+ community are vital and compelling, there's also a need to promote work that is celebratory in tone and stories that are aimed at a younger audience. Molly Knox Ostertag's The Girl from the Sea, published by Scholastic's Graphix imprint, is a beautifully structured coming-of-age story that will appeal to an early teen audience but has familiar themes and motifs that will take older readers back to those confused days of emerging adolescence.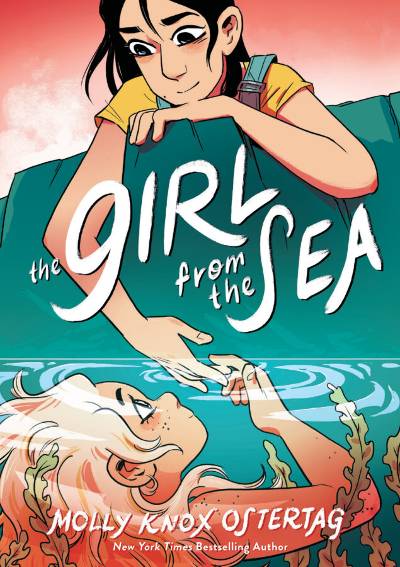 Fifteen-year-old Morgan Kwon lives in a small town located on a remote island with her recently divorced mother and irritating younger brother. She has big dreams about escaping from what she sees as her confined world, and is slowly drifting apart from her close friends Serena, Jules and Lizzie. Morgan also feels an outsider within her own peer group because she has a secret she's hasn't shared with them yet… that she's attracted to girls.
Morgan's world is turned on its head though when she is saved from drowning by a mysterious girl named Keltie. As summer progresses the two begin to fall in love. But Keltie's background is very different from Morgan's life of high school cliques, social media and gossip. As the human world and the supernatural one begin to converge both girls will learn valuable life lessons about friendship, love and responsibility…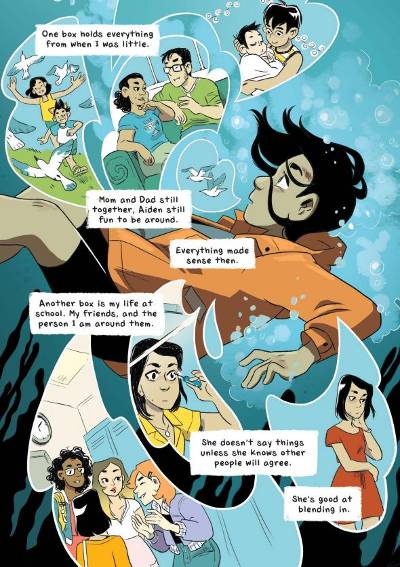 The Girl from the Sea blends folklore with teen drama to give us an endearing story of coming out. Ostertag captures that pivotal point in our formative teenage years where we are beginning to find our place in the world with tentative, awkward steps and a sense of solitary trepidation. The contrast between the two central characters is carefully spotlighted. Morgan is insular, pensive and afraid to share, while Keltie is the flip side of the coin unashamedly forthright, open and unrestrained, perhaps also reflecting the different ways they understand their sexuality.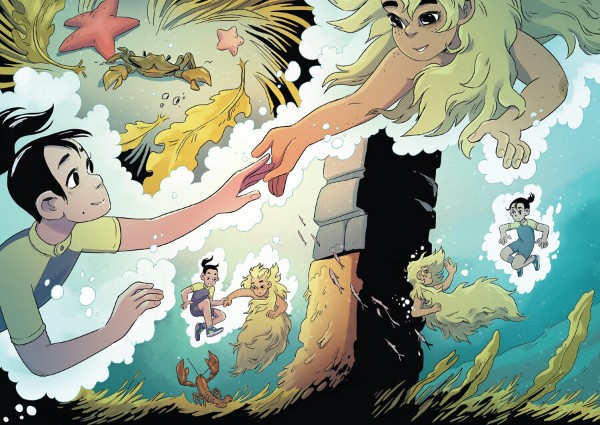 It's worth noting that The Girl from the Sea is not a story about homophobia or bigotry. The adversity that Morgan faces is here is somewhat of her own unconscious creation as she contends with her inability to express her true self, manifested in fantasies of moving away from her small town life and starting anew on the mainland. Ostertag's well-rounded cast of characters have their own subplots that move towards emotional closure as the story progresses, including her mother's moving on from divorce, the realisation of the touching true reason behind her little brother's obnoxiousness, and the familial pressures on her friend Serena. And, of course, there's the magical origins of Keltie herself thrown into the mix.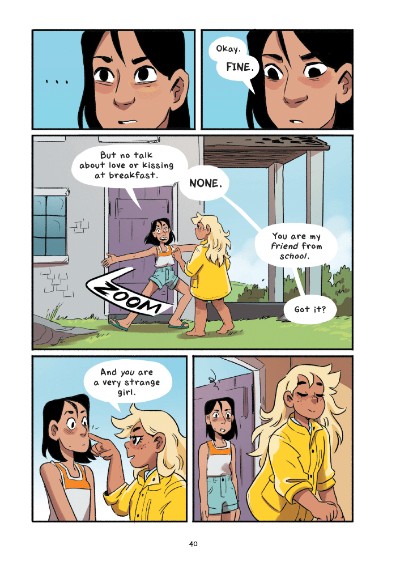 Ostertag's visual storytelling is often soaked in gorgeous colour that suitably embodies the vibrancy of nature on the island. The cartooning here is expressive and energetic with quick-paced action scenes sitting side by side with quieter moments of affection and intimacy, and a neat use of the trappings of social media to add context. While the book has an ultimately bittersweet feel at closure it's by no means an unhopeful one. It may be missing the point to a degree but it's impossible to finish The Girl from the Sea without wanting to see more of these characters in the future. A must-have on the LGBTQ+ shelves for teen comics readers.
Molly Knox Ostertag (W/A) • Scholastic, $14.99
Review by Andy Oliver