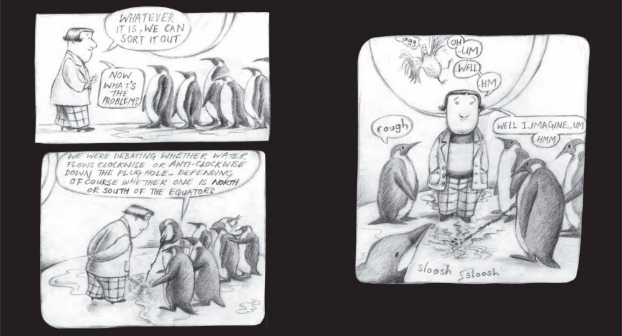 Graphic medicine quite unlike anything to come before it, The Inflatable Woman is a visionary use of this ever expanding area of slice-of-life comics.
The Inflatable Woman marks the first full-length graphic novel from Rachael Ball whose work originally came to wider prominence in the pages of Deadline, that seminal UK monthly of the late 1980s and '90s. Regular Broken Frontier readers may also recognise Ball's name in another comics-related capacity, as one of the organisers of the monthly London Laydeez do Comics meetings.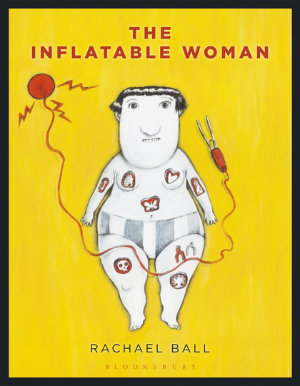 Mixing magic realism and slice-of-life storytelling The Inflatable Woman tells the tale of zookeeper Iris Pink-Percy, whose quest for love on the internet becomes a major focus in her life after she is diagnosed with breast cancer. While her daily routine revolves around coming to terms with her new situation and tending her animal charges, her evenings are spent projecting an altogether different persona on the internet as 'balletgirl42'.
It's there that she meets 'sailorbuoy39' and becomes infatuated with the possibilities he represents rather than the person he actually is. Detached pseudo-relationship evolves into coping mechanism as Iris escapes into the fantasy world she has created for herself online as a prima ballerina in search of love…
What Rachael Ball has achieved with The Inflatable Woman is an entry in the graphic medicine strand of comics narratives that is quite unlike anything to come before it. Part fiction, part semi-autobio, it's an offering that is in parts heartrendingly poignant, darkly funny, eerily surreal and painfully honest.
At the storytelling forefront is Ball's richly expressive visual characterisation that ensures we are pulled into those darkest moments of Iris's existence without any need of inner monologue or expository dialogue. That's complemented by her forceful visual symbolism that uses an ever shifting sense of warped perspective to underline those moments when Iris feels dehumanised or overawed by the realities of her situation.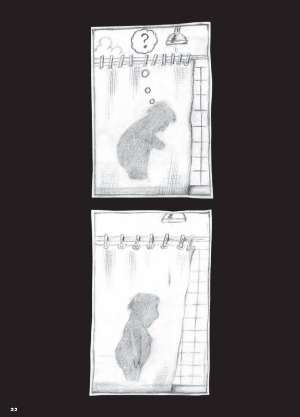 At 500-plus pages this may sound like a dense tome. Ball's distinctive pacing and economical use of single and two-panel pages, though, ensures that The Inflatable Woman is a strangely contradictory reading experience. On the one hand it's a book that makes the reader want to linger on every poignant image and on the other to digest events with the reading rapidity that its storytelling structure invites.
Ball conveys the experiences of her on-page avatar with a compelling use of comics' visual language. In the key diagnosis scenes Iris shrinks to child-like proportions as the reality of the situation hits home and in another deeply affecting page the single word "mastectomy" hangs ominously over her as her visage becomes a completely blank void bar the inescapable presence of a pair of desperate, plaintive eyes.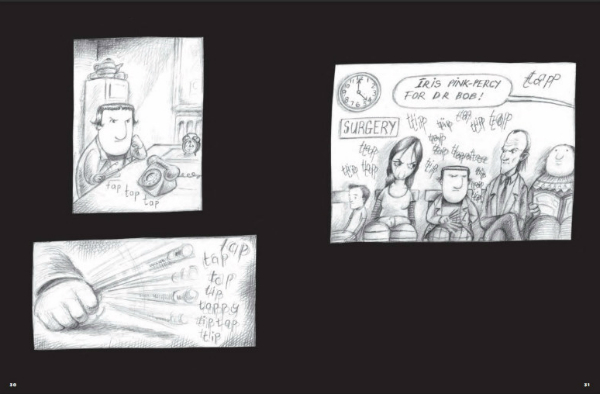 They're subtle, simple and powerfully communicative moments in a book that is full of emotional potency. It hits us as readers all the harder because Ball is a canny enough creator to know that making us feel Iris's plight rather than having it explained to us is a far more effective storytelling practice. It also means that as readers we become fully invested in Iris – profoundly so in fact – as she adapts to the challenges ahead.
It's important to note that despite its serious subject matter The Inflatable Woman is also an often very droll book as well. There's a dreamlike quality to it, especially in the zoo references, Iris's bond with her penguin chums and her memorable supporting cast. Her infatuation with the enigmatic 'sailorbuoy39' is often oddly lighthearted in tone as well as Iris loses herself in the distraction; despite our foreknowledge that it can only end in heartbreak and that Iris's eventual despair will be our despair as well.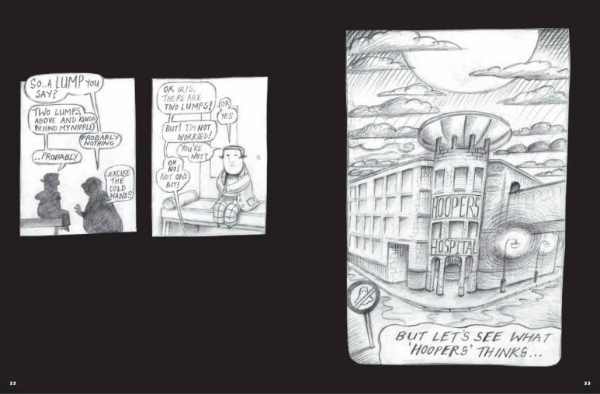 A fragile character study dressed up in the visual trappings of the slightly grotesque and the bizarre The Inflatable Woman isn't a story about cancer; it's a story about a protagonist who has cancer and how she lives through that experience. Graphic medicine quite unlike anything to come before it, The Inflatable Woman is a visionary use of this ever expanding area of slice-of-life comics.
Rachael Ball (W/A) • Bloomsbury, £16.99
Follow Rachael Ball on Twitter here.
Rachael Ball is also a guest artist at the February edition of the Gosh/Broken Frontier Drink and Draw. Full details on Facebook here.