Hot on the heels of the announcement of this year's Myriad First Graphic Novel Competition comes news of a new women-only prize for unpublished graphic novel works-in-progress, courtesy of our good friends at the Laydeez do Comics group. Nicola Streeten – London Laydeez organiser, Billy, Me & You graphic novelist and my co-judge back on the 2014 Myriad First Graphic Novel Competition – speaks about the work of Laydeez and the need for this new prize in the video below.
Set up in 2009 by Nicola Streeten and Eisner Award-winning (and Broken Frontier Award-nominated) Sarah Lightman, Laydeez do Comics was created as a women-led monthly event with a focus on the autobiographical and the slice-of-life. Its success as a group can be measured by the way in which it has acted as a catalyst for so many LDC "franchises" with Laydeez do Comics incarnations having appeared in Birmingham, Leeds, Bristol, Brighton, Glasgow, Dublin, Israel, New York, Chicago, San Francisco and the Czech Republic in the years since its UK debut.
Last year we had the privilege of an entire 'Broken Frontier Special' at the London Laydeez do Comics meeting in January 2016 where I talked about Broken Frontier's work and ethos and two of our original 'Six Small Press Creators to Watch' – Rozi Hathaway and Danny Noble – gave presentations about their practice. It was also the evening where we revealed the names of our 2016 'Six to Watch' the day before they were announced on the site.
LDC is a truly inspiring, inclusive and welcoming group whose comics activism very much mirrors our own spirit of championing, collaboration and comics community here at BF. They've given so many creators – often very new voices on the scene – an opportunity to speak about their work and boost their profiles over the last few years. That's an important and vital role and, given the gender imbalance that is still rife in UK comics, we're obviously throwing our full weight here at BF behind both this new prize and the crowdfunding campaign to fund it.
You can read more about the prize's aim to reward talented female-identifying creators here and the press release is reproduced below. So… if you can back that crowdfunder please do at the link below but, just as importantly, please get out there and spread the word on social media!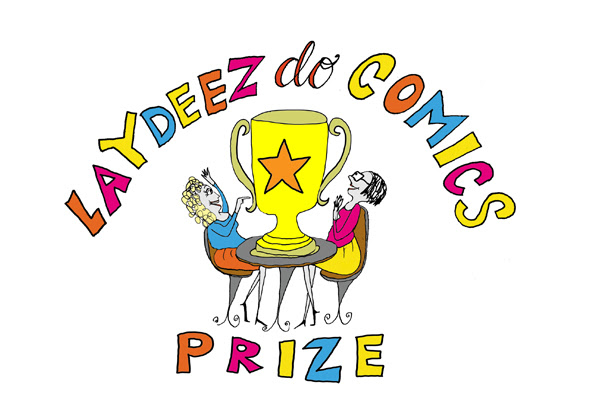 First prize: £2,000
Five shortlisted entries: £200 each.
All shortlisted entries will receive a Laydeez Review session.
Deadline for entries: 13 January 2018
Full details: http://www.laydeezdocomics.com 
Fundraising Campaign to Support the Cash Prizes
Here's the link to the crowdfunding campaign.
Why this prize?
In response to a gender imbalance in a number of British comics events and activities, Laydeez do Comics is launching a campaign to create the first women's prize for graphic novels. With a strong commitment to gender parity and diversity, Laydeez do Comics aims to spotlight and celebrate the wealth of unrecognised graphic novel work being currently produced in the UK.
The competition calls for unpublished graphic novel works in progress from female-identifying UK-based people. Full details of eligibility and submission guidelines are on the website http://www.laydeezdocomics.com 
The awards will be presented at "Laydeez Day" festival on Saturday 24 March 2018.We are grateful for the support of Arts Council England towards the organising and hosting of "Laydeez Day" on Saturday 24 March 2018, where award winners will be announced. For any queries please email us right away at info@laydeezdocomics.com