Rachelle Meyer's The Last Guide to Literary Conflict You'll Ever Need put me in instant mind of micropublisher O Panda Gordo's Seven Stories. That much-missed series took Arthur Quiller-Couch's contention that all literature was formed around seven forms of conflict – human versus human, human versus nature, human versus oneself, human versus god, human versus society, human caught in the middle, and woman and man – and applied them to a different theme each edition. In The Last Guide to Literary Conflict You'll Ever Need Meyer does something very similar but in a markedly more concise manner and with a contemporary message in mind.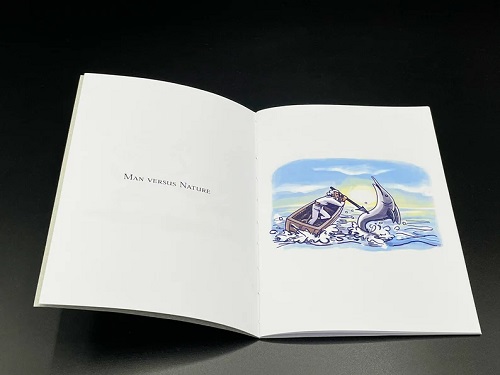 Re-presenting her online New Yorker-published strip as "an artisan physical volume with an antique feel" Meyer's take on the classification of literary conflict veers off in a very topical direction. It brings in a line in social commentary that reminds us of the worst that we've been through in the last couple of years with a darkly comedic emphasis. The pandemic, assaults on democracy and the environmental crisis all come into play, with a punchline that may be as prescient as it is amusing.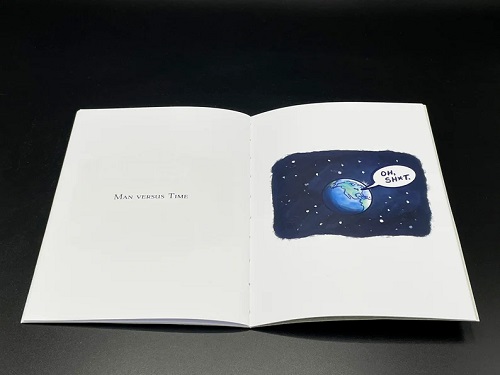 Hand-sewn with presentational values that underline the historical facsimile effect Meyer is looking for, The Last Guide to Literary Conflict You'll Ever Need is a deliberately tactile affair. Meyer, of course, has previous experience of this with her Texas Tracts series of comics which mimicked the feel of the infamous and religiously extreme Chick Tracts. Each of the eight illustrations in these pages perfectly encapsulates the realities of the existential turmoil of the last few years through either graphic metaphor or biting observational humour. Those in Amsterdam will also be able to  see her work as part of the current Megillah Sunday Funnies exhibition.
Rachelle Meyer (W/A) • Self-published, €15.00
Review by Andy Oliver