Chad Bilyeu has been diligently producing his Chad in Amsterdam comics – collections of narrative vignettes of his experiences as an American living in Amsterdam – since 2018. Working in collaboration with a number of different indie artists each issue Bilyeu's observations are dry, witty and unfiltered; an approach which led to a much deserved Broken Frontier Award nomination last year. I chatted recently with Chad about his autobio influences, his collaborative process with artists, and using comics as a tool to challenge social injustice…
(CW: Blackface imagery below in the context of both the work and the issues it so determinedly and uncompromisingly explores)
ANDY OLIVER: Last year at Broken Frontier we reviewed the first five issues of Chad in Amsterdam (also nominated in the 2021 BF Awards for Best Periodical Series). For those discovering the series through this interview how would you describe the premise of the comic? 
CHAD BILYEU: Firstly, thank you very much for the nomination. My book was collocated next to some stellar titles and it really meant a lot to get such a nomination, especially considering that I'm about as independent as indie comics come. For folks who aren't privy to my work, I usually present my tagline: the autobiographical misadventures of an atypical American living in Amsterdam. I think it's important to note that what I'm writing is neither standard autobiographical comic fare, nor is it the superficial drivel I deem as "expat lit." I truly think I'm doing something novel and unique and I feel as if I'm improving with every issue.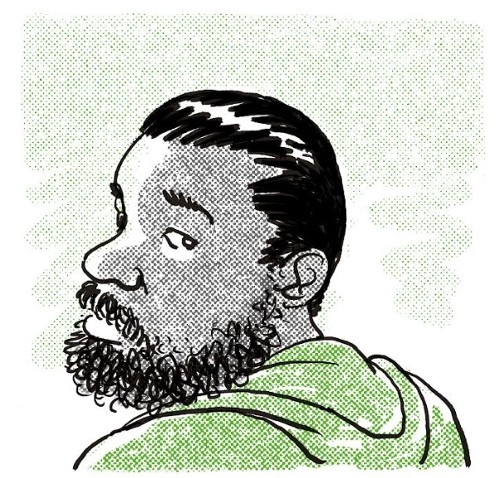 Profile image by Juliette de Wit
AO: What are some of the aspects of life in Amsterdam that you've looked at over the book's six issues? How important is examining ideas of the nature of identity, home and belonging to the series?
BILYEU: I'm aiming to approach the tropes of the city alongside topics and subjects that aren't usually discussed. I'll delve into weed and the Red Light District whilst giving my thoughts on getting your bike towed and being the outsider. Hell, you even meet my mother, sister, and nieces in my comic. I like exploring the banal facets of life. I'm really not here to give folks any expert opinion or anything as such, I'm just having fun focusing upon these stories that no one else would tell.
Identity is definitely a big part of my comic. I'm not from Amsterdam so I'm constantly dealing with being an outsider. I learned a long time ago that your identity is partially who you think you are but also who others perceive you to be. I think that folks who have never left their country often underestimate the strength and fortitude it takes to be an immigrant. So yeah, I'm on a constant hunt for "home" but I don't think I'll ever find it. I've pretty much accepted this reality and instead of thinking in nationalist or provincial terms, I consider wherever I go to be my home.
Cover by Will Robson
AO: Given the way your comics reflect on and explore Dutch identity from a different perspective what has been the feedback on the series from readers in the Netherlands?
BILYEU: I think that the Dutch folks who read my comic tend to like it because I come from a different vantage point than the one they are accustomed to. I'm all about veracity. I say what I mean and I mean what I say. Being that folks are reading a comic based upon my life, I feel that I owe it to the reader to be as honest as possible. I really don't see the point of writing autobiographical work if you're going to mollify your experience or try to appease any particular audience. Again, there is a glut of expat authors who choose to wallow in superficiality and sycophancy; so if folks want to read a glowing, non-critical review of the Dutch, those books already exist. Oddly enough, I don't believe that most Dutch folks are interested in reading such stuff. I'm American, so I'm used to everyone in the universe having an uneducated opinion on my country. What I'm providing is an educated outsider opinion on a city, a country, and a culture that I've been privy to for at least 13 years. I'm pretty much a product of globalism, so I do my best to translate my experience to a localized audience in an easily digestible yet honest fashion.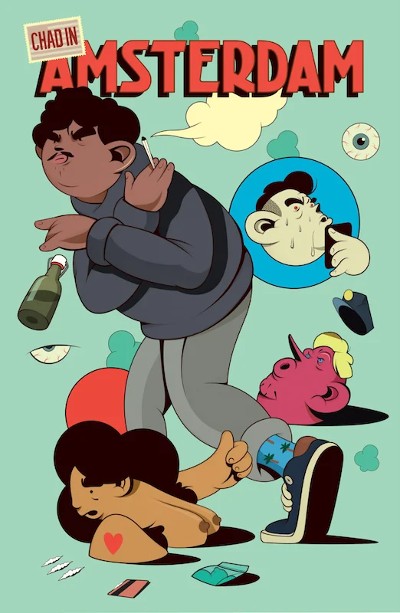 Cover by Denis Galocha
AO: The term "Pekar-esque" is undoubtedly overused in comics commentary but it does fit rather neatly with your work. It also has another resonance given that you also met Pekar when growing up in Cleveland. Were his comics an inspiration to your own approach to the form?
BILYEU: Being compared to Harvey Pekar is an honor; I have zero issues with the comparison. I feel like all of us who delve into autobiographical comics had to have been influenced by Pekar, and if a person wasn't influenced by Pekar then they probably don't know comics that well. I read the entire run of American Splendor at a very low point in my life. I had been in Amsterdam for about eight years and found myself destitute and depressed. Whilst reading the series I decided that I was going to make autobiographical comics like Harvey, but in my own idiosyncratic way. Honestly, I was through with Amsterdam and I vowed that if the comic didn't work I was going to move back to the States and begin life anew. To my surprise, the comic had legs so I stayed in Amsterdam and ran with it.
Art by Juliette de Wit (left) and Rachelle Meyer (right)
In addition to Harvey Pekar I was also influenced by several other comics created by folks such as Dennis Eichhorn, Jullie Doucet, David Collier, Kyle Baker, Eddie Campbell, Joe Matt, Derf Backderf, MF GRIMM, and Robert Crumb. There's something inexplicable about autobiographical comics that just does it for me. What's better than actual fucking life?
AO: Is there a flourishing Dutch small press scene in terms of the indie comics community in Amsterdam?
BILYEU: I would say so. If you're interested in seeing the comics that the Dutch small press produces and actually meeting some of the creators, I recommend coming to Lambiek (the oldest operating comic book store in there world) on a Friday around 17:00 and have a drink at our Vridagavondborrel (happy hour). It's honestly one of the most amazing experiences in comics. You're in this wonderful shop chilling amongst some stellar comic talent. No ego, just a lot of drinking and shit-talking.
With this said, the Netherlands isn't on the level of Belgium or France regarding cultural acceptance of comics. I think that the general public of the Netherlands doesn't realize the potential and power of the medium. However, there is a lot of talent and everyone is approachable. There really aren't any superstars in the Dutch comic scene, and that makes the entire scene pretty friendly and welcoming.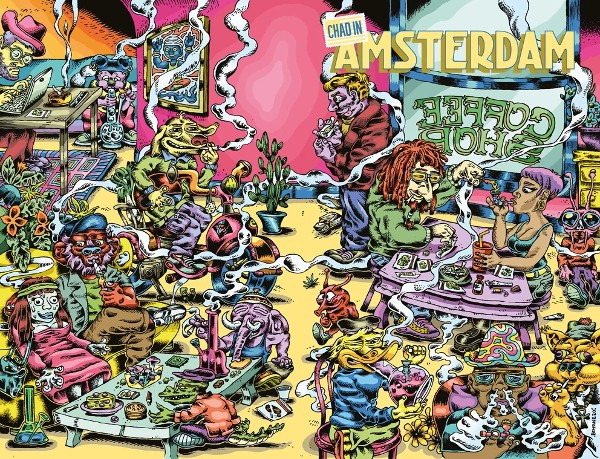 Cover by Boyane One
AO: Autobio work comes with its own responsibilities. Do you ever have any misgivings about being so open about your life on the comics page?
Funny that you ask this, because I think I could be way more candid than I am. Have I really revealed so much about myself? I'm really not certain that I have. I do have a few rules that I abide by. I don't write sexually explicit stories; they aren't really so interesting to me. It seems that Europeans think that stories about the act of sex are the pinnacle of personal revelation but I demur on that. Personally, I'm more interested in what led up to the act rather than the act itself, but that's just me. Plus, my parents read my comics so I'm not going to write anything that would make them uncomfortable.
I wouldn't put my friends in my comics without their permission, but other than that I think anything is game. I mean, I'm like anyone else in the world. I win, I lose, I'm right, I'm wrong. I do my best to portray myself as fallible and imperfect in my comics. I really do hope that comes across.
AO: One of the things I really appreciate about Chad in Amsterdam is the diversity of artistic styles. How do you go about choosing artists for each strip? Are you consciously matching up styles to subject matter? 
BILYEU: I appreciate that. I do my best to give the artists a story that complements their style and I think I do a decent job at it. In an optimal situation I try to meet an artist if I don't already know them. If we aren't in the same area I try to call them on the phone and have a conversation with them. I feel that they should be able to see me or, at the very least, hear my voice. This usually helps in the task of drawing me. When speaking with the artist I try to find out what they are into and if there is an intersection of interests from which we can work. I prefer to speak to an artist and then write a script rather than writing a script and looking for an artist, although I have done that as well. Once we find some common ground, I write what they call a "full script" and present a rough layout, get the artist to review it and give feedback and we go from there. It's a pretty easy process, to be honest.
Covers by Lera Ryazanceva (left) and Dotsy (right)
I write full scripts, so usually I'm suggesting panel counts and shots along with plot and dialogue. I do this not to be a control freak but to let the artist know exactly what I'm looking for. I trust my artists to suggest any logical changes that would make the story better. Ultimately, I'm in control of plot and dialogue and they are responsible for how the comic looks. I'm pretty adept at the language of comics, so usually my artists agree with my layouts and proposals, but I'm always open for feedback. Some artists are so good that you don't have to provide such explicit instructions, but I believe that if you give folks too much information any subsequent reactions will be firmly rooted in the original vision. I know this sounds authoritarian, but in the end it results in a stellar comic book.
AO: Unsurprisingly the hardest-hitting Chad in Amsterdam for me was the Sinterklaas issue #5. What I found particularly effective there was the way in which you approached the subject from so many different perspectives and tones. What for you is it about comics as a medium that is particularly effective at communicating with readers on such an immediate and empathetic level?
BILYEU: Yeah, folks quite like that issue. I'm really proud of it because it honestly is the best critique of the racist-ass Sinterklaas holiday in existence. Shoutout to Dany, Lae, Merel, and Eryc for killing the art on that issue. If you examine the stories in that issue you have a fourth wall-breaching personal account, a gag comic based from an actual event, a retelling of an actual event, and a fictional story based in an actual location. That's pretty difficult to do in other mediums. I think the medium of comics allowed me to approach this controversial issue in a manner that allowed for humor and sympathy simultaneously. I didn't really consider the medium so much when creating it. What I did consider was the tone and the humor. I knew that I had to provide the history of the holiday alongside my own experience as an outsider. I did not mollify my opinion whatsoever.
Art by D.M. Rodriguez and Lae Schäfer
In addition to being honest about the history and my experience, I threw in some humorous fiction with the "Plaza Negrito" story, because the entire Sinterklaas issue in the Netherlands was completely devoid of humor. I have a really high bar for humor, humor which most of your audience would probably deem as politically incorrect, but I'm completely cool with that. I really think that humor will absolve us all, so I took it where no one else in the country would or could, and I crafted a classic. I suppose this issue couldn't have been duplicated in any other medium, at least not for the budget that I was working with. Comics can truly be whatever you want them to be. For me it's the ultimate medium in which to tell a story.
AO: Your new project is The Re-Up which is again autobiographical but from a different point in your life. What is the subject of The Re-Up and what does artist Juliette De Wit bring to the project?
BILYEU: The Re-Up is yet another autobiographical comic from me which takes place from 2004-2008 when I worked at and attended Georgetown University. Unbeknownst to most, during those years I sold drugs, mostly weed, and made a lot of fucking money. I'm telling this story over the course of about 25 or so full length single issues. I realized that I had a story that no one else in comics could tell, so I'm putting myself out there and I'm telling it. It's really an amazing tale. I honestly should be in jail but I didn't get caught, so I'm putting this story into the universe. There's honestly nothing like it in comics. Y'all are in for a ride. I'm so proud of the first issue and am incredibly hype to write the rest.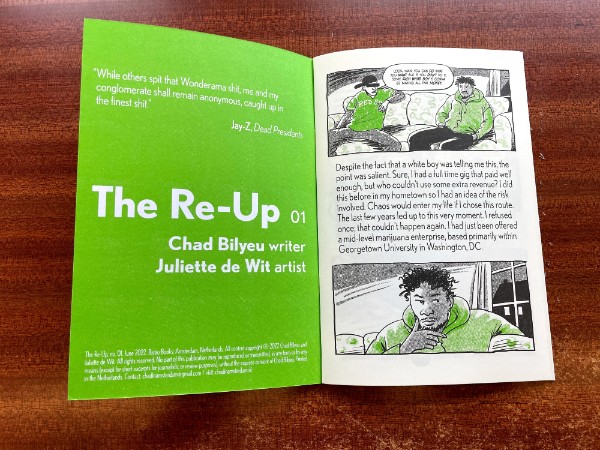 Art by Juliette de Wit
Juliette de Wit is primarily my friend and secondly my collaborator. We worked together on a story in the fourth issue of Chad in Amsterdam entitled "Where Dem Dollas At?" Juliette is a big fucking deal in the Netherlands children's book industry. She's illustrated over 500 children's books. We were talking about doing something magnum opus-like, so I let her read the first few chapters of The Re-Up, a story that began as a prose novel. She liked it and agreed it could be a great comic. I went back and translated the first chapter to a 22-page comic and she drew it up. Juliette brings a level of professionalism that I aspire to. She helps to keep me on point. The way we did the first issue was in six-page increments. I'd write six pages and send them to her and she'd draw them within the week. After that I added the layout and lettering. I was truly amazed by how the final art came out and it got me hype to write more. I know we are going to kill this one. Like honestly, I'm not even humoring any naysayers on this comic because it's fucking amazing. I'm quite literally writing the comic that I want to read. I couldn't be happier and am so honored to be working with a consummate professional.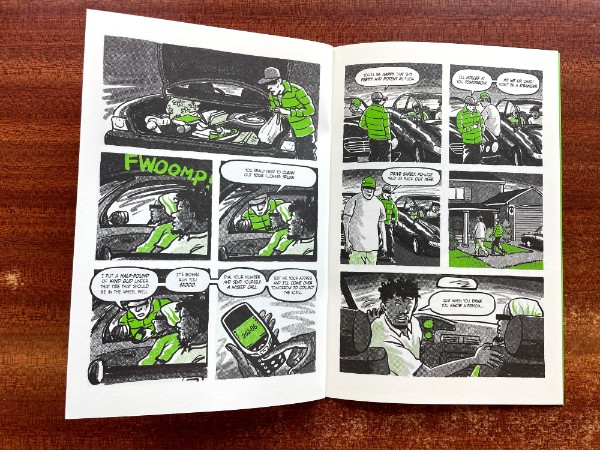 Art by Juliette de Wit
AO: And finally is there anything else you're working on that you can tell us about? Where can readers expect to see you this year at comics events? 
BILYEU: Expect a hardcover collection of the first six issues of Chad in Amsterdam pretty soon. I'm working with a stellar Dutch publisher, so it's going to look lovely and it'll have some exclusive stories in it as well. I'll release the seventh issue of Chad in Amsterdam next spring. Kingsday theme. It's gonna be something special. Also stay tuned for subsequent issues of The Re-Up. Me and Juliette are working on the second issue right now.
Regarding comic festivals, I really can't tell you. There's a lot of politics in the comic world and I thought I was at a point at which I could get into festivals easily, but I am still seeing waiting lists and rejections, especially amidst the folks who claim they are all about diversity. Whatever. I'm out here hustling harder than most and creating comics harder than most. For me it's not a matter of if, rather a matter of when. Peace.