Jonathan Baylis's long-running collaborative project So Buttons hit its twelfth issue this Autumn with another collection of his autobio whimsy being brought to life by a roll call of diversely talented artists. Behind a near-abstract cover by Jesse Lonergan (surely one of the fastest rising stars on the scene in terms of the art of pure comics) which acts as a one-illo interpretive narrative in and of itself, Baylis presents us with around a dozen tales illustrated by a line-up of notable voices on the indie comics scene.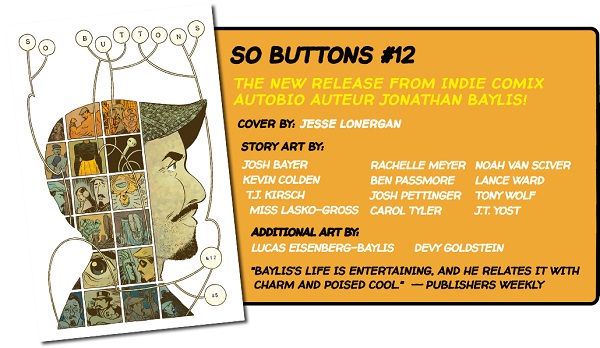 Like all great autobio practitioners Baylis's work resonates because he makes the little details in life feel as monumental and important as the major, pivotal ones. In So Buttons #12 he once again combines the anecdotal and the reflective, carefully matching artists to the nuances of each story, with his familiar flat cap and facial hair acting as a stylishly groomed visual throughline across the stories.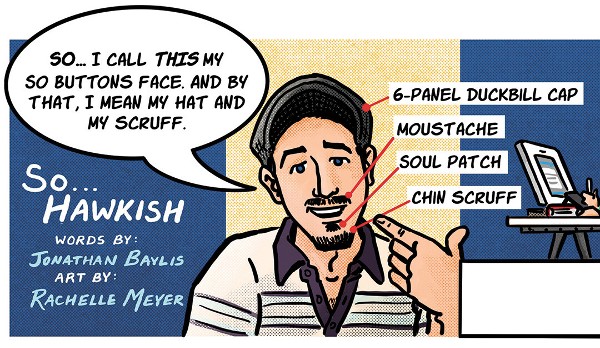 So Buttons #12 has a light-hearted touch that is immediately noticeable in the first story 'So… Hawkish' where he ruminates on his personal appearance and the subtle nudges across the years that gave him his signature look. Oft-featured at BF over the last couple of years, this 3-pager is illustrated by Rachelle Meyer (above) who adeptly brings out the more playful elements of the strip. In 'So… Mebody' frustration at not being recognised in awards lists evolves into a likeable anecdote about a festival encounter with comics notables Tom Spurgeon and Carol Tyler. Artist Lance Ward captures the relaxed and chatty mood of the piece with cartooning that has a suitably Aragonés-style touch to it.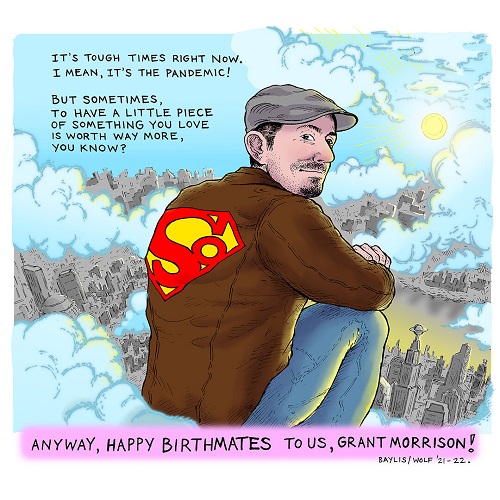 It's that visual curation that elevates So Buttons from the solely autobiographical to an exploration of the collaborative creative alchemy between writer and artist as well. A short on the work of Grant Morrison and Frank Quitely on All-Star Superman, for example, is brought to life with a clarity by artist Tony Wolf (above) and well served, given its super-heroic inspiration, by the vibrant colours of Gryphon. While an analysis of John Lydon's sad emergence as an establishment stooge still captures the frenzied energy of his earlier punk days thanks to the frenetic art of Josh Bayer.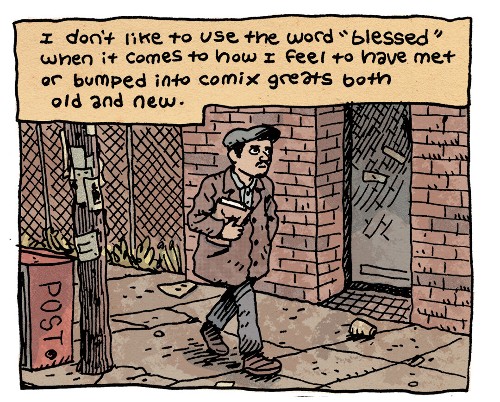 'So… Not So… Great' is a symbolic piece that uses Baylis's time in a boxing gym as a metaphor for the blows that we all have to take and bounce back from in life. The cartoon violence of Josh Pettinger's visuals bringing the symbolism to the forefront. Perhaps the entry that most sums up Baylis's approach is 'So… It's My (Comix) World and You're Just Living in It' with art by indie great Noah Van Sciver (above), as a chance encounter in the street with X-Men writer Chris Claremont takes us on a stream of associated digressions via the Museum of Cartoon Art, Patrick Stewart, and Godzilla…
When I reviewed So Buttons #11 last year at BF I remarked on what an entertaining raconteur Jonathan Baylis is. Issue #12 proves that once again but it also provides a showcase for the art of a number of alt and indie artists bringing their own takes on Baylis's world in an accessible and self-contained package.
Anthology – Various creators • Self-published, $8.00
Review by Andy Oliver