Over the summer at Broken Frontier I took a look at Holy Diver, the first in a series of autobio comics by Rachelle Meyer inspired by the infamous Chick Tracts and their fire and brimstone approach to spirituality, preaching and sequential art. Meyer adapts elements of her own youth growing up in Texas with a religious upbringing to both the format of the Chick Tracts and their uncompromisingly judgemental stance.
All three of Meyer's Texas Tracts are currently crowdfunding on Kickstarter with a box set aesthetic that adds to their appeal as physical objects. Holy Diver took us back to that latter 20th century period when bizarre and ludicrous rumours that Satanic messages were being subliminally hidden in rock songs began to be adopted as fact by the religious right. You can read more about that in our initial review here.

The second Texas Tracts, Joy Ride, continues in that vein but there's something almost EC Comics-like about its embedded tale of a once upstanding student whose dalliance with the evil temptations of smoking, drinking and (deep intake of breath) kissing girls leads to his supposedly righteous and ultimate comeuppance. Mayer weaves this faux moral object lesson within a wider account of the scapular – a kind of talismanic Catholic necklace proclaiming individual piety – and those first early experiences behind the wheel of a car. Coming-of-age motifs abound as slice-of-life storytelling and direct satire converge.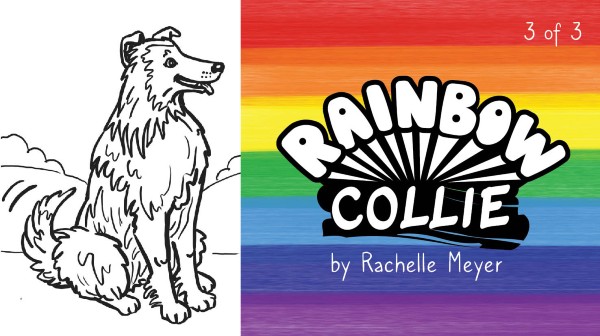 The third instalment of the series is Rainbow Collie wherein Meyer introduces careful applications of colour into her previous grey-toned entries in a story that meditates on the importance of questioning authority when necessary. Inflexible nuns, the fallibility of professed orthodoxy and a moment of childhood epiphany all come together in a quite beautiful coda to the trilogy.

Once again what works so well here isn't simply in the immediate parody of a notorious source but the way in which Meyer uses the original format to create a more layered social commentary, going beyond the obvious critique of belligerent religious teaching and offering a profound and nuanced reflection on the importance of breaking free from group indoctrination and embracing individual freedom of thought. You have a little under a week to make sure you back the defiant charm of the Texas Tracts on Kickstarter here.
Rachelle Meyer (W/A) • Self-published
Review by Andy Oliver