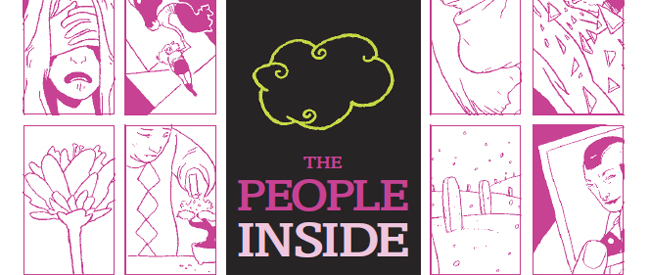 Tracing the relationships connecting 24 people with a balance of bittersweet insight and technical virtuosity, Fawkes's spiritual sequel to One Soul challenges its audience with brutal honesty and lyrical narration.
When I first read One Soul a couple of years ago, I was certain then – as I still am now – that Ray Fawkes would be one of the hottest names in comics.
Stunning, poignant, and insightful, his first original graphic novel (OGN) from Oni Press was a technical masterpiece infused with such raw emotion it was difficult to read in one sitting. It was also impossible to put down.
Like One Soul, Fawkes's latest creator-owned offering lives within that same delicious tension, on a number of different levels. Juxtaposing a highly structured format with an intuitive ability to depict the exact right moment to send an emotional beat over the moon, The People Inside is further testament to its creator's ascension to the top of his craft. The two OGNs act as bookends, connected yet distinct.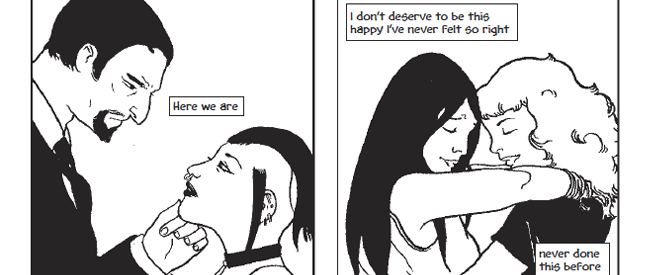 Fawkes chooses his subjects to represent as wide a cohort of humanity as possible, crossing ethnic, gender, and sexual lines with ease and grace. The six-panel narrative grid works to his advantage, allowing the audience to keep each member of the ensemble cast distinct and the creator to employ numerous technical tricks to mirror the events of each story thread.
This is as difficult a juggling act as there has been in comics, and Fawkes pulls it off brilliantly. Each couple and individual is so beautifully and completely realized that it's easy to identify with and invest in their stories, even when they take turns towards the horrific or tragic. Fawkes uses an impeccable sense of timing and restraint to regulate the pacing, ensuring that each emotional beat resonates over the entire 132 pages.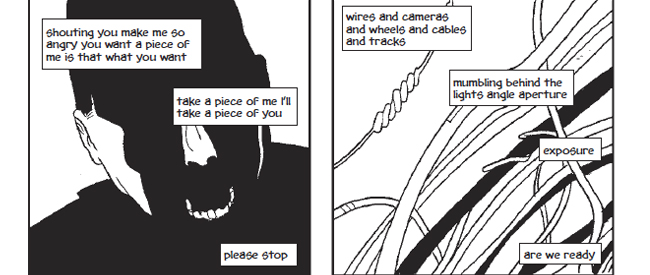 The use of transitions and symbolism adds new layers to each couple's journey, while creating a sense of urgency, shock, or oblivion as necessary. Falling leaves denote the passage of time, while yawning black panels signify absence and death. Page layout takes on added importance as couples come together and break apart – or perhaps never meet – in precisely planned variations in panel size and position.
Starkly black and white, a journalistic tone permeates Fawkes's simple, cartoony style, again balanced by the depiction of the perfect moment in each panel. Rather than distancing us from the story, the delicate equilibrium of negative and positive space only draws the reader deeper into the narrative.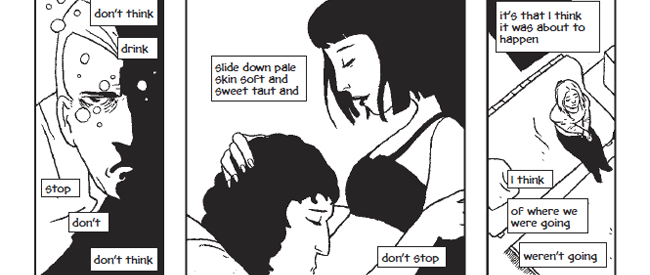 Accompanying the imagery of each panel is Fawkes's lyrical narration. Choosing his words with an exquisite economy bordering on haiku-like poetry, Fawkes achieves an added rhythmic layer to his narrative balancing act.
This is a marriage of words and pictures only achievable in comics. There is no competition between the form's elemental components – only complimentary forward action, with each lettered panel driving towards the book's inevitable conclusion.
Yet another example of Fawkes's storytelling genius, this is a graphic novel resonating with passion, craft, and a keen insight into what makes us work not only as individuals but as parts of a greater whole. Lacking the necessary detachment of its predecessor, The People Inside is a sexy, smart, and intensely intimate exploration of our need to not be alone.
Ray Fawkes (W/A) • Oni Press, $24.99, August 2014