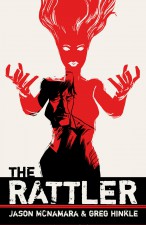 Jason McNamara and Greg Hinkle are offering their horror graphic novel, The Rattler, exclusively on Kickstarter. The campaign was successfully funded on its third day. Writer Jason McNamara explains, "Meeting our funding goal means that every pledge can now be considered a pre-order for the soft cover edition that ships in August."
The Rattler follows Stephen Thorn, a prominent and bitter victim's rights advocate who built his career on the disappearance of his fiancée ten years earlier. His world is turned upside down when he begins to receive messages that may or may not be from his missing love. This sends Stephen on a dark journey of self discovery.
The 96-page, one-color story was inspired by true events that the author experienced on a road trip a decade ago. Writer Jason McNamara recounts, "A friend and I broke down in a rural part of California. A passing motorist offered to help us and instead attempted to kidnap my friend. Luckily she was able to get away and we were able to go for help, but I always wondered what would have happened if she hadn't escaped. That was the inspiration for The Rattler."
The creators will use the funds raised to print an exclusive edition of their completed book. Artist Greg Hinkle explains, "Everything from the cover, to all the reward artwork will be retired at the end of the campaign. Our focus is on creating a unique experience for our donors."
How far are you willing to go for love? Find out in The Rattler.
The Rattler on Kickstarter
https://www.kickstarter.com/projects/1573718555/the-rattler-a-96-page-graphic-novel-by-mcnamara-an?ref=live
Download the First Eight Pages of The Rattler
https://www.hightail.com/download/elNMZm1jckkzS3JIRHRVag

Description: 96-page one-color horror graphic novel.
Creators: Jason McNamara (Short-Hand) and Greg Hinkle (Airboy)
Duration: 30 Days. March 27th to April 26th.
Twitter: @JasonMcNamara @Greg_Hinkle