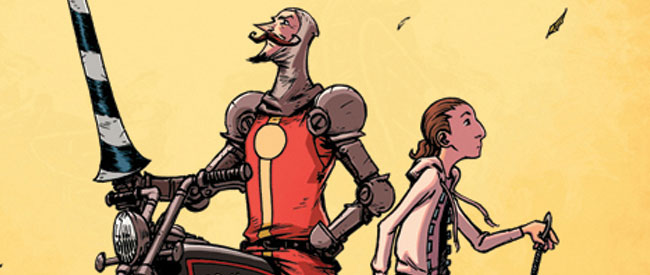 A misfit teen befriends a seemingly delusional knight at an abandoned Renaissance Faire. Is Sir Habersham insane or was the Faire truly destroyed by a dragon?
Wendell is a bit of an outcast. Prone to daydreams, his room is plastered with fantasy and science fiction posters. He can't relate to his stepfather, who only seems to care about his motorcycle. And he is frequently teased by bullies at school. When one of those bullies dares him to sneak into the abandoned Renaissance Faire on the outskirts of town, Wendell accepts the challenge. There he meets Sir Habersham, a former performer from the Faire who seems to believe he is an actual knight. Habersham swears that it was not arsonists that destroyed King Henry's Faire but a dragon. Is he just crazy or is something sinister lurking in the nearby woods?
The Reason for Dragons has been getting a lot of press and drawing comparisons to the film The Fisher King. For certain, there are aspects of the story that feel familiar with a homeless knight and an overall theme of redemption and loss. Writer Chris Northrop adds elements of a coming-of-age story to this scenario, creating in Wendell an alienated loner that many comic book fans can relate to. At times the story works beautifully, engendering sympathy for the oddball characters and their desire to make a difference in a world that has rejected them. The flashback to Sir Habersham's traumatic "origin" is handled very powerfully and Wendell's strained relationship with his stepfather is equally effective.
At other times, however, the story feels somewhat underdeveloped or rushed. Readers expecting a deep bond or fully explored relationship between Wendell and Habersham may come away a bit disappointed. We never quite get a sense for why Wendell wants to help or even trust this dime store Don Quixote and many characters in the book, such as Wendell's mother, remain basically non-entities. Northrop is often minimalistic with his script, allowing the story to be told largely through Jeff Stokely's art. In a visual medium like comics this is commendable, but for every stunning image or moving character moment, there is another that feels more like a storyboard—a fantastic concept that doesn't quite reach its full potential.

That said, there is little left wanting on the artistic side of the book. Jeff Stokely has an appealing cartoonist style and a knack for character design. Habersham's exaggerated mustache and facial expressions make him an initially comical figure and Wendell is appropriately gangly and awkward. Stokely employs a number of interesting "camera" angles and a blur of action lines to capture the reader's eye and enhance the drama. The warm sunset shades of Northrop and Andrew Elder's color palette are perfect for a melancholy tale of childhood's end and a loss of innocence.
The back matter of the book contains several short stories featuring the same characters. "Taking the Hit" by Northrop and Kevin Castaniero and "That One Time" by Julia Fung give us more insight into the stepfather, Ted, though they ultimately have little to do with the main story. "The Butter Maid" by Josh Trujillo and Ben Bishop features a humorous pubescent awakening for Wendell. "A Tale of Love" by Mark Ashmore and Michael Dialynas and "Dining With Dragons" by Tom Pinchuk and Zach Turner present two amusing episodes from Sir Habersham's past. Ultimately, these stories are somewhat hit-or-miss and ephemeral. It might have been preferable to devote more pages to the main story of the graphic novel.
Overall, The Reason for Dragons is a competently told coming-of-age story with a few moments of brilliance. It simply needs a little more room to breathe.
Chris Northrop (W), Jeff Stokely (A), Chris Northrop & Andrew Elder (C) • Archaia Entertainment, $19.95, July 24, 2013.