Archaia send BF preview pages for a new Archaia hardcover release, The Reason for Dragons, which goes on sale in comic book shops on July 24 and wherever books are sold on August 6.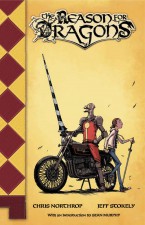 THE REASON FOR DRAGONS
Original Graphic Novel Hardcover
Page Count: 128 pages
Format: hardcover, 6.625" x 10.25", full color
Genre: Fantasy
Ship Date: July 24 in comic shops, August 6 wherever books are sold
Written by Chris Northrop
Illustrated by Jeff Stokely
Cover by Jeff Stokely
Rating: T – TEEN (12 and up, may contain mild violence or mild profanity)
Synopsis: Wendell lives a lonely, suburban existence, losing himself in books in order to avoid his motorcycle-driving stepfather, Ted. When the school bullies convince Wendell to venture into the forest around their neighborhood and explore the long-abandoned Renaissance Fair grounds they all believe to be haunted, Wendell is surprised to find a man living in the barn—and even more surprised by the man himself. Believing himself to be a medieval knight named Sir Habaersham tasked with the duty of slaying the dragon he insists is wandering the woods, Wendell's new acquaintance seems the definition of crackpot. But when Wendell starts hearing rumblings—and listening to Habaersham's stories—he starts to wonder if perhaps it could all be true. In a heartfelt coming-of-age story, Wendell must defy logic in order to follow his heart…and face the dragon of the forest!