Press release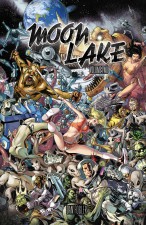 Award-winning comic publisher Archaia Entertainment, an imprint of BOOM! Studios, and Tony Award-winning actor Dan Fogler are proud to announce Moon Lake Volume 2, a hardcover graphic novel sequel to the 2010 original that meshes genres and stories into one insane anthology inspired by Tales from the Crypt and Heavy Metal. Once again narrated by the hilariously deranged Man in the Moon, Moon Lake Volume 2 features the talents of a who's who of some of the top writers and artists in the business.
"Moon Lake is a crossroads of so many different brands of evil that it's hilarious—unlimited haunted tales as told by the twisted and gregarious Man in the Moon," described creator Dan Fogler. "I really wanted to craft an eclectic Lovecraftian tale that linked the separate short stories together like the pieces of an elaborate puzzle."
"There's no other anthology out there like Moon Lake!" said BOOM! Studios VP of Development Stephen Christy, who edited Moon Lake Volume 1 and worked closely with Fogler in developing Volume 2. "Dan has taken everything we loved growing up about Heavy Metal and Tales from the Crypt and filtered it through his hilarious and off-the-wall vision. Moon Lake was a book I loved the first time around, and Dan's assembled a top-notch group of people for Volume 2."
"Volume 2 is a meal that can't be devoured in one simple reading and stays with you long after you're done, like a delicious steak rotting in Alfred Hitchcock's lower intestine," Fogler added. "It's a freakin' labor of love to put a book like this together and manage all those different personalities, but the combined artistry in Moon Lake Volume 2 proved to be the perfect ingredients for our sick smorgasbord. Packaged spectacularly by Archaia for your delightful digestion. Bon appetit!"
"Moon Lake Volume 2 is one of the first books we've worked on together after the merger of BOOM! Studios and Archaia, and I couldn't be more thrilled," said BOOM! Studios Editor-in-Chief Matt Gagnon. "Dan has put together such an eclectic mix of artists. It's exciting to see what each of them brings to the universe he's created."
Moon Lake Volume 2 is created, edited, and written by Dan Fogler and features art by Nadir Balan (who also illustrated the cover), Kevin Colden (The Crow: Death and Rebirth), Dan Dougherty (Beardo, Touching Evil), Fernando Pinto (Tales of the TMNT), Darick Robertson (Transmetropolitan, The Boys), Alex Sheikman (Jim Henson's The Dark Crystal: Creation Myths, Robotika), Jeff Stokely (The Reason for Dragons, Six-Gun Gorilla), and Anna Wieszczyk (Lucid). In addition, the book features a story co-written by Andrew Harrison (Golgotha) and a story written by New York Times bestselling author Kevin J. Anderson (the Dune prequel novels, Jedi Academy Trilogy, The Last Days of Krypton).
Moon Lake Volume 2 ($24.95, hardcover, 160 pages, full color, 7.25" x 11.25") is available for pre-order now at your local comic book shop. To pre-order, provide your retailer with Diamond Order Code SEP13 0873. To find your closest comic book shop, visit www.comicshoplocator.com. It is also available for pre-order through the Archaia webstore at store.archaia.com.