A striking showcase for the talents of the Metaphrog team this is an all-ages book that is, nonetheless, unafraid to confront some of the harsher realities of life with an uncompromising determination.
Metaphrog comprises the creative partnership of Sandra Marrs and John Chalmers, a collaborative duo who have been working on comics together for somewhere in the region of two decades. Perhaps best known for their Louis series of graphic novels, the pair's work has been recognised with multiple Eisner Award nominations in that time. Back at the tail end of last year they launched their latest book at the Lakes International Comic Art Festival – The Red Shoes and Other Tales published by Papercutz – in association with acclaimed Nottingham comic shop Page 45.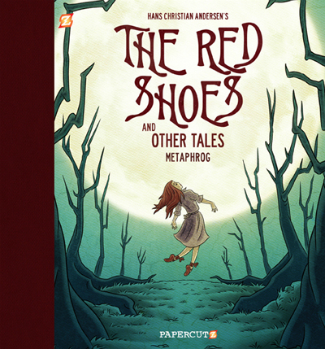 The main story in the book is an adaptation of Hans Christian Andersen's celebrated fairy tale. It's a twist on an old favourite but many of the familiar elements remain intact. Following the death of her mother, young Karen is adopted by her much wealthier aunt who buys her a beautiful pair of red dancing shoes that allow her to emulate the dancer she admires. But after a chance encounter with a malevolent shoeshine man she finds her footwear has taken on a life of its own. Forced to dance uncontrollably whenever she wears them, the curse of the red shoes will have devastating consequences for Karen…
Metaphrog's 'The Red Shoes' is very much a re-imagining of Andersen's classic which was itself essentially a morality tale on the dangers of vanity. As fairy tales are wont to do, the original version was a story that made its point by the visitation of extreme and disproportionate otherworldly justice on its protagonist. To a degree, this re-imagination is almost more sinister in tone with a random supernatural cruelty befalling its hapless heroine, and all the themes of redemption and release of Andersen's fable being stripped away from its denouement.
While diehard purists may not necessarily relish the updating of the story, or the tinkering with its plot, there's no denying the haunting visual appeal of the Metaphrog incarnation of 'The Red Shoes'. Its darker, subdued colouring gives it an eerie resonance, and the scenes of a puppet-like Karen possessed by the enchanted slippers provide some truly creepy panel-to-panel storytelling. Film buffs should also be on the lookout for a lovely but non-intrusive Powell and Pressburger Easter Egg…
The tone of the following two stories, 'The Glass Case' and 'The Little Match Girl', echo their predecessor, conveying a feeling of abject bleakness as they also touch on subjects that can be construed as having a contemporary relevance. Issues of child poverty and physical abuse are central to all three entries in the book, albeit dressed up in the trappings of the fantastic and the ethereal.
Those who do the UK small press show circuit, of course, may remember a minicomic incarnation of those back-up stories a few years back entitled Winter's Tales. 'The Glass Case' (below) uses careful sepia colouring to evoke wistful lost childhood in its original story of Sam, a young boy who escapes the horrors of his violent home life by forming a friendship with a talking antique doll in his local museum. There's more than a hint of a one of the non-serial comics in Misty weekly of years ago or of the best of the old DC mystery line to this one. But it's the nuanced treatment of its more serious underlying themes that most impresses.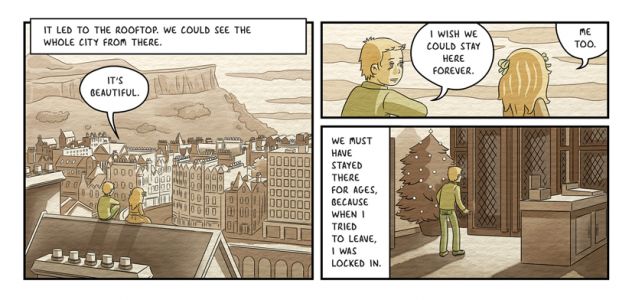 Of all the offerings here, though, it's perhaps the adaptation of Andersen's 'The Little Match Girl' that will most envelop the reader in a blanket of tangible poignancy. This is a beautifully paced piece of storytelling and the use of perspective to depict the forlorn match girl's plight as she sits alone seeking shelter is superb in its emotional impact. It powerfully emphasises her frailty as she's dwarfed by her surroundings and, once again, the drab and muted colouring adds vital layers to this tender tale.
Grim in atmosphere but with a strange, delicate beauty to its pages The Red Shoes and Other Tales is also a gorgeously tactile object. A striking showcase for the talents of the Metaphrog team this is an all-ages book that is, nonetheless, unafraid to confront some of the harsher realities of life with an uncompromising determination.
Metaphrog (W/A) • Papercutz, $12.99/£8.99