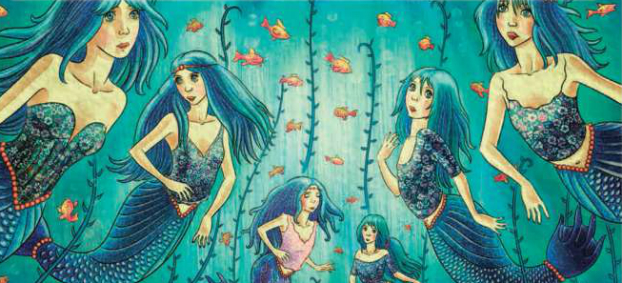 You've not fully experienced the story of the Little Mermaid until you've read the Metaphrog version.
Welcome to the magical underwater kingdom of the Little Mermaid, in a stunning adaptation by award-winning creators Metaphrog. The Eisner-nominated duo of John Chalmers and Sandra Marrs were the creators behind The Red Shoes and Other Tales also published by Papercutz.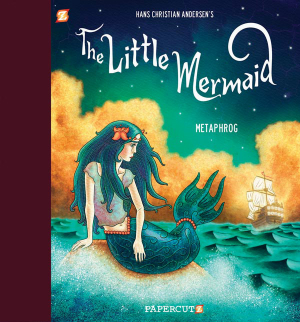 Firstly, this isn't Disney. It stays close to the original Christian Andersen story and retells the adventures of the Little Mermaid, the youngest of five mermaid sisters who lives under the sea with her grandmother. The Little Mermaid longs for her fifteenth birthday when she can finally go to the surface of the ocean to see the world above.
Unlike the Disney version the mermaids are free to visit the surface of the ocean freely. The tale then moves on to the Little Mermaid meeting and falling in love with a young prince. Without giving too much away the storytelling and emotive illustration will grip you, draw you in and have you very emotionally invested in the characters!
We are introduced to her world through magical illustration using gorgeous colours and a depth of textures and print usually seen in children's books. You really get a sense of otherworldliness and feel like you've been thrown deep under the sea. I always have a special place in my heart for graphic novels that are this attentive and focused on the quality of illustration; 80 pages of maintaining this standard of artwork would have been no mean feat!
The use of colour throughout the entire book is consistently and intelligently used and contributes extensively to setting the mood and supports moving the narrative forward. Metaphrog switch between the cobalt and cerulean blue of the Little Mermaid's world and the ambers and peachy red tones of the human world (see promotional video above); even the background border colour changes when the little mermaid strikes a dangerous bargain with the sea witch.
The book itself is a full colour cloth-bound hardcover with a stunning front cover, showcasing the incredible use of hues and flat textures that will follow throughout. Personally I am the type of person who would be completely drawn in by a full colour illustrated cover and am delighted when the book delivers on the same quality of artwork inside – which Metaphrog have done.
This beautifully illustrated adaptation is a must-read for all ages whether you've read the original, watched the Disney film or not. You've not fully experienced the story of the Little Mermaid until you've read the Metaphrog version.