Picture perfect period piece prevails.
Coming off a good first issue that managed to please fans of both lead heroes with its solid characterizations, thorough world-building, and intriguing mystery, the challenge facing the second issue was to move forward while not surrendering momentum. Thankfully, writer Mark Waid knows how to keep a reader's attention once he has it, so forgive IDW the extra production time involved for this issue because the quality has not wavered. This is a solid comic, and it's a lot of fun to read.
The characters take center stage from the first page, and Waid has ensured that each is true to form in dialogue and mannerisms. Cliff is a hothead, Betty is a flirt, Ellen is the voice of reason, Denny is on the job, Peevy tinkers, and Dolan is the lascivious comic relief. Good guys need good bad guys to be relevant, and Waid delivers. The bad guys start to carry their portion of the storyline with this issue, and the mysterious Octopus has an interesting conversation with Benedict Trask as the two plot to keep the new medium of television a private enterprise.
The mystery thickens with a visit to the L.A. County Coroner's office, where Dolan identifies the Alderman's body and he and The Spirit learn that fishy circumstances surround dead man's final hours. How did he manage to travel across the country so fast? And why are his internal organs "scrambled into some sort of horrific soufflé."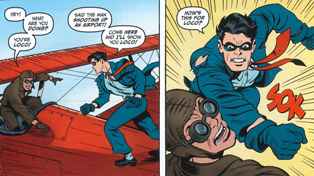 Because she found the Alderman's body, Betty is a target. And what would a Rocketeer/Spirit team-up be without some daredevil action? As Betty leaves the hangar to get to a meeting with a producer, the actress is set upon by two machine-gun firing bi-planes. She gets away, and our heroes take to the air in hot pursuit. Following some fun aerial acrobatics, fisticuffs, and crash landings, the guys capture one of the pilots and learn that Benedict Trask is the bad guy.
The true-to-period tone of Waid's writing is carried through Loston Wallace's well-executed art. Bold lines, conveyed nicely by Bob Wiacek's inks, and spot-on facial expressions immediately endear you to the characters. Action, mystery, and two perfectly pulpish heroes with a splendid supporting cast make The Rocketeer and The Spirit: Pulp Friction a series worthy of adding to your pull list.
How did you like the book? Leave a comment below.
Mark Waid (W), Loston Wallace (P), Bob Wiacek (I) • IDW, $3.99, October 23, 2013