Featuring a murder mystery, saucy dames, and two of comics' most endearing pulp heroes, The Rocketeer & The Spirit: Pulp Friction #1 is cooking with gas. Mark Waid is in cahoots with the brilliant Paul Smith, and the first issue of their retro pulp fiction collaboration is the bee's knees.
When Central City's Alderman Cunningham is found dead across the country in Los Angeles, Commissioner Dolan and the Spirit are ready to take the case. Almost. As they argue over whether or not to play gumshoe, Ellen is all dolled up and ready to hit sunny California, and the three are soon on an 18-hour flight.
The first person our intrepid sleuths need to track down is the witness who found the body, the unfortunate Betty. This plan is overheard by Peev who quickly relays the information to Cliff Secord, the Rocketeer. "Holy Hanna, Peev! See if you can raise Betty on the squawkbox! Tell the operator it's an emergency! I'll suit up!"
Denny Colt and Cliff Secord are on the same side, they just don't know it yet. As Denny, Ellen, and the commissioner drive along the remote airport's roads, the Rocketeer flies in for an unfriendly visit. A gorgeous fight breaks out in the air between the two heroes. And their banter is worth the dough you paid for the book.
"Long way down, buddy! All I gotta do is land one good punch!"
"Haven't yet!"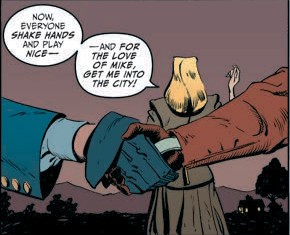 Waid's humdinger of a script has a firm grasp on the past and the unique styles of these characters. Everything about this nifty book is designed to be appropriate to the 1940s. From the period-appropriate slang, to the cars, clothing, and panel construction, this is pulp fiction done in its native style. The story is straight forward noir, including the mysterious puppet-master bad guys conspiring behind the scenes. Of course, he's going to wear out the exclamation point on his keyboard, but that's just fine by me.
Smith's art is a magnificent tribute to the Sunday funnies and early comics. His striking linework evokes the past and has the nerve to make it look easy. And it's clear that he's done his homework on the styles of Will Eisner and Dave Stevens as each character is instantly recognizable and distinct. The muted color palette employed by Jordie Bellaire evokes early comics print techniques, and the panels looking through windows are terrific.
Give this book to palookas who read Golden Age comics as kids and watch their faces light up. Better yet, give it to someone who has never read pulp fiction and let them get hooked!
Mark Waid (W), Paul Smith (A) • IDW Publishing, $3.99, July 24, 2013