The Secret to Superhuman Strength may be to read this new brick of a book by Alison Bechdel, but the heavy lifting required to do so, both physical and mental, is highly enjoyable.
Trust Bechdel to write a book about physicality that is almost entirely cerebral.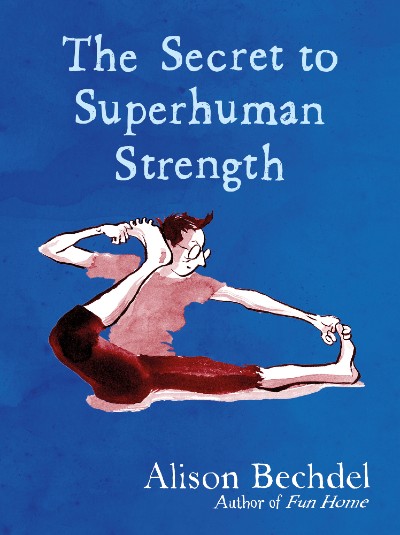 Arguably the queen of autobio comics, Alison Bechdel's latest tome of navel contents is themed around health, fitness, transcending the physical plane, and how difficult it is to fit those things into the lifestyle of a cartoonist. Many readers of this site will be familiar with the tight shoulders, the wrist pain, the lack of physical stamina caused by sitting down for a month straight before a deadline, but perhaps even more so with the mental and emotional gymnastics required to make comics. The soul-searching and courage-finding required to put pen to paper (or pencil to tablet) again and again and again.
The connection of mental and physical wellbeing is long debated, fairly universally accepted, but not really something we've cracked as a species. Leaning on her literary acumen as amply demonstrated in the widely adored and Eisner-winning Fun Home, Bechdel draws lines of comparison between the fitness crazes of the latter half of the 20th century, the Beat Poets, the Romantics William and Dorothy Wordsworth and Sam Taylor Coleridge one and a half a centuries before, and the Transcendental Poets of New England in between – Margaret Fuller and Ralph Emerson. There's also a healthy dose of the Zen Buddhist approach to transcendentalism in the book, as seen through this heavily American lens.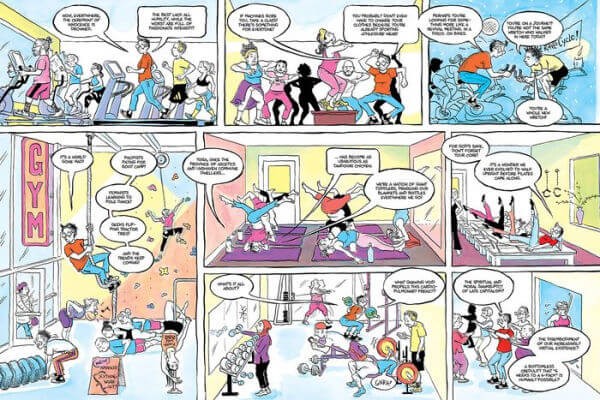 Arguably the highlights of the book are when it plays whimsically with the conventions of picture books and instructional exercise manuals. Another satisfying motif are whole pages given over to snowy mountain scenes of hiking or skiing. Both are scattered in amongst the straightforward comics approach that the artist has long ago mastered. So after an introduction that would not be out of place in a Richard Scarry or Usborne book of exercise, we are taken back into the familiar territory of the author's childhood. Her parents, siblings and girlfriends feel like old friends from her previous two memoirs, and their near-permanent heavy lidded, sceptical expressions continue to nicely counterbalance the earnestness of the concepts at play.
Bechdel's gift is balancing introspection with a potent blend of clarity and irony. Through the decade-long chapters of her life, we see her re-address again and again, her quest for an approach to exercise that will give her the superhuman strength she craved as a child, and the definition of what that might mean morphs and changes. She becomes a black belt in karate, but realises she has no desire to fight for real – a pleasing inversion of the superhero narrative, I was only disappointed that there is very little mention of golf in the book, or I could have made a pun about the long dark tee-time of the soul.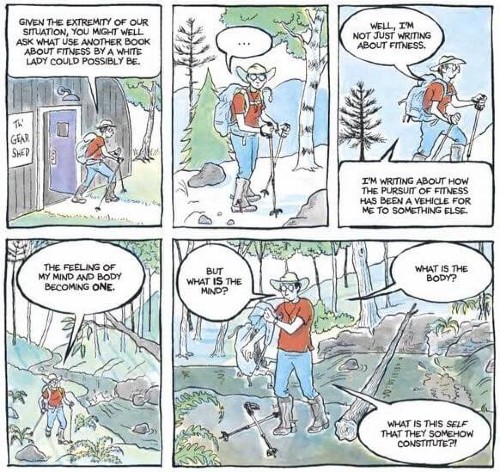 It wouldn't be right to say reading this book was a slog, it was a pleasure, but it did take me a long time (this review is like a month overdue, sorry Andy!). In the second half of the book, Bechdel recounts the actual slogs she went through, whilst producing all three of her autobiographical graphic novels. Revealing this honest pain in the slow birthing of her successive opuses, she pulls the neat trick of revealing the inner layers of the matryoshka to be progressively grumpy and wise. Fun Home came out in 2006 and Are You My Mother? in 2012, so their production and subsequent success are now as much a part of the author's story as any of the childhood territory she re-examined from different angles in all three books. The themes of THIS book begin to swim into focus in the 2010s when we learn about the origins of the project, and its development through a turbulent period of American history possibly on par with that experienced by Kerouac or the Transcendentalists (who emerged following the war of independence, thank you Hamilton for etching that timeline on my memory). Ultimately the book looks forward to Bechdel's hopes, like many of us, to walk blinking out of the pandemic with an altered sense of reality. One that feels perhaps more authentic, more transcendent, for all that it is more tender.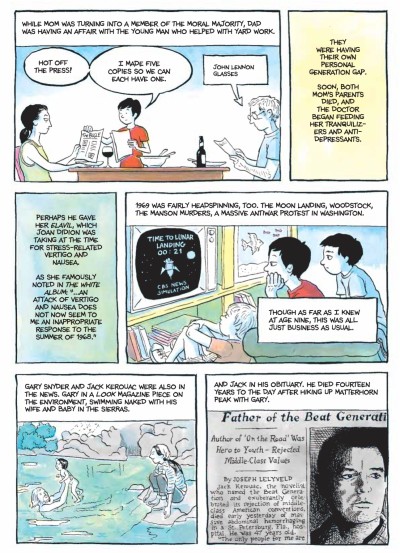 Ever the "secret, subversive" feminist, Alison's focus on the stories of Margaret Fuller and Dorothy Wordsworth shows their struggle to find recognition for their ideas in their pre-Bechdel test lives, only partially transcending the patriarchy, but ultimately faring no better than their male counterparts. Without spoiling anything too much, I think it's fair to say that striving to understand the complexity of the strength of human mind, body and spirit is no guarantee of finding balance in one's personal life.
If you've read Bechdel's first two graphic novels, or her long running comic strips Dykes to Watch Out For, you won't be disappointed by this latest instalment in her telling of her own human story. If you are a fitness fanatic, or sportswear enthusiast, you may find much to identify with here (I assume, not being one). If you are new to both the comics and the pursuit of physical perfection, you'll probably still enjoy this book, but maybe wait for the paperback edition, as this one is too heavy to take on the train if you're not into weightlifting.
Alison Bechdel (W/A) • Jonathan Cape, £16.99
Also available in a bookplate edition from Gosh! Comics here
Review by Jenny Robins