The final guests for this year's Thought Bubble have been announced today featuring some long-time BF favourites, including our own 'Six to Watch' artist Sabba Khan. Full details in the press release below.
THOUGHT BUBBLE FESTIVAL ANNOUNCE FINAL GUESTS FOR 2022 CONVENTION
SCOTT SNYDER, TULA LOTAY, JAMES TYNION IV & MANY MORE ADDED TO HARROGATE LINE UP
THOUGHT BUBBLE COMIC CONVENTION
HARROGATE CONVENTION CENTRE
12th & 13th NOVEMBER 2022
THOUGHT BUBBLE FESTIVAL
4th – 13th NOVEMBER 2022
 https://www.thoughtbubblefestival.com
Thought Bubble, the UK's largest comic art festival, have announced their final guests for this year's convention, due to take place at Harrogate Convention Centre across 12th and 13th November.
An annual gathering of some of the most influential writers, artists and comic creators in the world as well as the UK's incredible grass roots comics community and thousands of fans, Thought Bubble will feature artists and writers whose stories and ideas are behind some of the biggest film & TV moments, the most exciting indie releases and the emerging voices pushing the medium forward.
Guests appearing at this year's festival include comics legend Scott Snyder, a writer known for American Vampire, Detective Comics, Batman and Swamp Thing. Also headed to Harrogate this year is iconic Yorkshire artist Tula Lotay (DC Comics, Marvel Entertainment, Image Comics, Warner Brothers), cartoonist Charlie Adlard (The Walking Dead, 2000 AD), Eisner Award Winning, New York Times bestselling comic book author James Tynion IV (Batman, Something is Killing the Children) and British comic creator Kieron Gillen (Star Wars, Iron Man, Thor).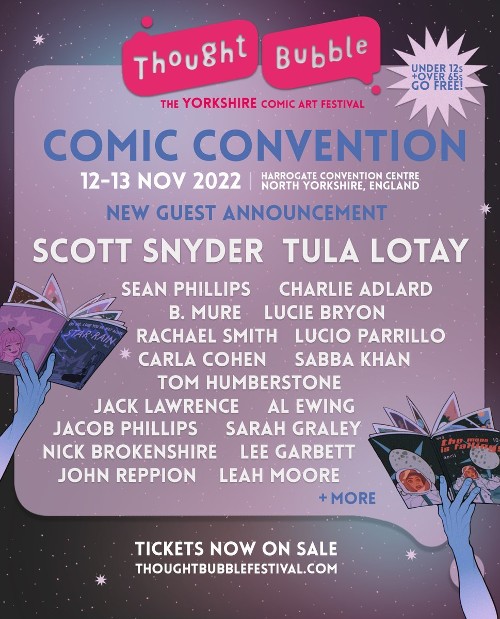 Other special guests announced today include Sean Phillips, Charlie Adlard, Martin Simmonds, Caspar Wijngaard, Dan Watters, B. Mure, Lucie Bryon, Glyn Dillon, Rachael Smith, Lucio Parrilo, Ari, Juliet, Gary Erskine, Carla Cohen, Sabba Khan, Chrissy Williams, Tom Humberstone, The Etherington Brothers, Jack Lawrence, Al Ewing, Kit Buss, Margaux Saltel, Jacob Phillips, Sarah Graley, Mike Dowling, Wocco, Nick Brokenshire, Lee Garbett, Richard Starkings, John Reppion, Leah Moore and Guillermo Ortego.
These new guests join the previously announced Gail Simone, best known for her work on titles including DC's Bird of Prey, Batgirl & Wonder Woman alongside Hamish Steele, the creator of Netflix series Dead End: Paranormal Park, Thought Bubble mainstay artist Jock (2000 AD, Ex-Machina, Wolverine), GLAAD Award-nominated American writer Lilah Sturges (Girl Haven, The Magicians) and South Carolina illustrator Sanford Greene.
Tickets for Thought Bubble Comic Convention are on sale now with under 12s, carers and over 65s tickets totally free. Tickets give access to all events within the comic convention weekend; panels, workshops, guest signings, as well as the three huge halls of over 400 exhibitors, publishers and more, showcasing beautiful artwork from across the world.
Thought Bubble Festival recently announced they will be expanding in their hometown of Leeds with a full festival week of activities celebrating comics taking place from 4th – 11th November. Teaming up once again with LeedsBID, Thought Bubble will present a week of talks, workshops, exhibitions, public art installations, film screenings, venue takeovers and much more.
With its festival in Leeds and convention in Harrogate, Thought Bubble is on a mission to cover Yorkshire in comic art and make the region an essential place for artists, writers & fans alike.
Chloe Green, Thought Bubble Festival Director:
"We're super excited to drop this bumper guest announcement. From DC and Marvel to indie creators, we're bringing the best comic books artists and writers to Yorkshire, which always feels really special. Hope we see you there!"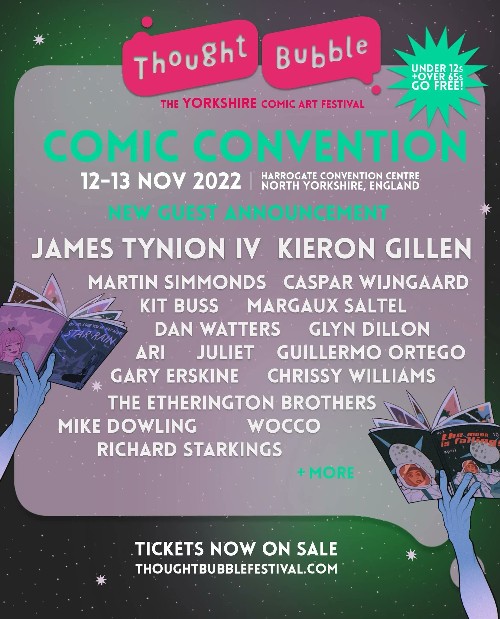 Guests announced:
Scott Snyder, Tula Lotay, James Tynion IV, Kieron Gillen, Sean Phillips, Charlie Adlard, Martin Simmonds, Caspar Wijngaard, Dan Watters, B. Mure, Lucie Bryon, Glyn Dillon, Rachael Smith, Lucio Parrillo, Ari, Juliet, Gary Erskine, Carla Cohen, Sabba Khan, Chrissy Williams, Tom Humberstone, The Etherington Brothers, Jack Lawrence, Al Ewing, Kit Buss, Margaux Saltel, Jacob Phillips, Sarah Graley, Mike Dowling, Wocco, Nick Brokenshire, Lee Garbett, Richard Starkings, John Reppion, Leah Moore, Guillermo Ortego
Previously announced:
Gail Simone, G. Willow Wilson, Christian Ward, Magdalene Visaggio and Rafael Albuquerque. Raina Telgemeier, Marc Bernardin, Zoe Thorogood, Si Spurrier, Alison Sampson, Ram V, Kristyna Baczynski, Jules Scheele, Liana Kangas, Brian Schirmer, Dani Colman, Emma Vieceli, Sanford Greene, Lilah Sturges, Jock, Hamish Steele, Jeremy Holt, Gegê Schall, Fraser Campbell, Ted Brandt, Ro Stein, Lize Meddings, Charlotte Kristensen, Shelly Bond, Philip Bond, Anna Morozova, John Lees. Abigail J Harding, Matt Ferguson, Roger Langridge, Steve Yeowell & more
For full programme, guests and events please visit:
https://www.thoughtbubblefestival.com
Press Quotes For Thought Bubble:
"The highlight of the year for comic, animation, games and film fans across Yorkshire and beyond." – The Big Issue
"So many cool guests! We got up to some really cool stuff" – WhatCulture
"this is a weekend in the comics calendar that is as much about the people attending as their chosen art form and that sense of comics community was evident throughout" – Broken Frontier