With that time of year imminent the final guests for this year's cracking Thought Bubble line-up have been announced!
THOUGHT BUBBLE ANNOUNCE FINAL GUESTS FOR 2023 COMIC CONVENTION
ACCLAIMED COMIC ART CONVENTION AND FESTIVAL TO TAKE PLACE ACROSS YORKSHIRE IN NOVEMBER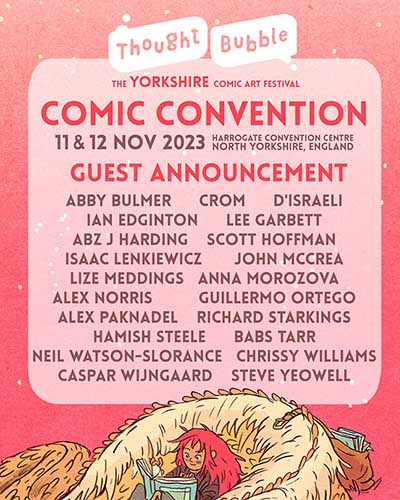 Yorkshire Comic Art festival Thought Bubble have announced a new batch of guests for this November's convention in Harrogate. A huge two-day celebration of all things comic art, Thought Bubble is one of the key dates in the international comics calendar with hundreds of artists, creatives and industry professionals attending, alongside thousands of fans.
In this latest announcement, Thought Bubble have shared that new guests such as stalwart 2000AD artist and video game designer Mick McMahon (Judge Dredd, Sláine, ABC Warriors), ground-breaking comic creator Becky Cloonan (Demo, East Coast Rising, Batman, Batgirls) and manga-inspired American comic artist Babs Tarr (Batgirl, Motor Crush, Critical Role) will be joining an already stellar line up that includes the likes of Jeff Lemire, ND Stevenson, Zoe Thorogood, Jason Aaron and Kieron Gillen.
These creatives and many, many more are all coming together in Harrogate this November for the sixteenth iteration of Thought Bubble Comic Convention. A gathering of some of the most influential writers, artists and creators in the world, the convention is just as much a celebration of Britain's own grassroots comics community. Thought Bubble is taking over Harrogate Convention Centre yet again; packing it with panels on everything from classic comics to contemporary offerings as well as invaluable Q&As for budding creators and seasoned aficionados alike and, of course, plenty of comics, artwork and memorabilia.
2023 also sees the return of Thought Bubble Festival from the 6th – 12th of November; a week-long celebration of all things comics that will see talks, exhibitions, screenings, workshops, social events and venue takeovers happening across Leeds and Yorkshire in a build up to the convention itself. Teaming up with regular partners LeedsBID, Thought Bubble Festival has already announced an exclusive screening of Batman (1989) in collaboration with Vice Press, the official UK Launch Party of radical new comic publishing house DSTLRY and an engaging talk as part of Leeds Arts University's Creative Networks series with the multi Eisner Award-winning ND Stevenson and Forbes' 30 Under 30 Molly Knox Ostertag with more still to be announced.
Tickets for Thought Bubble Comic Convention are on sale now with under 12s, carers and over 65s tickets totally free. Tickets give access to all events within the comic convention weekend; panels, workshops, guest signings, as well as the three huge halls of over 400 exhibitors, publishers and much more still to come.
Recently Announced (A-Z):
Nick Brokenshire, Abby Bulmer, Becky Cloonan, Michael Conrad, Paul Cornell, CROM, D'Israeli, Ian Edginton, Tom Eglington, Matt Ferguson, Lee Garbett, Kieron Gillen, Sarah Graley, Isabel Greenberg, Scott Hoffman, Kev Hopgood, Abz J Harding, Marc Laming, Roger Langridge, Isaac Lenkiewicz, John McCrea, Mick McMahon, Lize Meddings, Anna Morozova, Alex Norris, Guillermo Ortego, Alex Paknadel, Brandt & Stein, Neil Watson-Slorance, Richard Starkings, Hamish Steele, Babs Tarr, Caspar Wijngaard, Rob Williams, Chrissy Williams
All Guests Announced (A-Z):
Jason Aaron, Dapo Adeola, Charlie Adlard, John Allison, Natalie Andrewson, Juni Ba, Kristyna Baczynski, Ted Brandt, Nick Brokenshire, Abby Bulmer, Becky Cloonan, Michael Conrad, Paul Cornell, CROM, D'Israeli, Andy Diggle, Ian Edginton, Tom Eglington, Etherington Brothers, Al Ewing, Matt Ferguson, Lee Garbett, Kieron Gillen, Sarah Graley, Isabel Greenberg, Lewis Hancox, Abz J Harding, Luke Healy, Scott Hoffman, Kev Hopgood, Jock, Arielle Jovellanos, Shazleen Khan, Kim-Joy, Marc Laming, Roger Langridge, John Lees, Jeff Lemire, Isaac Lenkiewicz, Sonia Leong, Brian Level, Tula Lotay, Dave McCaig, John McCrea, Mick McMahon, Lize Meddings, Leah Moore, Anna Morozova, Alex Norris, Guillermo Ortego, Molly Knox Ostertag, Hassan Otsmane-Elhaou, Alex Paknadel, Jacob Philips, Sean Philips, John Reppion, Patric Reynolds, Alison Sampson, Jules Scheele, Brian Schirmer, Martin Simmonds, Martin Simpson, Neil Watson-Slorance, Rachael Smith, Richard Starkings, Hamish Steele, Ro Stein, ND Stevenson, Rachael Stott, Lucy Sullivan, Babs Tarr, Zoe Thorogood, Ram V, Judith Vanistendael, VER. John Wagner, Christian Ward, Caspar Wijngaard, Rob Williams, Chrissy Williams, Steve Yeowell
Amy Bellwood, Thought Bubble Festival Director:
"We're up to our sixth announcement of guests for 2023 and still going strong, balancing our unique approach of celebrating indie creators and established artists equally. Paired with a thoughtfully curated programme we know that comic fans of all interests will have something inspiring to see at the show. I'm personally excited to see what new things our 400+ exhibitors bring to the convention, there is always something surprising and new to check out, in the friendliest convention you could imagine. It's going to be great!"
For full programme, guests and events please visit:
https://www.thoughtbubblefestival.com
Press For Thought Bubble:
"The highlight of the year for comic, animation, games and film fans across Yorkshire and beyond." – The Big Issue
"So many cool guests! We got up to some really cool stuff" – WhatCulture
"this is a weekend in the comics calendar that is as much about the people attending as their chosen art form and that sense of comics community was evident throughout" – Broken Frontier
THOUGHT BUBBLE FESTIVAL
LEEDS & ACROSS YORKSHIRE
6th – 10th NOVEMBER 2023
THOUGHT BUBBLE COMIC CONVENTION
HARROGATE CONVENTION CENTRE
11th – 12th NOVEMBER 2023