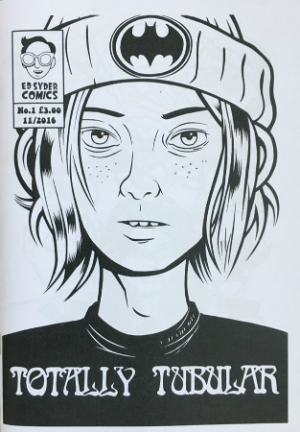 A few years back at Broken Frontier I reviewed Ed Syder's My Skateboard Life (published by Blank Slate Books) – a coming-of-age piece of autobio that, despite its particular focus on the skateboarding world, retained a certain relatability by reminding the reader of those formative childhood years when our hobbies became our passions, and those passions eventually seemed to become our very reason for existing.
Totally Tubular – Syder's latest, self-published offering – similarly evokes that period, centring on the relationships between a small group of skateboarders, surfers and slackers in late '80s California.
Among the book's cast of players are reluctant fast food waitress Lizzie who hates her dead-end job; aspiring band The Barneys (think along the lines of a less wholesome version of The Archies) including Kevin, Bob, Jason and The Captain; and stoner Dusty, whose more cartoony appearance reflects his permanently spaced-out persona.
In its presentational values Totally Tubular is endearingly old school small press in approach: black and white, A5 and presumably hand-stapled. As a serialised, numbered comic providing bite-sized chunks of story it almost seems something of a throwback to the days when genre comics self-publishing largely attempted to mimic the publishing model of the larger industry players.
That's a harder sell these days, of course, as the episodic nature of serial comics has gradually become replaced by a trade-watching, "box set" mentality and, at just 18 pages, there's admittedly not much time in Totally Tubular #1 to become invested in the characters or for the plot to advance very far. In terms of premise, characterisation and narrative direction we get just the briefest of introductions to the gang, their motivations and the set-up for the series.
Syder's greatest strengths as an artist lie in the clarity and accessibility of his visuals, his sense of design and the fluid feeling of motion to his layouts. That's never bettered in Totally Tubular #1 than in the centre-page scene. Here we see the crew of characters skateboarding as events from panel-to-panel overlap in terms of both space and changing perspective. There's something very kinetic about Syder's visual storytelling that serves to pull the reader directly into the action.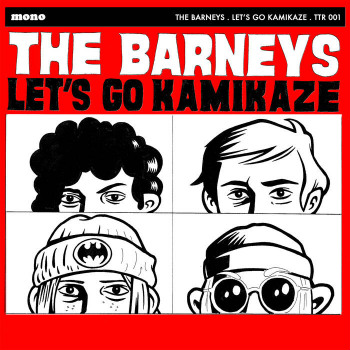 So, to a degree then, there's an embryonic feel to Totally Tubular #1; an element of prologue rather than opening chapter to it. But its conclusion hints at where Syder may be taking some of the characters in future and there's an additional cross-media tie-in that gives the book a neat extra edge – you can listen to/buy music from The Barneys online here! A fragment of a proposed far more extensive work, perhaps, but one that certainly bears keeping an eye out for…
For more on the work of Ed Syder follow him on Twitter here. You can buy Totally Tubular #1 from his online store here.
For regular updates on all things small press follow Andy Oliver on Twitter here.