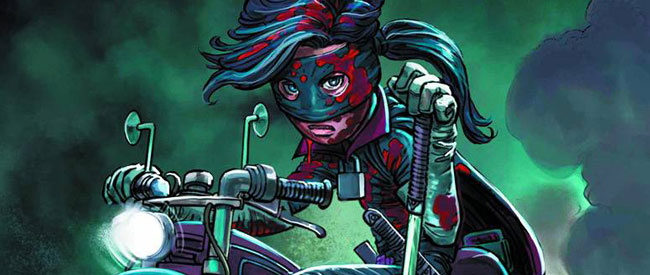 At its core, this Hit-Girl run is about one very damaged little girl trying to connect with a reality she cannot even begin to understand.
The original Kick-Ass series was as much a celebration of the geek and outsider culture (both within and without the printed page) as it was an examination of a "real world" super-hero scenario. In my entry for Kick-Ass in Paul Gravett's book 1001 Comics You Must Read Before You Die I wrote that "In Dave Lizewski, Millar has caught the zeitgeist and given us a true Peter Parker for the networking age", and in that regard the first story arc was, indeed, a canny updating of the lonely everyman figure central to the core premise of so many mainstream comics since Amazing Fantasy #15 first hit the stands fifty-odd years ago.
While Kick-Ass 2 did not dispense with the wish-fulfilment fantasies of its predecessor, for this reader, at least, it lost some of its heart; the deliberately over-the-top violence seemed to take precedence over the characterisation, and the moments of quieter humanity were drowned out by the Grand Guignol of Millar's second act. It was still a page-turner of a book – mixing ostentatiously staged theatrical set pieces and an almost camp approach to the aforementioned, borderline slapstick carnage that has always been such an integral part of Kick-Ass's world – but that feeling of empathy with the cast, such a huge part of volume 1's appeal, felt lacking in its follow-up.
In contrast, Kick-Ass 2 Prelude: Hit-Girl is something of a return to form for those wanting a stronger focus on the series' characters. Collecting the 5-issue Hit-Girl run from last year, it bridges the gap between the Kick-Ass and Kick-Ass 2 compilations (although published third chronologically). After the loss of her father Big Daddy, ruthlessly efficient former child super-heroine Mindy McCready has given up her crimefighting ways and has settled in to a more routine life with her mother and stepfather. "Real life", though, proves to be a far more difficult proposition than butchering mobsters and felons. Mindy is about to discover her very own archenemy in the form of fellow student Debbie Foreman, and realise that the cliquey hierarchy of high school is a far more formidable foe to be fought than any super-villain could be. With the aid of her only friend Dave (Kick-Ass) Lizewski, Mindy attempts to learn how to fit in with her peers in exchange for training the would-be super-hero in the vigilante lifestyle. But the recent past is about to catch up with both our heroes as the ominous spectre of the Genovese crime family rears its ugly head in their lives once again…
"Compare and contrast…" was always a favourite opener on school examination questions when I was a wee lad, lo those many years ago, and it's an invitation that Millar extends to his audience here in regards to the very different, yet oddly similar, lives of Mindy and Dave. As personalities they're almost polarised – Mindy, outwardly at least, assured, confident and knowing; Dave vulnerable, gauche and insecure. And yet as Kick-Ass 2 Prelude: Hit-Girl begins Mindy is in much the same place as Dave in Kick-Ass Volume 1. The main difference being that while Dave had the company of his fellow "nerds" as compensation Mindy is essentially a pariah, clueless as to how to integrate into the schoolyard culture and unable to even connect with the basic social conventions after a childhood of training to be a pint-sized assassin.
Ignoring the overt super-heroics for a moment, and focusing solely on this basic human level, it's very easy to identify with the two protagonists here because there's such an authenticity to their experiences as kids; that need to fit in, and the devastating cruelty of rejection that so colours those early years. Millar has that essential ability of writing younger characters that you can believe in. And by that I'm not referring, obviously, to their despatching of hoods and skewering of thugs but to the voices of the two leads which feel real and genuine throughout. There's none of that Lee/Kirby (bless them!) depiction of youth through the lens of a middle-aged man's worldview that makes those scenes of the 1960s X-Men, to give just one example, hanging out in the Coffee A-Go-Go with Bernard the Poet seem a little awkward and forced.
Of course, that delicious dark humour that so permeated the first two arcs is often on show – particularly in the acutely witty sections where Hit-Girl is training Kick-Ass – but it's tempered with scenes that are not so much soaked in pathos as drowning in it. Mindy's eventual solution to her problems with her bullying contemporaries is as outrageous and O.T.T. as you would expect, of course, but the excruciating moments of rejection and spite that precede it will stay with you far longer than her eventual revenge. Millar's great triumph throughout these chapters is in maintaining the reader's sympathy for the title character without glossing over the reality that she is a remorseless murderer herself.
It's here that the always reliable John Romita Jr. plays a crucial role in the characterisation; his slightly bobble-headed Mindy bordering on caricature in terms of physicality and yet those same proportional exaggerations poignantly underlining that behind the stone cold killer is a little girl whose childhood was snatched from her. Once again, Romita Jr. shifts effortlessly from scenes of the banal and the domestic to those of a goriness we would never have associated with his work just a few short years ago. His Kick-Ass partnership with Millar has been a revelation and the two are in perfect synch once again here as they explore the subtle nuances and complexities of Dave and Mindy's relationship.
Filling in the gaps between the first two Kick-Ass editions, as it does, any burning questions from that time lapse that you may have are also be answered in these pages. It goes without saying that there's still room for the usual bouts of the ultra-violence that's so associated with this franchise but, at its core, this Hit-Girl run is about one very damaged little girl trying to connect with a reality she cannot even begin to understand. Parallels abounding here with the tagline from Marvel's 1970s series Howard the Duck – "Trapped in a world he never made" – as Mindy struggles to fulfil the alien roles of regular daughter and schoolgirl.
Unlike their contemporaries in the mainstream of super-hero publishing, these are characters for whom there will always be consequences, whose lives will never be casually rebooted at a publisher's whim, and who possess that rarest of all commodities in this genre – true vulnerability. Ignore the knowing shock tactics, put the brazenly gratuitous bloodshed out of your mind, and dismiss the in-yer-face attitude for a moment – they're an irrelevance! Because the true appeal of Kick-Ass 2 Prelude: Hit-Girl is in the depth of the young characters inhabiting its pages, and the expert manner in which Millar and Romita Jr. manipulate our emotions and empathy for them.
Kick-Ass 2 Prelude: Hit-Girl is published by Titan Books in the U.K. priced £16.99 and by Marvel in the U.S. priced $24.99.