A true testament to Peter O'Donnell's storytelling.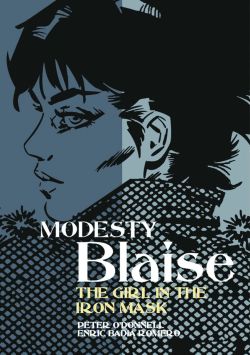 For those unaware of classic British newspaper strip Modesty Blaise it was published for nearly forty remarkable years from the early 1960s in London's Evening Standard newspaper, and was the creation of writer Peter O'Donnell and artist Jim Holdaway.  The titular character's origin story, so to speak, began with her escape as a child in 1945 from a prison camp in Greece. The horror of those wartime years had left her an amnesiac but in the following years the resourceful young woman would take over a criminal organisation in Tangier that she would eventually turn into the global concern known as "The Network".
It was at that time that Modesty met Willie Garvin, the lost soul who would become her right-hand man in The Network and whose platonic protectiveness towards the woman he addresses as "Princess" could always be relied upon. After several years the two retired from their criminal enterprises but the life of the idle rich was not for them, and their peculiar codes of honour ensured that adventure was never far whether it be as unofficial agents of Sir Gerald Tarrant of British Intelligence or as the magnets for trouble and intrigue that they seem to have become…
This latest volume from Titan Books collects three stories 'Fiona', 'Walkabout' and the tale that gives the book its name 'The Girl in the Iron Mask', originally published later in the feature's run between 1990 and 1991. The first entry 'Fiona' is of particular note in that it includes that rarest of occurrences in the world of Modesty Blaise in the shape of recurring villain Wu Smith. It's a story with a real pulp feel to it mixing supernatural prophecy, criminal cartels, and an ancient ruined city in an Asian jungle as Modesty and Willie come to the aid of old friends from their Network days threatened by a drug-running operation. There's added humour sprinkled liberally here via Willie's oddest love interest in Modesty Blaise to date: Fiona the chimpanzee of the story arc's title!
It will come as no surprise, I'm sure, that 'Walkabout' is set in Australia and mixes an Antipodean mafia incursion with Aborigine allies and outback exploits. It's a tale that stresses the international nature of Modesty's misadventures to notable effect but it's the third adventure in this volume that is the standout for me. 'The Girl in the Iron Mask' showcases Modesty's resourcefulness while also underlining the depth of her friendship with Willie. The creepy millionaire Bone Brothers – think Mr. Burns from The Simpsons in stereo, only more grotesque – get their kicks from destroying the lives of others for pleasure. But when they seek to mentally break Modesty by kidnapping her, encasing her in an iron mask and leaving her to go insane in a subterranean prison they soon discover they don't have quite the victim they imagined.
While many Blaise arcs are action-led as a necessity – that essential high-octane, fast-moving excitement integral to maintaining an audience on a daily basis in the strip's original publishing incarnation – 'The Girl in the Iron Mask' also injects a significant level of character study without sacrificing the tension or dramatic pacing. The strength of Modesty and Willie's camaraderie and loyalty to each other is a focal point while the never-say-die determination and adaptability under pressure of our protagonist is brought to vivid life as she searches a way out of her predicament in these pages.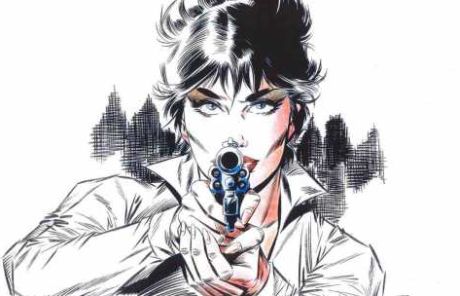 Of course there's an artificial element to the consumption of a Modesty Blaise story in this collected format that masks, to a degree, the ingenuity inherent in the comic's original means of delivery. O'Donnell was a master of the newspaper strip form, consistently achieving that daily three-panel strike of "setting scene/advancing plot/creating hook for readers" that a continuing narrative of this type required. There's a very particular art and skill set required in being able to maintain a readership's interest over many weeks in such short bursts of action. Being able to enjoy these tales in one sitting is something of a luxury and, when compiled in one place, it's a true testament to O'Donnell's storytelling that each adventure flows so well given the jarring episodic nature of Modesty Blaise in its original incarnation.
The episodes in this volume are illustrated by Romero and ably represent the clarity of his realistic and highly-detailed linework. O'Donnell provides him with plenty of the exotic locales that are such an essential factor in the series's success which he brings to life with deceptive ease. And from water-skiing chase scenes to dramatic parachute ambushes his action scenes are dynamic throughout. Modesty Blaise expert Lawrence Blackmore rounds out the release once again with short introductions to each story that give historical context to each chapter.
There's been something of an upsurge in the collection of classic newspaper comics in the last few years with Titan leading the way here in the U.K. publishing both homegrown material like James Bond and classic American counterparts like Flash Gordon. Modesty Blaise, though, represents one of the defining exemplars of the classic newspaper picture serial; old school, captivating thrills and spills that highlight the often under-appreciated craftsmanship of creators like Peter O'Donnell. Every comics fan should have at least one Modesty Blaise volume on their shelves.
Modesty Blaise: The Girl in the Iron Mask is published by Titan Books and is priced £11.99 in the U.K. and $19.95 in the U.S.