There's such a wealth of untranslated European comics work that it's surprising and frustrating that so much excellent practice remains unreleased in an English language format. All the more reason then to draw readers' attention to worthy comics that do get translated. The Tribute is coming this year from Titan. Enjoy a preview of the graphic novel below.
"THE TRIBUTE" BY
SNOWPIERCER CREATORS
BENJAMIN LEGRAND & JEAN-MARC ROCHETTE!
LONG-AWAITED SCI-FI EPIC GETS FIRST ENGLISH LANGUAGE RELEASE!
 BEFORE AVATAR CAME THE TRIBUTE – AND NOW FANS CAN ENJOY THE ADVENTURE IN ENGLISH FOR THE FIRST TIME EVER!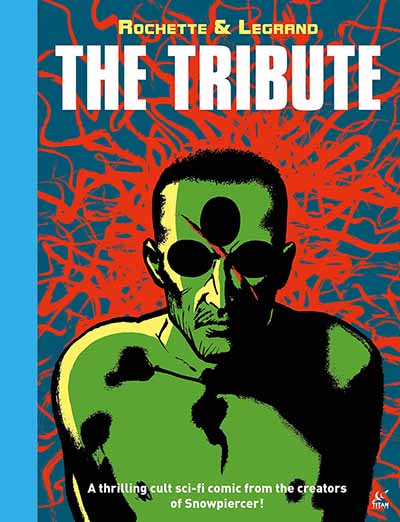 This October, Titan Comics will publish the long-awaited sci-fi epic graphic novel THE TRIBUTE from critically acclaimed Snowpiercer creators, Benjamin Legrand (Snowpiercer: The Explorers) and artist Jean-Marc Rochette (Snowpiercer: The Escape), translated by Edward Gauvin.
Twenty-six years after its French release, Titan Comics is delighted to be bringing this epic adventure to English language audiences for the first time. Mixing classical and experimental comics forms, THE TRIBUTE tells the story of a team of scientists and soldiers who land on an alien planet with the hope they will find a new source of energy. The expedition is vital for the survival of humankind as an intergalactic war is raging, and the team must battle a hostile climate and protective, indigenous species to unravel the mysteries of this extraordinary planet before it's too late.
"I'm so excited that Titan Comics is going to be publishing another genre classic from the creators of Snowpiercer. Rochette's artwork is so unique and raw, there's nothing else like it and I can't wait for readers to experience it." says Titan Comics' Group Editor, Jake Devine.
Titan Comics have published all the original Snowpiercer graphic novels: The Escape, The Explorers, and Terminus – for English-language audiences.
In 2013, celebrated director Bong Joon Ho brought the classic Snowpiercer graphic novel to life in a major motion picture with Hollywood actors Chris Evans and Tilda Swinton. In 2020, a new TV adaptation of Snowpiercer starring Jennifer Connelly (A Beautiful Mind) and Daveed Diggs (Hamilton, "Black-ish"), aired in the U.S. on TNT and internationally on Netflix.
THE TRIBUTE (HC, 160pp, 9781787739963, $29.99) will be available at comic shops and bookstores from October 10th 2023, and readers can pre-order now from  B&N and Forbidden Planet (UK).
To keep up with the latest news and developments on the new comic book program, connect with Titan Comics on Twitter, Facebook and Instagram.