Abstract comics are a rich source of material for those interested in the possibilities and nuances of the form's language. Trigger Shot by Tal Brosh (one of our 2022 Broken Frontier 'Six to Watch' creators) epitomises that observation with a narrative that manages to be simultaneously symbolic, sequential, personal and intimate. It's as experimental as her previous longer-form work – the collaboration Flat Filters with Chino Moya – but very different in tone, fitting firmly into the graphic medicine genre of comics.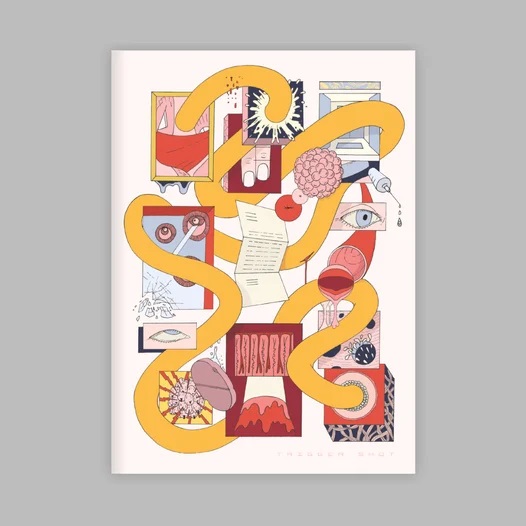 Trigger Shot is described as "a woman's journey through infertility and medical intervention" and its release was timed with last week's Infertility Awareness Week. In twenty-four wordless pages Brosh takes us through the experiences of an individual as she attempts to conceive. The story is told in fragmented bursts of kaleidoscopic colour with sequences that run in and out of each other. Time becomes blurred as a result. But the immediacy of events is more pronounced for the reader thanks to the focus on interactive interpretation over strict storytelling clarity.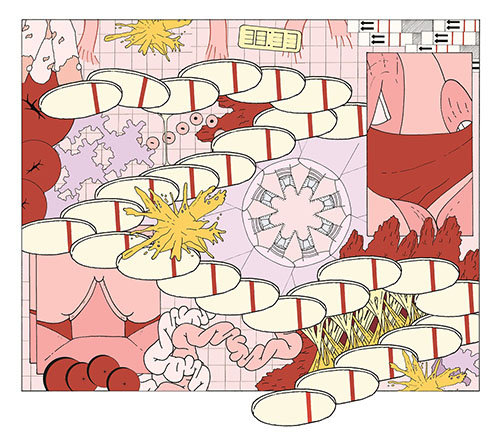 This where that "language of comics" reading comprehension is so deftly exploited by Brosh. Medical procedures, biological processes and personal reaction all blend into one sprawling visual account. Brosh's approach is far more sophisticated than it may initially appear. Ironically, the protagonist's presence as an objective focus makes the subjectivity of her journey all the more intensified for the audience. Pages jump from symbolic representations of attempted conception, to literal diagrammatic and procedural sequentials, through to visual metaphor reflecting moments of disappointment and hopelessness.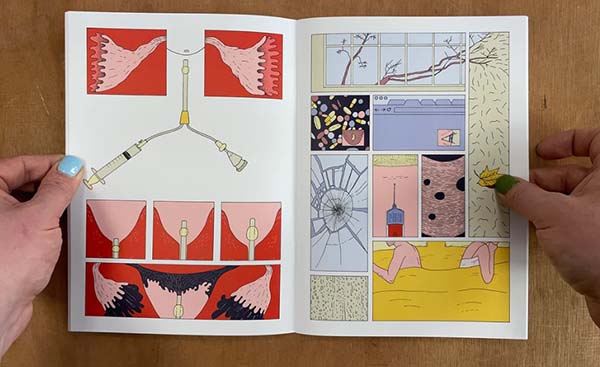 What Trigger Shot provides through these storytelling techniques is a comic that asks us to connect to events on the page with an intuitive appreciation. We are not so much reading as reacting; understanding and empathising rather than taking on the role of an impartial spectator. It's a powerful manipulation of the medium's distinct qualities and once again underlines Brosh's talent as an artist invested in the unique tools of the form.
Tal Brosh (W/A) • Self-published, £8.00
Review by Andy Oliver