Today at Broken Frontier we reach the halfway point with our 2020 Broken Frontier 'Six Small Press Creators to Watch' interviews as I talk to artist Tal Brosh about her work. Tal is a graphic designer and illustrator whose debut collaborative comic with writer Chino Moya, the surreal and disquieting Flat Filters, was one of the small press breakout comics of 2019. Despite her relative inexperience within the comics field her visual storytelling on Flat Filters was so accomplished and confident that she was a must for this year's Six to Watch list.
I catch up with Tal today to talk about the collaborative process, the eerie world of Flat Filters and what we can expect next from another exciting new #BF6toWatch voice…
ANDY OLIVER: Before we speak specifically about your current comics projects can you tell us a little about your wider artistic background and practice, and your work as a graphic designer and illustrator?
TAL BROSH: I wanted to become an illustrator after I moved to London when I was 20 but somehow started working as a (self-taught) graphic designer on music-related stuff for my then boyfriend's record label. A few years later I studied an M.A in Graphic Design at UAL and began working for more serious design studios and agencies, mainly on art, culture and youth culture projects. During that time I started picking up some illustration jobs here and there. Over the past ten years I was lucky to work with great clients like Design Museum, National Theatre, Converse and Vice.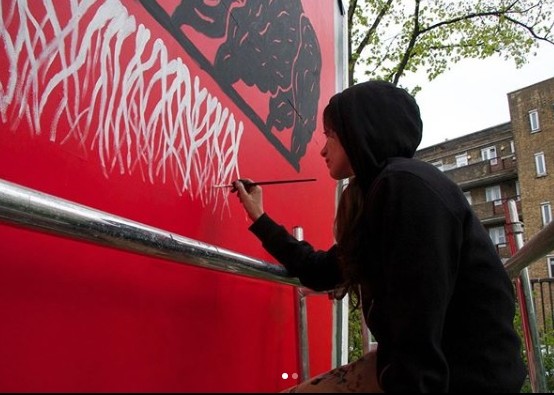 AO: What was your entry point into comics? What appeals to you about its possibilities as a storytelling form?
BROSH: I used to draw comics for friends at school although where I grew up (a desert city in Israel in the 80s) I wasn't exposed to it much. I was a real book worm and I always drew so I guess it just happened. I started consuming more comics in my late 20s, mainly indie stuff by Daniel Clowes, Chris Ware and Charles Burns to start with and it just blew me away. I started thinking about making comics more seriously when I began freelancing a few years ago and having more time to explore other creative avenues.
AO: From a comics perspective many Broken Frontier readers will know you from your collaboration last year with writer Chino Moya on the eerie short comic Flat Filters. How would you describe the premise of the story?
BROSH: It's a story about a thirtysomething-year-old who wakes up one morning and finds the world around him disappeared. He embarks on a journey to try and find food and water in a dystopian artificial desert where his present dreamlike experience and his past memories play an equal part.
AO: How did that collaboration with Chino on Flat Filters come about? And given that the comic is such an immersively surreal reading experience how did that work between you creatively in terms of you interpreting and bringing Chino's unique and quietly intense tale to the page?
BROSH: Chino and I met when he moved into the house opposite me (in a narrow mews, so we literally see into each other's house). We quickly became friends and while we were on holiday I showed him some experimental work I was doing and we decided to try and make a comic book. I've been looking for a writer to work with for a while but didn't find the right story – when he sent me Flat Filters I was in straight away.
Working with Chino was a very collaborative process. We started by spending time adapting his original story into something that was possible to interpret visually. The original had a lot of landscape description repetitions (essentially describing an empty space, which was very captivating but fairly difficult to draw!).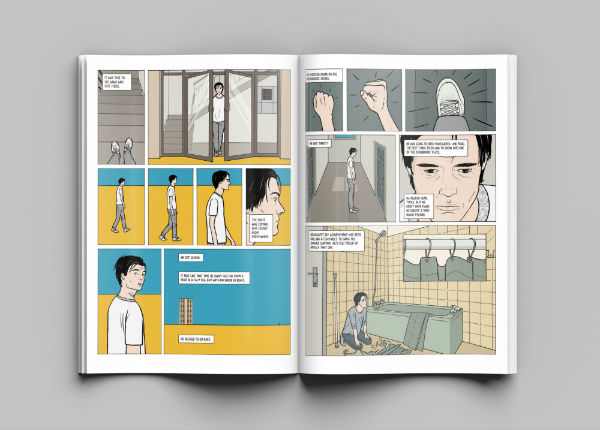 Because Chino is a director he had quite a bit of storyboarding experience so we worked out the layout together. This process of getting the pace right took us quite a long time and we had to go back and forth with adapting the story and changing the panels. Once that was done it was mainly over to me but Chino stayed involved throughout, he was very interested in all the little details (for example in the guy's room) which was great as I got exposed to lots of new cultural references from his world.
AO: When Flat Filters launched I was lucky enough to attend the exhibition of your art at Burley Fisher Books in London. Can you give us some insights into your creative process and the mediums you worked in to create the visuals for Flat Filters?
BROSH: I work very old school – pencil sketches, then ink and brush. I was going to use a pen because I thought it fits better with the emotionally restrained tone of the comic but a girl I was sharing my studio space with talked me out of it when I did some exploration sketches (thank you Suzie). I colour digitally.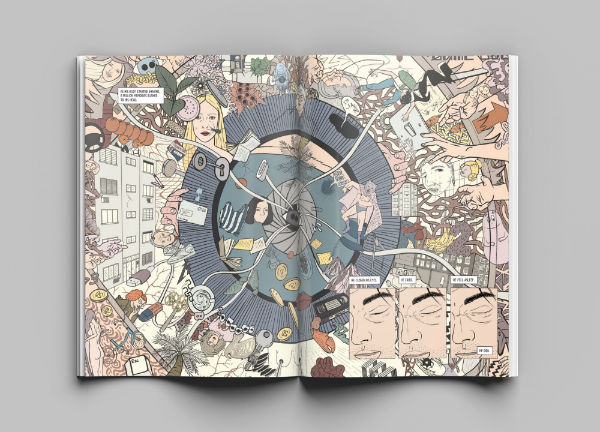 I used a model for the guy; I got a friend to come to the studio for a whole day and took lots of photos of him in various poses for reference. I used a different model for the guy's face and for Eva (his girlfriend) and photographic references for a lot of the details I used in the room. It was a challenge for me to draw the room from so many different angles and remain true to how it looked so I created a very (very) simple 3D model so I can rotate and choose the right 'camera' angle for each drawing. The last spread was very labour intensive as I draw individual elements separately and then collaged them digitally.
AO: As someone relatively new to the comics self-publishing world what advice would you have for those just starting out on producing their small press work? What has worked for you in promoting your work and getting it out to audiences?
BROSH: I am not sure I should be giving anyone advice on this as I feel clueless myself but the thing I feel worked well with Flat Filters was doing exactly what we wanted no compromises whatsoever. I normally work for clients so I am used to considering lots of factors like other people's opinions, audiences, profitability, marketability, etc. This time I just did whatever I wanted even if it seemed completely out there.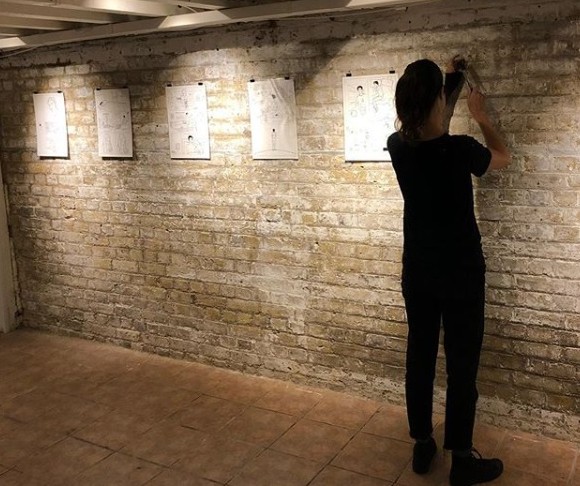 Preparing for the Flat Filters exhibition at Burley Fisher Books
AO: You tabled last year at ELCAF with Flat Filters. What was that experience like in terms of interacting with potential readers for the first time? What has reaction to Flat Filters been like from those who have picked it up?
BROSH: I am quite shy in person and to be honest I found it difficult to talk to others at ELCAF. I also just had a baby three months earlier so this was our first time apart (I had to hide between the benches of the round chapel and pump milk for her!) which made me a bit distracted. Luckily Chino is very chatty so he spoke to people and met quite a lot of other artists. The main reactions we got is how professional it looked for a debut and how beautifully printed it was.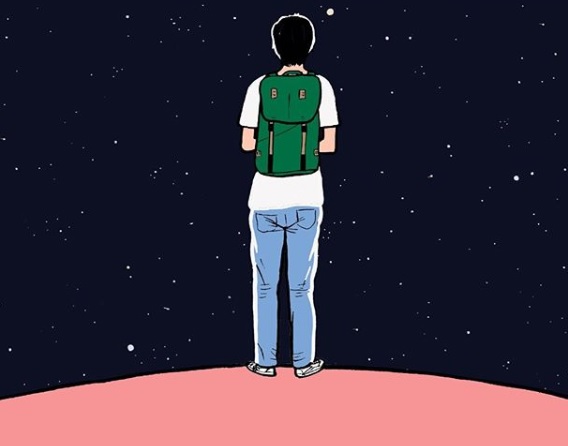 AO: Are you working on any new comics at the moment? Or do you have any future comics projects planned that you can talk about either as solo projects or collaborations?
BROSH: I have three things on the go although all three are going very slow. One is a solo project I've started a couple of years ago, which based on my personal life and is abstract and textless. The other is a short I am working on with my sister who is a writer, and the third is another project of a similar length to FF with Chino, it is still very initial stages. I'm hoping I will have something ready at the beginning of 2021.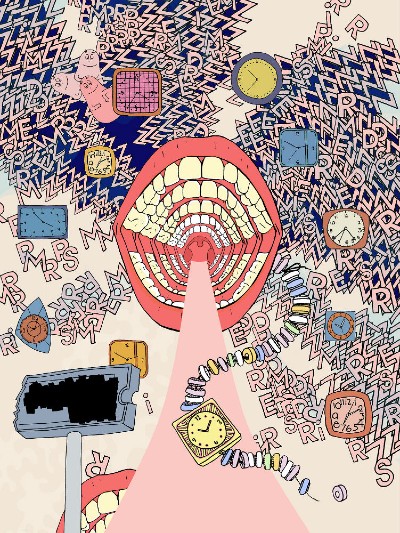 AO: And finally, given the challenges that 2020 has had for us all how have the last few months impacted on your practice? In what ways have you had to adapt to the ever changing realities of this year?
BROSH: It had a massive impact on me. I took a year off work to look after my baby, which in itself had a huge impact on my life, and that was going to end at the beginning of March. As I was getting ready to start working again everything started deteriorating with Covid. Consequently my baby couldn't start nursery and I couldn't do almost anything creative as I haven't mentally got out of the baby 'head' or had the actual time to focus on any significant drawing project. I'm hoping that now schools / nurseries have reopened I will be able to get back into creating, I really miss it.
For more on the work of Tal Brosh visit her site here. You can also follow her on Twitter and on Instagram. You can buy Flat Filters online here.
Interview by Andy Oliver