Press Release
TwoMorrows Publishing (the leading publisher of books and magazines for comics fandom) and JON B. COOKE (former e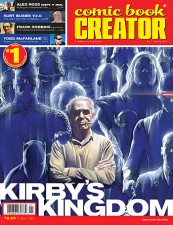 ditor of the multi-Eisner Award-winning magazine COMIC BOOK ARTIST) has joined forces again to bring fans
COMIC BOOK CREATOR magazine, billed as "The New Voice of the Comics Medium." Issue #1 debuts in stores worldwide on Wednesday, May 15, and is currently available from TwoMorrows' website (www.twomorrows.com).
COMIC BOOK CREATOR (84 FULL-COLOR pages, $8.95 cover price) is devoted to the work and careers of the men and women who draw, write, edit, and publish comics, focusing always on the artists and not the artifacts, the creators and not the characters. Behind an ALEX ROSS cover painting, issue #1 features an investigation of the oft despicable treatment JACK KIRBY endured from the very business he helped establish. From being cheated out of royalties in the '40s and bullied in the '80s by the publisher he made great, to his estate's current fight for equitable recognition against an entertainment monolith where his characters have generated billions of dollars, CBC #1 presents Kirby's cautionary tale in the eternal struggle for creator's rights. Also in the first issue are interviews with artist ALEX ROSS and writer KURT BUSIEK, a spotlight on the last years of writer/artist FRANK ROBBINS, a remembrance of comics historian LES DANIELS, TODD McFARLANE discussing his new show-all book, a joint conversation between NEAL ADAMS and DENNIS O'NEIL on their unforgettable collaborations, plus regular features and columns.
TwoMorrows is also offering a FREE 32-page bonus PDF file to all CBC #1 customers, which includes all-new extra material that wouldn't fit into the print edition. The Bonus PDF may be downloaded from this link:
COMIC BOOK CREATOR #1 is now shipping directly from TwoMorrows Publishing, and will be in stores May 15.
Join us for the start of a new era for fandom, as TwoMorrows welcomes back former Comic Book Artist editor Jon B. Cooke, who helms the all-new, all-color COMIC BOOK CREATOR!
84-page FULL-COLOR magazine
Print version: $8.95 cover price
Digital Edition: $3.95
Diamond Comic Distributors Order Code:
JAN131397
In anticipation of this book's release, TwoMorrows Publishing is letting readers download a FREE PDF PREVIEW at this link:
The PRINT EDITION (with
FREE DIGITAL EDITION)
or DIGITAL EDITION ONLY may be ordered at this link:
Since 1994, TwoMorrows Publishing has been bringing a new day to comics fans, through its award-winning line of magazines and books.