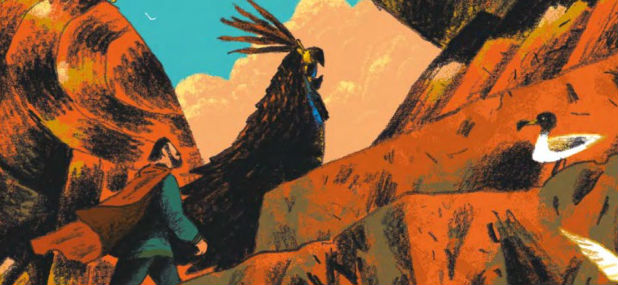 The first in a (presumed) series of books, Alexander Utkin's Gamayun Tales: The King of Birds (translated by Lada Morozova) is an all-ages offering from Nobrow Press based on original Russian folklore. A book with a cross-generational appeal it can be enjoyed by a younger audience as an enchanting fairy tale or appreciated by an older one for its truly gorgeous illustration and craft.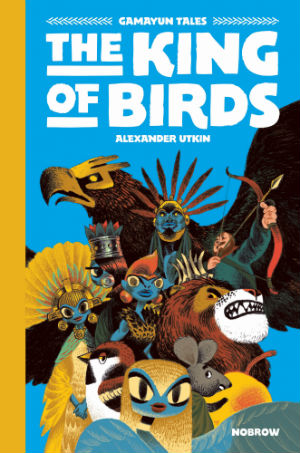 Via the titular Gamayun – a human-faced bird from Slavic mythology who fills the dual roles of guide and commentator on the action – Utkin throws us into a story-in-progress from the very beginning. Events surrounding a disputed magic apple lead to a breakdown in the relations between the Animal Kingdom – ruled by its leonine monarch – and the Kingdom of the Birds, overseen by a majestic eagle. The tensions between them eventually lead to war and a climactic and devastating final battle between the two sides.
Recuperating from the injuries he sustained in that encounter, the King of the Birds strikes a bargain with a merchant who lives deep in the woods with his wife. If he tends to his recovery for however long it takes then the King will reward him handsomely. But that bounty will be provided by the avian ruler's sisters and, as the pair begin their long journey across the land, they discover that those siblings may not be that keen to provide the merchant with his due…
Visually, myths and legends are ripe ground for comics adaptations, allowing those bringing them to the page ample opportunity to let their imaginations roam in re-imagining their fantastical elements and magical events. In narrative terms, however, they bring their own challenges, being full of extraneous details that can affect pacing and flow when brought to other mediums. Utkin never allows his pages to get bogged down in backstory or excessive exposition though, preferring to move quickly on from the causes of the animal/bird war in the early pages and giving the book a jaunty, episodic rhythm throughout.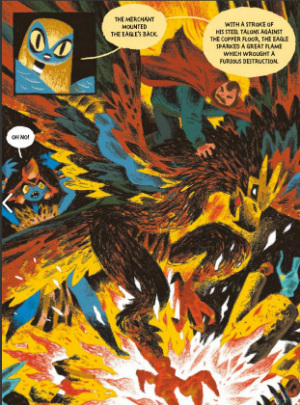 It's Utkin's art that is, obviously, the true draw of Gamayun Tales and its sumptuously coloured pages are rich in lavish detail. It's that same carefully chosen use of colour that enhances the fantasy feel of the story, creating a world that is both beautiful and brutal, captivating yet unforgiving. His panel-to-panel storytelling is particularly engaging, utilising an ever-changing number of page layouts, constant shifts in perspective and some truly standout larger images for dramatic emphasis (scenes of conflict are very notable in this regard, especially the Bird King and his lion counterpart's battle and the confrontations with his sisters).
Where the book may feel slightly unsatisfying to some readers is in its serial nature. While its almost "post-credits"-style cliffhanger ending is a perfect hook for the next volume there's one major plot element left dangling that feels awkward in its lack of resolution given its set-up. That's easily overlooked though in the context of Utkin's stunningly designed characters and hypnotic hues. An impressive start indeed to 2018's publishing line-up from Nobrow Press.
Alexander Utkin (W/A), Lada Morozova (Translation) •  Nobrow Press, £12.99/$16.95
Review by Andy Oliver