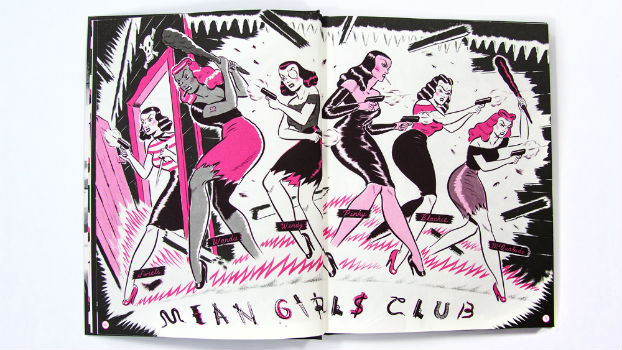 Spinning out of the Mean Girls Club one-shot that was published as part of Nobrow Press's 17 x 23 series a few years back, Mean Girls Club: Pink Dawn reunites Ryan Heshka's girl gang as Pinky, Sweets, Blackie, McQualude, Wendy and Wanda return in more mayhem-charged, authority-challenging adventures…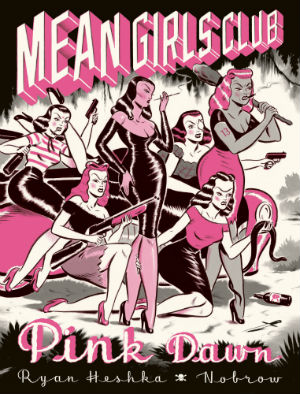 In this follow-up the Mean Girls Club finds themselves actively pursued by the law in the smalltown home they have been operating in for the last few years. The opening sequence, featuring a group of police officers descending on the Mean Girls clubhouse, sets the tone for the book's 100 pages. Brutally dispatched by the Mean Girls in inventive and graphic ways, the policemen learn a fatal lesson about not messing with this ruthless crew.
It's an act of provocation that sets the group on a collision course with the corrupt and power-hungry Mayor Schlomo and his allies in the town within the religious and legal systems. Wanting to put a stop to the rampages of the Mean Girls Club once and for all, Schlomo attempts to take them down from the inside by blackmailing the local mechanic Roxy into joining their ranks. But will Roxy see his duplicitous scheme through to the end or will she take the fight back to the loathsome official with her new friends in the Club?
Heshka's original Mean Girls Club entry focused on the sheer spectacle of his 1950s pastiche rather than plot or characterisation and its brief page count meant there was very little room to flesh the characters out beyond their awe-inspiring attitudes. Pink Dawn provides more backstory for the cast, filling in some of the gaps as to how they came together and elaborating on the history of the Club which was briefly touched on in the first comic. It allows us to see them as characters we can empthise with, rather than symbols of resistance to root for.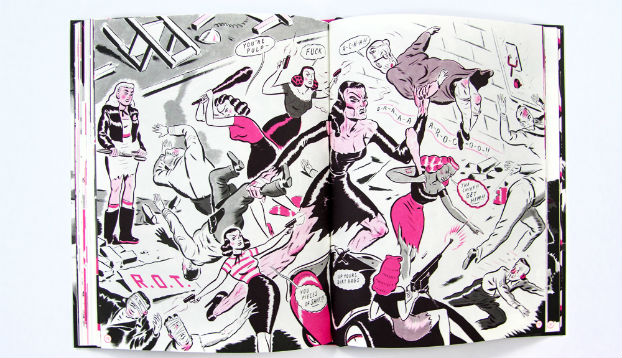 The retro-styled visuals of Mean Girls Club employ skewed panels and page structures that continually give events an off-kilter, dizzying edge; most fitting for the atmosphere and tempo of the book. There's something about the heavy pinks as well that give a slightly hallucinogenic quality, heightening the sense of pulpy melodrama at play here.
Heshka's rapid-fire storytelling plays with ideas of poetic justice that would not be out of place in the EC Comics of the era it's set in.With its period design stylings and defiant stance Mean Girls Club gives us a comics parable that, for all its sense of '50s warped nostalgia, has very contemporary echoes. From the "Reclaim Our Town" activists to the odious patriarchal establishment that the Mean Girls Club confront this is not a subtle narrative. But then it's not meant to be. Raucous, unforgiving and in-yer-face, we can only hope that Pink Dawn is not the last we see of the Mean Girls Club.
Ryan Heshka (W/A) Nobrow Press, £14.99
Review by Andy Oliver