Press release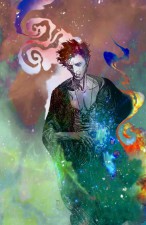 This October, author Neil Gaiman returns to the realm of the Endless for an eagerly anticipated tale that will bring readers back to one of the most critically-acclaimed comic book series ever. THE SANDMAN: OVERTURE will unite Gaiman with visionary artist J.H. Williams III and reveal a previously untold story in THE SANDMAN mythos. The announcement was made today by Shelly Bond, Executive Editor of Vertigo, an imprint of DC Entertainment.
One of the most popular, groundbreaking, bestselling and award-winning comic books of the last twenty-five years, Gaiman's THE SANDMAN stands tall as one of the few graphic novel series ever to be on the The NewYork Times Best Seller list and lauded by critics the world over for its transformative storytelling in the comic book industry.
On October 30th, Gaiman returns to his beloved universe for the first time in more than 10 years since ending the series. The story will explore Morpheus' world before he was captured, which is bound to captivate the hearts and imaginations of the most loyal fans and new readers alike. Brought to life by renowned artist J.H. Williams III (BATWOMAN, PROMETHEA), THE SANDMAN: OVERTURE #1 will be an oversized issue and will showcase his talent with a spectacular interior gatefold.
"This is the one story that we never got to tell," Gaiman told The New York Times today. "In SANDMAN #1 Morpheus is captured somehow. Later on in the series, you learn he was returning from somewhere far, far away – but we never got to the story of what he was doing and what had happened. This is our chance to tell that story, and J.H. Williams III is drawing it. It's the most beautiful thing in the world."
"Neil Gaiman returning to the lush, evocative world he created with Sandman is a literary event," said Diane Nelson, DC Entertainment President. "We're honored to have Neil back for a story only he and J.H. can tell. It's a testament to the lasting power of Vertigo, Sandman and Neil's amazing creativity. "
THE SANDMAN: OVERTURE will be published bi-monthly with issue #1 arriving on October 30th, 2013. Each issue of THE SANDMAN: OVERTURE will feature stunning covers by Williams and original series cover artist Dave McKean and will be published on the same day digitally.
Also bi-monthly and alternating with the main OVERTURE series, Vertigo will publish THE SANDMAN: OVERTURE Special Edition. These deluxe issues will include original scripts by Gaiman, additional concept art and sketches by Williams, Q&As with the creative team and more, starting in November.
More details about the series – including artwork – will be revealed at this year's Comic-Con International: San Diego 2013. Gaiman, Williams and McKean are special guests of the convention, during which Vertigo will host a 25th Anniversary all-star panel featuring Gaiman, Williams and artists Dave McKean and Sam Kieth. Gaiman will also be spotlighted at his own standalone panel. Additionally, the cover of the Comic-Con International: San Diego 2013 Souvenir Book features all-new Sandman art by Dave McKean, which will also be featured on an official convention T-Shirt.