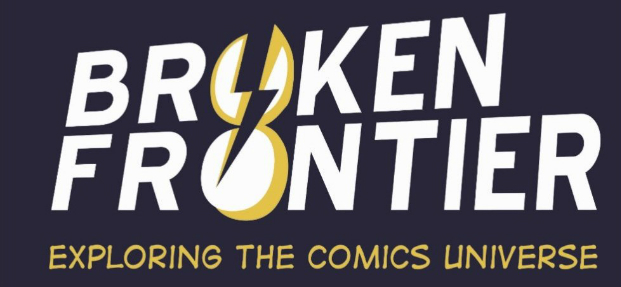 This coming Saturday October 28th marks the fifteenth anniversary of Broken Frontier – a decade and a half of exploring the comics universe, championing the ninth art, and doing our very best to make a tangible difference for some of the most exciting and deserving new voices on the scene.
Knowing when I took over the site earlier this year that this landmark date was coming I initially had big plans for one of our "themed" weeks of coverage. It would have put a dedicated spotlight on indie, alt, small press and micropublished comics and practitioners to mark the occasion in big, blow-out style. And then I realised the redundancy of that idea… because it wouldn't actually be any different to what we've been trying to do every week for the last few years anyway.
Admittedly I had perhaps become a little bit overly obsessed by the idea of calling that event week 'Broken Frontier Fest' and had been heartily slapping myself on the back about all the clever tagline possibilities involved in the initials 'BFF'. But we're going to do something a little lower key, yet perhaps far more important and beneficial to the creative community we support, instead in this anniversary week.
Broken Frontier Anthology cover by Robbi Rodriguez and Broken Frontier Small Press Yearbook 2017 cover by Ellice Weaver
Over the course of the next two weeks we'll be looking to recommend at least 100 of our favourite comics people – those (largely self-published) artists who have majorly inspired us over the years and those smaller publishers who have made a vital difference in promoting new work – for you to follow on Twitter. Look for the hashtag #15YearsofBrokenFrontier. And we'll be providing links to their online stores/sites rather than to Broken Frontier articles in the hopes that you'll use this as a chance to investigate the practice of artists who may be new to you and, most importantly, buy some of their comics!
That seems a far more Broken Frontier way of commemorating the occasion after all. And please feel free to join in with that hashtag yourselves and add your own suggestions!
So I'm not going to look back on 15 years of the site and reminisce nostalgically about its various incarnations today. We kind of did that earlier this year when the BF change of ownership was announced. If you want to read a fuller account of the "secret origin" of Broken Frontier I'd point you to the parting words of my friend Frederik Hautain – the man who founded BF in 2002 – here back in January of this year.
Some gratuitously placed birthday-themed covers from classic British weekly Tiger, Donald Duck #286 (William Van Horn and Gary Leach), and Superman #207 (Curt Swan and Neal Adams)
What I am going to say is that to me Broken Frontier has never been defined as a website. The site is simply the tool we use to communicate our message. To me Broken Frontier is the ever evolving collective of comics activists who write so passionately about work they believe in and a medium they love. And they do deserve some acknowledgement this week. So thank you to everyone who has been a part of this adventure over the last 15 years and made a real difference to so many up-and-coming creators. And thank you especially to our current amazing team of Edie, Tyler, Ally, Conori, Jenny, Karen, Matt, Tom and Tony.
But most of all thanks to Frederik for starting it all way back in 2002. Fred's vision of a comics culture site that gave equal consideration to the medium in all its forms has been the one consistent throughline in BF's history and undoubtedly its guiding ethos.
To quote the great man himself… onwards and upwards! And maybe we'll circle back round to that 'Broken Frontier Fest' idea in 2022…
– Andy Oliver, Broken Frontier Editor-in-Chief, October 23rd, 2017
For regular updates on all things small press and Broken Frontier follow Andy Oliver on Twitter here.