The phrase 'tortured artist' perhaps suits none better than Vincent Van Gogh, and this graphic novel is a testament to that fact.
Have you ever wanted to be able to see into the mind of a great artist? To know what made them tick, the thoughts and wonders that drove them to create the famous, timeless, paintings that are their legacy? Well Barbara Stok's Vincent means that the mind of at least one great artist is a little more decipherable to us mere mortals.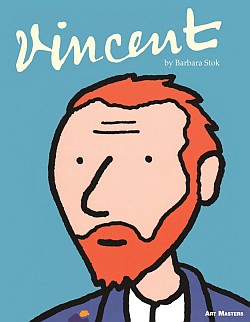 Vincent is the story of a brief but tumultuous time in the life of one of the worlds most renowned and well-known painters, Vincent Van Gogh. The time period in question is the year or so the artist spent in Arles, in the south of France, working intensely and obsessively whilst dreaming of setting up an artist's house for himself and his contemporaries. It's the story of his art and his dreams as well as the bouts of mental illness, and notorious incident involving his own ear, that left both dreams and artist shattered and exhausted. It's also the lesser-known story of Van Gogh's brother – Theo – his steadfast supporter (both emotionally and financially) and one of the generous, kind and quiet characters that history so often overlooks.
Barbara Stok's drawing style has a unique simplistic quality – simple enough that its childlike basic-ness may put off readers at first glance. But give it a chance, and you'll see that it's that simplicity gives Stok the ability to distil a scene down into its root nature with an elegant clarity. Stok also plays with the backgrounds of her images, distorting them where needed to reflect the turbulent thoughts and ideas of a troubled artist, contorting them into swirls and patterns echoing those in Van Gogh's own expressive artworks.
The phrase 'tortured artist' perhaps suits none better than Vincent Van Gogh, and this graphic novel is a testament to that fact. In his letter to his brother Van Gogh talks about his love and affinity for the humble natural landscape of Arles, his drive to create as much work as possible, his doubts that the world will ever come to understand and appreciate his paintings, yet his determination not to compromise his style for popular opinion.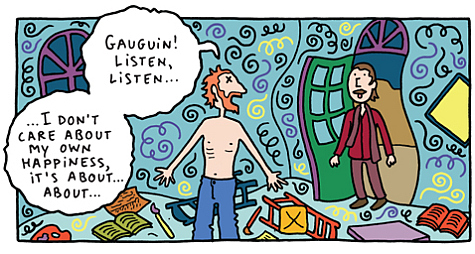 Overall what he wanted most was to set up his 'artist's house' as a studio and home for artists to work together and inspire each other. His ideological views and lack of need for fame or money might appeal to us in theory, but Stok's candid representation proves Van Gogh was not the easiest man to get along with. Stubborn, fixated and constantly declaring his thoughts on art and artists, maybe the only man who truly understood Vincent was his brother, and the letters between them interspersed through the book contain some of the graphic novel's most beautiful passages and show the great caring the two had for each other.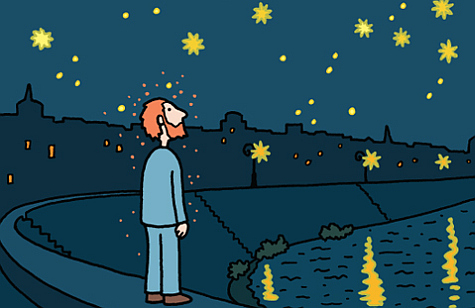 It is one of the great tragedies of art that so many artists never live to see the true impact that their works have on the world. This is certainly the case for Van Gogh, who died at the age of thirty-seven and only ever saw one of his paintings sold. Barbara Stok's exploration of the artist is merely a brief snapshot into a troubled and chaotic life, but it's more than enough to give its reader a clearer understanding of the drive and passion behind some of the most influential and admired works of all time, and hopefully to enhance their enjoyment of those paintings. Behind every work of art is a human being trying to make sense of the world and what they see in it.
Barbara Stok (W/A) • SelfMadeHero, £12.99, March 2014