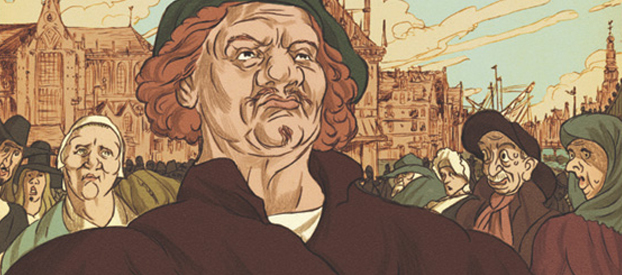 By focusing on his entourage, Typex delivers a stunning psychological inside look into the 17th century Dutch master Rembrandt.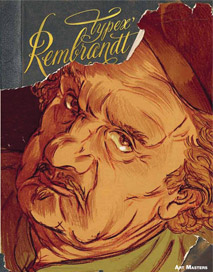 After studying Rembrandt for over 3 years, dutch comics artist Typex gives rise to his version of Rembrandt the person in a graphic novel that is equally astonishing in its artistic approach as in its psychological make-up, entitled simply Rembrandt. Typex's  Rembrandt is grumpy, egotistical, arrogant and a thorough cheapskate. He is overcome by his own genius and his ego and puts aside all worldly and relational matters; all must bow before the genius of Rembrandt.
Born in the early 1600s, Rembrandt is one of the important Dutch masters of the 17th century. Though his paintings have survived the tide of ages, little to nothing is known of his personality, though one famous quote by Hendrik Van Uylenburgh always returns 'A thoroughly unpleasant person.' Typex therefore set out in conjunction with The Rijksmuseum in Amsterdam to establish a personal view on Rembrandt, not by his paintings but by his companions: lovers, admirers, sons, agents and art dealers.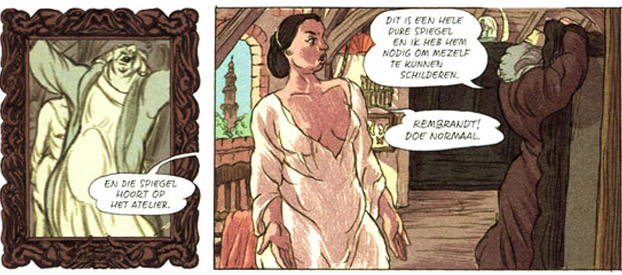 And the picture that arises is not a happy one though, just as much, you can pity the man. Rembrandt suffers because of his genius, his obsession; putting aside all worldly matters in favour of the arts. Typex's fragmentary approach changes scenery and viewpoint like a kaleidoscope, trying to give us a full picture of the Rembrandt's personality. At times feeling like an abstract Nicolas Roeg movie, the narrative rises up through the kaleidoscopic approach and not only the negative aspects are shown but also the tender moments, delivering a full assemblage of the character of this genius painter.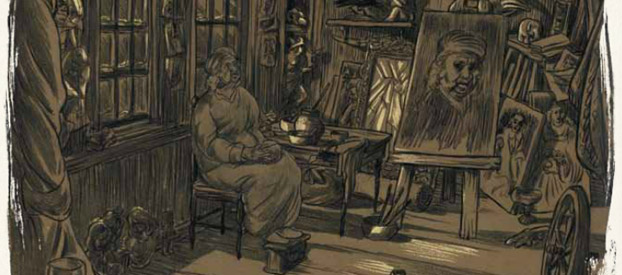 Scenes are drowned in browns and Typex's line work is inspired by the lines of the master himself. He adapts his rhythm and storytelling mode to the corresponding narrative of the chapter, equally adept at the quieter moments as to the more energetic crowd and street scenes. The brownish colouring reflects both the era as Rembrandt's paintings.
Rembrandt by Typex is a biographical work with a subjective outlook that shines new light on this 17th century genius. It is a highly graphical work that features superb psychological insight and is a splendid addition to any comics and historical art lover's bookshelf.
Rembrandt by Typex is published by SelfMadeHero. It is a full colour softcover counting 240 pages and retails for £19.99. This review was based on the Dutch edition published by Oog & Blik I De Bezige Bij.