One of the things we're proudest of about our 'Small Pressganged' column here at Broken Frontier is its success in providing an introductory spotlight for exciting new comics talents. Indeed, that's become something of our stock in trade here over the last few years.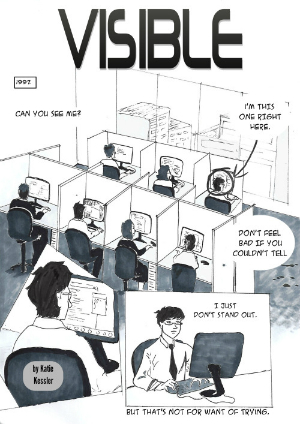 Today we're bringing you some remarkably confident work from Katie Kessler, a talented young artist who is just 16-years-old. But on this occasion we can't take any credit whatsoever, because this discovery comes courtesy of our friends at Nottingham's acclaimed Page 45 comics shop.
It's they who have been championing the work of that aforementioned soon-to-be rising star recently, not just by spreading the word about her comic Visible online, but also by bringing a free limited run print edition for regular and mail order customers into existence (details here). You can also read the whole comic on Kessler's tumblr here.
We now, of course, live in a post-Tillie Walden world where a creator who was still a teenager when her work burst onto the scene just a couple of years back (via Avery Hill Publishing) has gone on to Eisner-nominated and Ignatz-winning recognition. But that in no way means one becomes blasé in regards to such assured work from younger artists. Kessler's Visible is brimming with promise in its short 8-page count, from composition to resonant subject matter through to that all-important understanding of the pure language of comics.
The immediate draw of Visible is that it touches on themes we all recognise – feelings of helplessness at our own insignificance in the greater scheme of things; those inescapable fears that our existence is irrelevant and of no importance to anyone.
The unnamed protagonist in this short story is trapped in that same cycle of self-loathing and inner pain. A cog in the machine, his life never changing as the monotonous routine of the 9 to 5 exacerbates the loneliness and isolation that threatens to consume him. One dramatic, climactic decision, though, will see him break free of the emotional chains that bind him in a moment of liberating epiphany…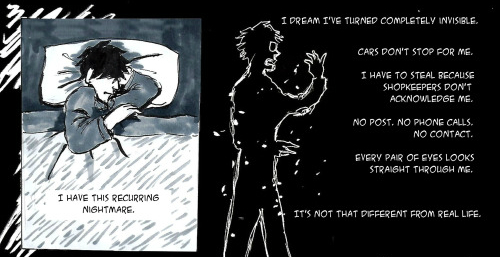 Kessler's visuals have an obvious manga influence and while there are occasions where the rawness of her talent is more obvious there are also some truly stunning sequences. One in particular catches the reader's eye – a view from on high across the city in a pivotal scene that is beautifully composed and atmospheric, perfectly underscoring the narrative's thematic turns.
But it's Kessler's use of the unique storytelling properties of comics that actually interested me far more here than her artistic style. All those little touches that build up into something greater: shifts in perspective to emphasise solitude, a close-up on the main character caught within a single panel to symbolise the stifling claustrophobia of his life, and a "negatively" rendered dream sequence where inversion of shading and linework brings the reader so closely into the desperate mindscape of the comic's subject. And just check out the penultimate page for an excellent example of how to use that "reading between the panels" element of comics to such powerful effect.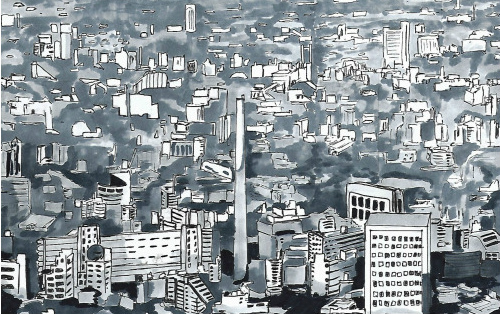 Obviously there's some evidence here of an artist learning their craft as well. The story does perhaps need greater space to breathe, and a longer time building up the audience's relationship with its central character would have made subsequent events all the more affecting. However, as a debut piece this is a highly impressive offering. All the more so given the youthfulness of the artist concerned. Just yesterday at BF I spoke (from a London perspective) about the importance of those institutions that act as community hubs for their local comics scenes. Kudos to Page 45 in that regard for so actively championing the work of such an exciting new talent.
Don't forget that Visible is available online here for free.
For more on Katie Kessler's work visit her tumblr here.
For more on Page 45 visit their site here and follow them on Twitter here. 
For regular updates on all things small press follow Andy Oliver on Twitter here.