Press release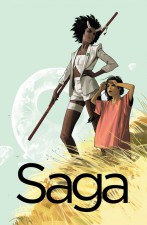 The New York Times bestselling, multiple Eisner Award-winning, and Hugo Award-winning series SAGA continues with the much-anticipated third volume trade paperback, collecting issues 13-18, the entirety of the third story arc and releasing in March 2014.
While Marko and Alana travel to an alien world to visit their hero, enemy pursuers remain hot on their trail. Forced to contend with tragedy, complications, running for their lives, and hope, the family at the heart of SAGA is pushed to the limit in this volume.
Praise for SAGA:
Voted #1 on Buzzfeed's "The 30 Greatest Comic Moments of 2013"
Voted #1 on Paste Magazine's "The Best Comics Artists of 2013"
Voted # 3 on TIME Magazine's "Top Ten Comics and Graphic Novels of 2013"
Voted #11 on The Onion's A.V. Club's "The Best Mainstream and Superhero Comics of 2013"
"best comic, ever" —Felicia Day, actress
"A break-out hit… Mischievous, vulgar, and gloriously inventive." —Douglas Wolk, TIME Magazine
"This is a completely addictive, human story that will leave readers desperately awaiting the next volume." —Publishers Weekly
"One thing I found myself quickly appreciating is that Vaughan isn't playing a "good side/bad side" game here. Neither race comes across as heroes or villains here; they're both clearly seeing themselves as the good ones of course, but both sides make choices that put them in the "to be feared" camp." —Greg McElhatton, Comic Book Resources
"It is such a refreshing delight to see something come along that is unapologetically bold. That is fearless in the choices it makes. That has the confidence of a writer that knows exactly what he's doing, and entices you to come along with him." —Kelly Thompson, LitReactor
"Saga #1 deftly establishes entire cultures and presents a wide-ranging cast of characters who we understand almost instantly. This is more settled, self-assured work from Vaughan, but it is anything but bland. Instead, it's prickly and precise, and perhaps a bit unsettling, because it's somehow completely familiar and yet entirely new. And that discordancy helps to power its narrative." —Tim Callahan, Tor.com
"Brian K. Vaughan has certainly given Saga legs, balancing the tense threatening bad guy jerk-attack issues with familial drama." —Andy Hunsaker, Crave Online
Readers can catch up on the ongoing SAGA series with volume three, which will release on March 19 and is available for pre-order with Diamond Code JAN140556, ISBN: 978-1-60706-931-7.