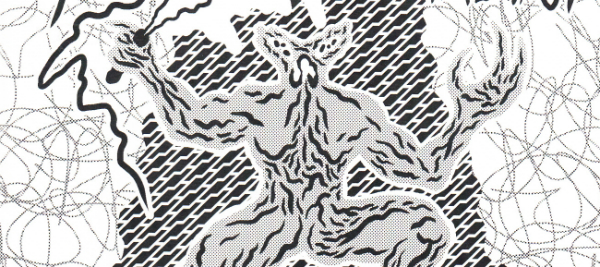 "Welcome to the Hyperverse where space sorcerers hurl face-melting spells as they battle across nested realities."
I originally discovered William Cardini's Vortex in self-published form via the now defunct but forever fondly remembered UK small press distro Impossible Books. Fortunately for us all, and especially for those not wanting to have to hunt down individual out of print issues, US micropublisher Sparkplug Books have collected this mind-bendingly bizarre sci-fi romp into a complete 136-page package, bringing Cardini's unforgettable visual feast to the palates of a whole new group of potential consumers.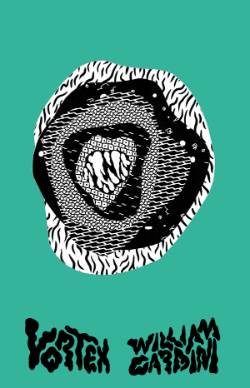 Vortex is set in the twisting realms of the Hyperverse – an alternative universe of god-like beings and sprawling celestial conflicts – where we follow the cosmic wizard the Miizzzard on his quest to release a community of sentient super-weapons known as the Vortex from their creators the Empire of Tolx. To do so he must travel deep into their communal mindscape and locate and shut down the control switch that makes them destructive puppets, at the mercy of the whims of their malevolent masters.
This is a comic of contrasts. It's oblique yet accessible, organic but simultaneously artificial, crude yet still complex. You don't so much read Vortex as interact with it, forming your own interpretation of the merging, metamorphosing black and white visuals that flow between its covers. Particularly in that latter half of the book as the Miizzzard journeys through the shared consciousness of the Vortex community.
The plot may be slight and the book's message about exploitation and warfare an oft preached one but it's that melting sense of visual invention that makes Vortex such a unique reading experience. Images dissolving into one another as the epic and the majestic are placed against the functional and the rudimentary to knowing, layered effect. Few alien landscapes genuinely feel alien in genre fiction – they're simply recognisable environments dressed up in superficial oddity. What Cardini has achieved here is a realm that is truly unknowable on a fundamental and core level, and one that is all the more entrancing because of it.
Kirby in terms of concepts, Ditko in the sheer otherness of its confines, and yet quite unlike either in delivery, Vortex is a mesmerising conceptual triumph. This is a book that will buckle and warp your perceptions.
For more on the work of William Cardini visit his site here. Vortex can be bought online from Sparkplug Books here priced $13.00.
For regular updates on all things small press follow Andy Oliver on Twitter here.