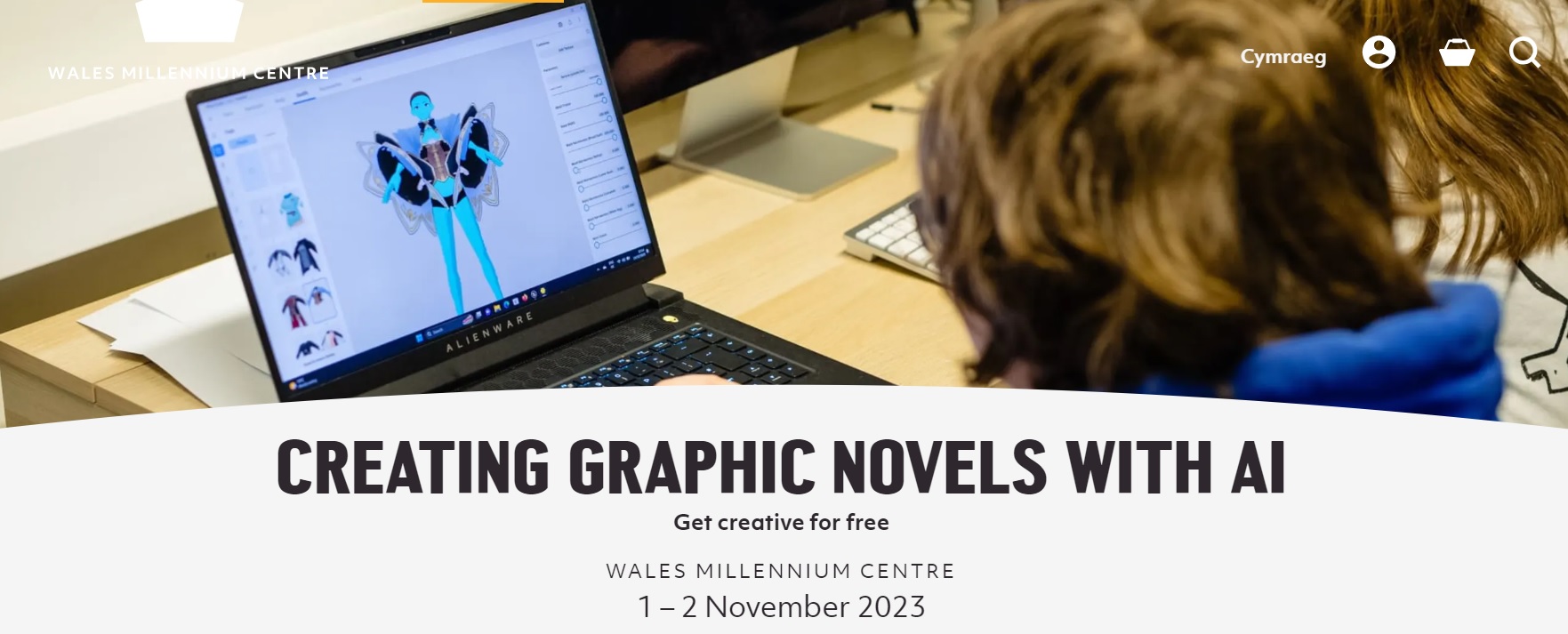 Update: As of October 26th Wales Millennium Centre have issued a second statement acknowledging a lack of consideration of the technology being used for their AI Art graphic novel course and that they should have engaged with the comics community beforehand. The course has now thankfully been cancelled and a discussion event on the use of AI will be held in the near future.
The indie comics community can often be notably divided on whatever the comics discourse talking point of the moment is. But if there's one issue that we are all largely united on it's the totally unethical nature of AI Art as a tool for "creating" comics. The inverted commas in that previous sentence of course are signifying the reality that nothing is actually being created in terms of AI illustration, merely that the artwork it generates is the repurposed scraping of actual artists' practice.
So it was no surprise this week that there was widespread condemnation from the comics world when it was discovered that Wales Millennium Centre was running a 'Creating Graphic Novels with AI' course. WMC is Wales' national art centre and an organisation who like to make the bold claim that "We Fire Imagination" – a marketing line that becomes laughable in the context of promoting technology that plagiarises the existing work of actual artists with its soulless approximations of sequential art, and threatens the livelihoods of true creatives in the process. That this course is aimed at young people makes it all the more reprehensible.
In response to this considerable concern Wales Millennium Centre yesterday posted a statement on their site and on social media. It's a lot of words to say little more than "we're going ahead with this course anyway" with some vague box-ticking about "hearing" what creators are saying, promising a course with an actual artist in the future (good luck on finding someone to run that now WMC), and a truly bizarre claim that they're just giving young people what they want (you really don't need a doctorate in philosophy to see the feeble premises that argument is built on). The course is run by "writer and self-confessed comic-nerd Edward Lee" and "Creative AI-geek Robin Moore". Neither of whom are, you will note, described as "artists".
Beyond all the obvious ethical considerations about AI itself there are other stark realities that need considering here. Bottom line – no publisher of note will be interested in AI comics; no major coverage sites will review or give any support to those using AI Art; shops will turn you away if you try and get your self-published AI Art comics stocked in their small press sections; you will not be welcome in comics community spaces; the copyright implications are immense; and all reputable festivals/conventions will reject your applications. Perhaps all that will be touched on in this two-day course but one rather suspects it won't. Just as we feel sure WMC aren't offering AI "creation" courses in other areas of the arts.
But, hey, it's only comics right?
I am never keen to lift comments from Twitter without having the green light from the people concerned first but below is the start of some of the community's commentary on the situation. Check out Twitter for much more. If you are happy with us including your tweets here please let us know on social media, by e-mail, or in the comments section below.
Given the emphasis on comics and young people, had WMC approached us with a legitimate course we would have gone to great lengths to use our considerable reach to promote it. Ultimately the greatest shame here is that an institution with such a clearly vital and impressive track record in social outreach has refused to back down and do the right thing. And in so doing has tarnished its reputation, possibly irreparably, with the comics community.
Statements that you champion some artists cannot be taken seriously if you promote tools that exploit others. It's that simple.
Here's what some of the people that matter have had to say:
Rob Williams (Judge Dredd, 2000 AD, Petrol Head) – "Makes you wonder who is teaching this course? Because it sounds from your description as though you don't really understand how comics are created, to say nothing of the ethical black hole of using AI in this manner."
Marc Ellerby (Rick and Morty, Doctor Who, Ellerbisms) – "I truly hope you reconsider your approach to this course. Comics are an individual and exciting medium and one that is so rewarding to teach. Anyone can make a comic regardless of drawing skill and that's what you should be promoting instead of this ethically-void approach to creativity." (You can read Marc's full, articulate and considered statement here)
Scott Gray (Doctor Who) – "Giving young artists the opportunity to work with digital devices is laudable. But so-called "AI" is nothing more than plagiarism software; it is technological exploitation of the worst kind. I hope you reconsider your position, as this stance does not reflect well on you."
Fraser Campbell (Alex Automatic, The Berg, IND-XED) – "AI art is theft. There's no way around this fact, the images generated are scraped from the original work of actual artists. Also, there's no way AI art helps anyone "consider the interplay of visuals, layout and dialogue" unless the goal is to make inert dogshit. Piss poor."
Emily Owen (Happy Clam Comics) – "Art is intrinsically human, and without the human input from, which AI steals to create content, AI art will become a circular process of ever decreasing merit."
Zoe Delautre (April 17th, First Graphic Novel Competition 2023 longlist) – "no kind of AI created (stolen) crap can compare to the art any person can create through real grief, experience, sacrifice and hope."
Tally Burtram (Bajo Mano) – "This is incredibly disappointing, why not bring in actual comic artists/writers and let people be creative with art supplies. God forbid people actually create something with their own hands! And do we need to get into the issues of copyright and AI next??"
Tango (Archie Comics, Teenage Mutant Ninja Turtles) – "Currently there is no AI generation available that works without the wholesale theft of the work of living artists. It is not an 'innovation technology', it's an exploitation engine. That's the ethics issue (and the reason you're seeing such overwhelming feedback)."
Mariel Ashlinn (Monster) – "This is a really disappointing response and I hope that the Millennium Centre will consider supporting actual live artists in the future. I can't imagine they would take this approach to music or performing arts."
The Workers Gallery – "pls rethink this. We champion graphic novel & comic creators in Wales & beyond. We bring creators together, support, exhibit & sell their work. We're empowering their & our dreams & giving young people a chance to dream too. AI makes those dreams more like nightmares."
Simon Russell (Skadi, nearlymades, Question Marks) – "So you're offering a comic-making course run by a writer and a tech-bro rather than a comic creator? That course is built around using Generative AI tools – the use of which the comics community is unusually united in opposing for multiple ethical considerations? Are you sure?"
Sam Roads (Aces Weekly) – "Edward, are you quite sure about this? Why not teach a comics course without the AI? As a writer you must understand how weak it would be to teach 'creative writing using AI'. And both of you must feel a bit queasy using Midjourney, which was trained on art without consent."
Irina Richards (The Witch-Hare) – "If you'd like to have an actual comics artist to do a workshop for you, I'm available . I live a train ride away from Cardiff, have created a graphic novel inspired by Welsh folklore, a dw i'n dysgu Cymraeg – surely I'm better than AI."
David Baillie (Red Thorn, 2000 AD, Judge Dredd Megazine) – "I'm utterly shocked by the Wales Millennium Centre's recent decision to run an AI-based comic creation course. All AI technology of this type (be it image generators or LLMs) use as their foundations the original work of human beings – gigantic datasets scraped from the sweat and tears of thousands of writers and artists. Until that changes, there is no ethical way to use this technology to 'create' new work."