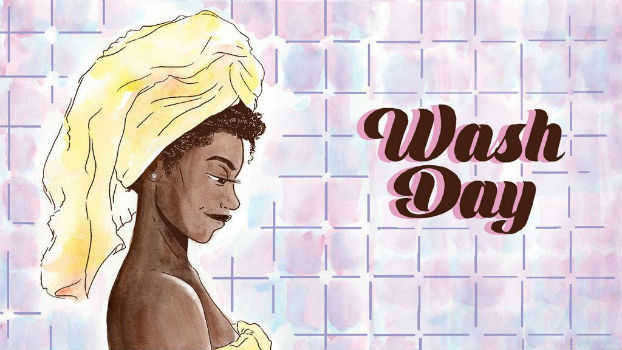 Back in April, Jamila Rowser and Robyn Smith's Wash Day was one of the comics projects we showcased in our regular Crowdfunding Corner feature. Described by writer Rowser as a comic that "pays tribute to the beauty and endurance of Black women and their hair" it's a slice-of-life story following a Sunday in the life of twentysomething central character, and Bronx resident, Kimana.
As we said when we covered the book's Kickstarter campaign back in April, slice-of-life comics play on the innate empathetic qualities of the form to allow us a unique insight into the experiences of their subjects. Wash Day is a comic created by women of colour for women of colour; one that brings us into both Kim's Sunday routine but also depicts the intricacies of her hair care regimen.
One of the most endearing qualities of Wash Day is that it essentially eschews involved plot in favour of a subtler and more nuanced character study. We observe Kim as she goes about her Sunday activities: visiting the local store, enduring inappropriate male attention, and catching up with her roommate Cookie.
But it's Rowser and Smith's portrayal of Kimana's washing and grooming of her hair that provide the comic with its most striking imagery. Smith spoke about this in the Kickstarter campaign publicity saying "there's something radical about a story of a Black woman taking time for herself and taking care of herself in ways extremely specific to Blackness." Smith's almost rhythmic panel-to-panel storytelling in these sequences infuses that sense of ritual with its own distinctive beauty, particularly in one very memorably crafted two-page spread that also carefully underlines the gradual passing of time involved.
We talk a lot in comics analysis about readers interpreting the space between the panels but one of the most intriguing elements of Wash Day is that we're also filling in the narrative gaps surrounding them as well. We're fed just enough information about Kim's friendship with her flatmate and fractious relationship with the off-panel Malik to hint at their wider lives outside of the confines of this one day. Wash Day embodies the purest comics storytelling; narrative that doesn't need overt exposition to bring us fully into its protagonist's world and tells us as much about their lives through their visual characterisation as it does through their dialogue.
That's one of the greatest strengths of Wash Day. Despite its relatively short page count the reader comes away from it caring about, and feeling totally invested in, such fully realised characters. The book is also available in a Spanish version translated by Joamette Gil.
Jamila Rowser (W), Robyn Smith (A), J.A. Micheline (script edits). Available from Black Josei Press here.
For regular updates on all things small press follow Andy Oliver on Twitter here.
Review by Andy Oliver