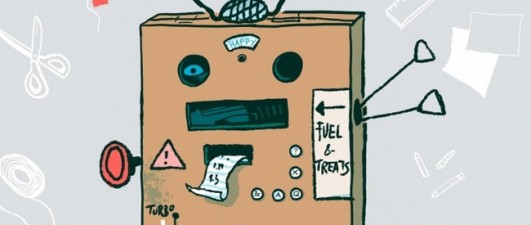 Viviane Schwarz's Welcome to Your Awesome Robot was the first title to be published under Nobrow Press's Flying Eye Books imprint for children. Nobrow, of course, already have a proven track record in books aimed at this demographic, with Luke Pearson's magical all-ages Hilda books appealing to both kids and adults alike. Indeed, Eisner-nominated Hilda and the Bird Parade earned Pearson a Broken Frontier 2012 Award as Best Independent Writer earlier this year.
Flying Eye's remit goes beyond just the world of comics and adopts that Nobrow philosophy of producing beautifully produced books that have a reason to exist in a physical format. In that respect, Viviane Schwarz's Welcome to Your Awesome Robot is part comic and part activity book. It takes as its initial premise that belief, long-accepted by all parents as a universal truth, that there's nothing that will stimulate the imagination of a small child more than a large, empty cardboard box!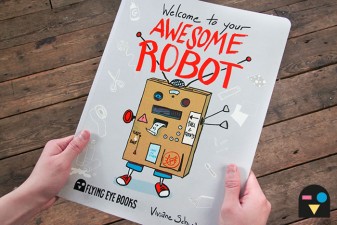 Each left-hand side of the book is presented as a comic strip portraying a mother and daughter as they ingeniously turn said empty box into a "robot" plaything while the right-hand page acts as the manual they are reading from to construct this pseudo-mechanised chum. Combined, this dual narrative approach acts as both story and instructional plans for any young readers wishing to similarly turn a discarded mass of cardboard into an elaborate new toy. Interspersed throughout are pages with ideas to make your robot even more spiffy looking, and considered safety reminders to put any parent's mind at ease…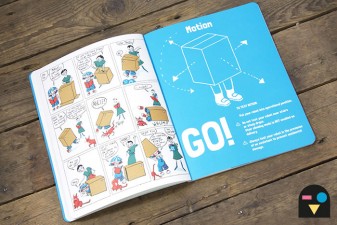 To all intents and purposes – be it for electronic equipment, assembling items, or even safety regulations – many instructional handbooks and diagrams that we use on a day-to-day basis use a form of sequential art to coach us along. Schwarz exploits this approach to great effect here, producing an absorbing and fun read that is presented with a sparky, childlike wit; one that will appeal to its target audience without ever patronising it. Its physicality also creates the illusion of a manual, adding another layer to the reading experience, and Schwarz's animated cartooning is engaging and charming throughout.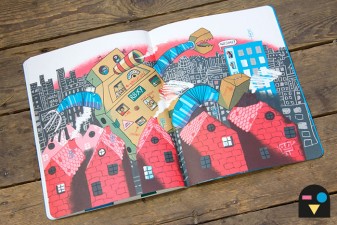 Those who love Nobrow Press's handsomely created publications will, no doubt, be thrilled to see Flying Eye effectively acting as "Nobrow Press: The Next Generation" here. A triumphant start for this new imprint and one that acts as a shared experience between parent and child. Awesome indeed!
Viviane Schwarz (w/a), Flying Eye Books, £8.99/$13.95, 1 February 2013